How to buy Bitcoin without fees? Top ways to do it safe
By Yuriy Bishko Updated November 21, 2021
BikoTrading Academy
Most novice traders wonder how to buy Bitcoin without commissions, but it must be safe (we mean financially safe), because even a small mistake when buying cryptocurrency can lead to loss of capital. Simple instructions will help to avoid it. Following them will protect you from fraudsters and other possible problems. A novice user can make many mistakes when buying bitcoin, each of which can lead to loss of capital. There is a risk of transferring funds to an exchange created by scammers, overpaying for coins due to an inflated rate or commissions, and entrusting assets to an unreliable platform.
We will consider 4 ways to buy BTC:
by bank card (Visa, Master Card, AMX)
anonymously
by cash only
by PayPal, Skrill and others
Buying Bitcoin with a bank card
Experienced traders prefer Binance. Binance is the world's largest cryptocurrency exchange, trusted by millions of users. With them, buying cryptocurrency is a fast, easy and safe transaction. Also, their big advantage is the 24/7 customer support service.
Sign up with your email address or mobile number and set a strong password. Or download and open the Binance cryptocurrency trading app from the App Store or Google Play. There are two main ways to buy Bitcoins on Binance crypto exchange:
You can link your debit/credit card :
1)Select (1) "Buy Crypto" then click (2) "Credit/Debit Card" on the top navigation.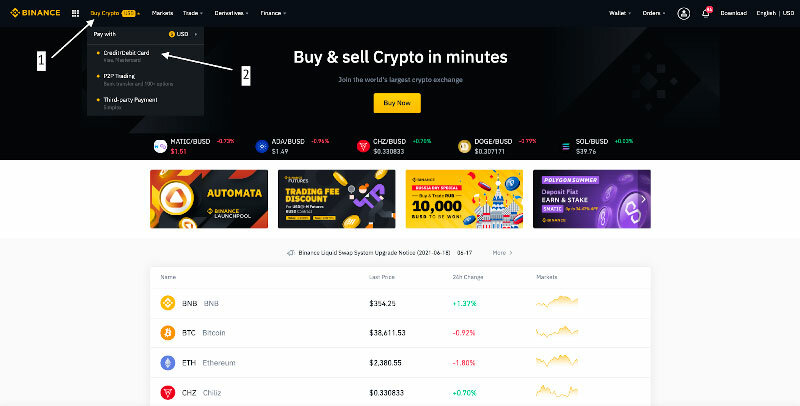 3) Enter the amount you want to enter into the exchange

4) Add the credit card and push continue. That's all.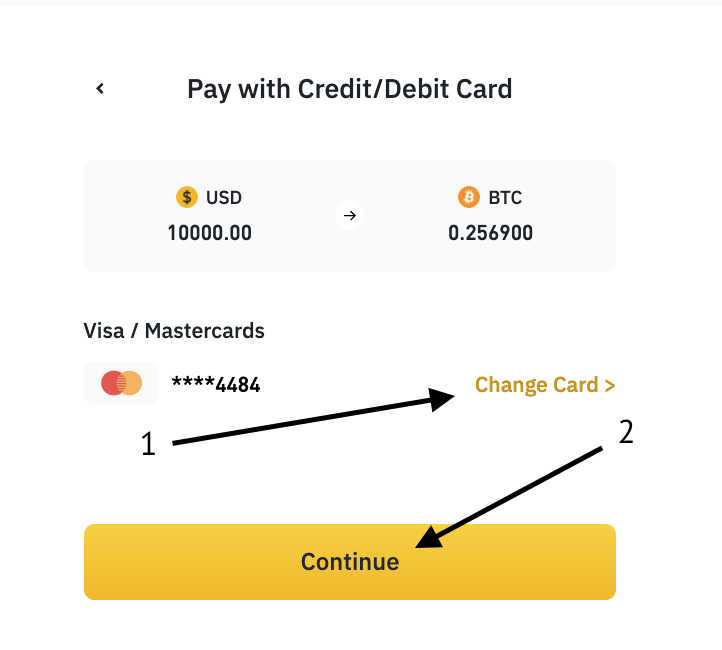 Or bank account or buy cryptocurrency directly from other users via P2P transaction(Peer to Peer) trading is also known as P2P (customer to customer) trading in some regions. In a P2P trade user directly deals with his/her counterparty, exchanging the fiat asset offline and confirming the transaction online. Once the offline fiat asset exchange is confirmed by both parties, the digital asset is released to the buyer.
A P2P platform serves as the facilitator of the trade by providing a platform for buyers and sellers to broadcast their offers. At the same time, the escrow services of online digital asset ensure the safety and timely delivery of digital asset during trade execution.
1) Select (1) "Buy Crypto" then click (2) "P2P Trading" on the top navigation.

2)Click (1) "Buy" and select the currency you want to buy (BTC is shown as an example). Filter the price and the (2) "Payment" in the drop-down, select an ad, then click (3) "Buy" .

3) Enter the amount (in your fiat currency) or quantity (in crypto) you want to buy and click (2) "Buy".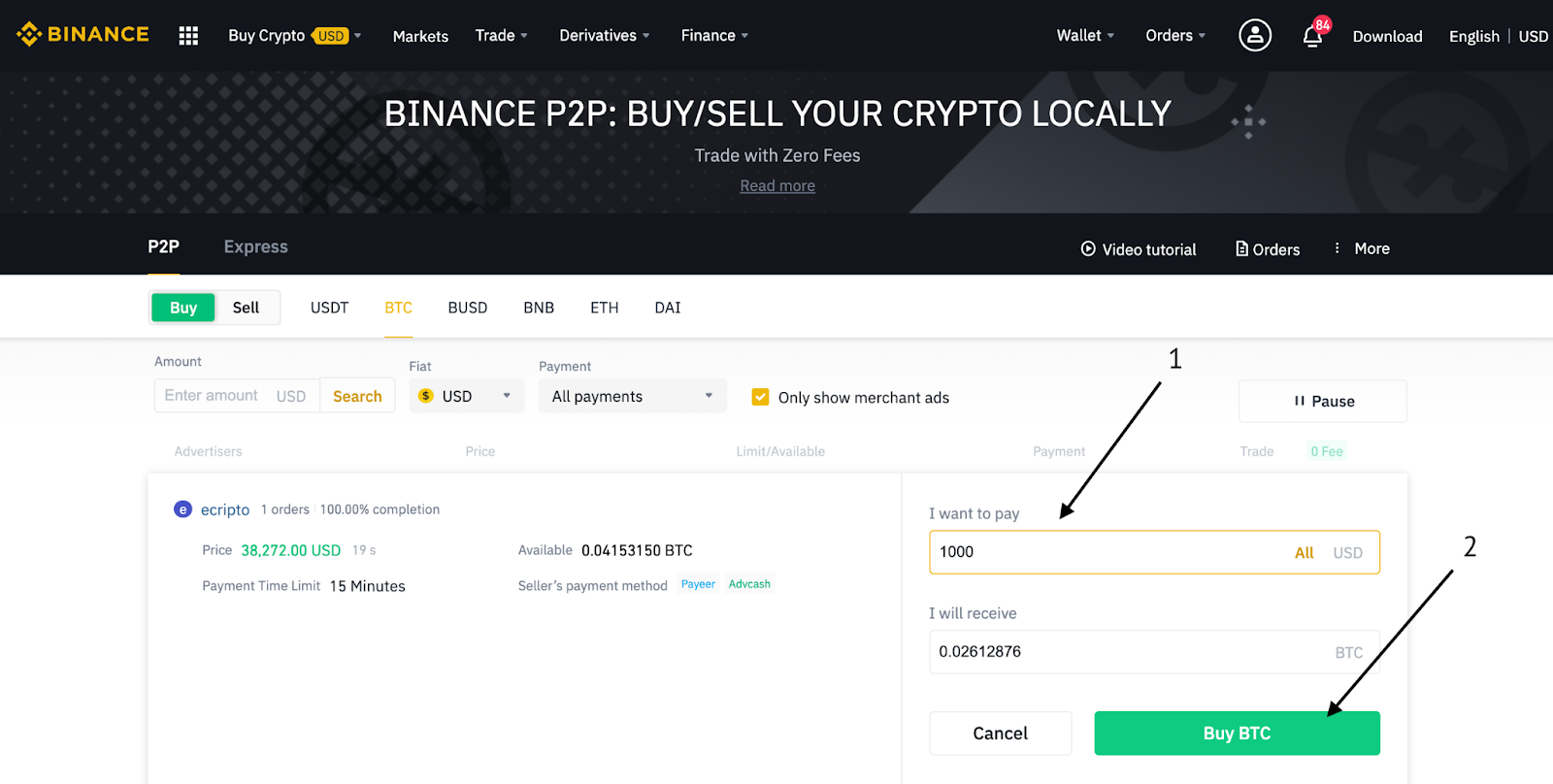 4)Confirm the payment method and amount (total price) on the Order Details page.
Complete the fiat transaction within the payment time limit. Then click "Transferred, next" and "Confirm".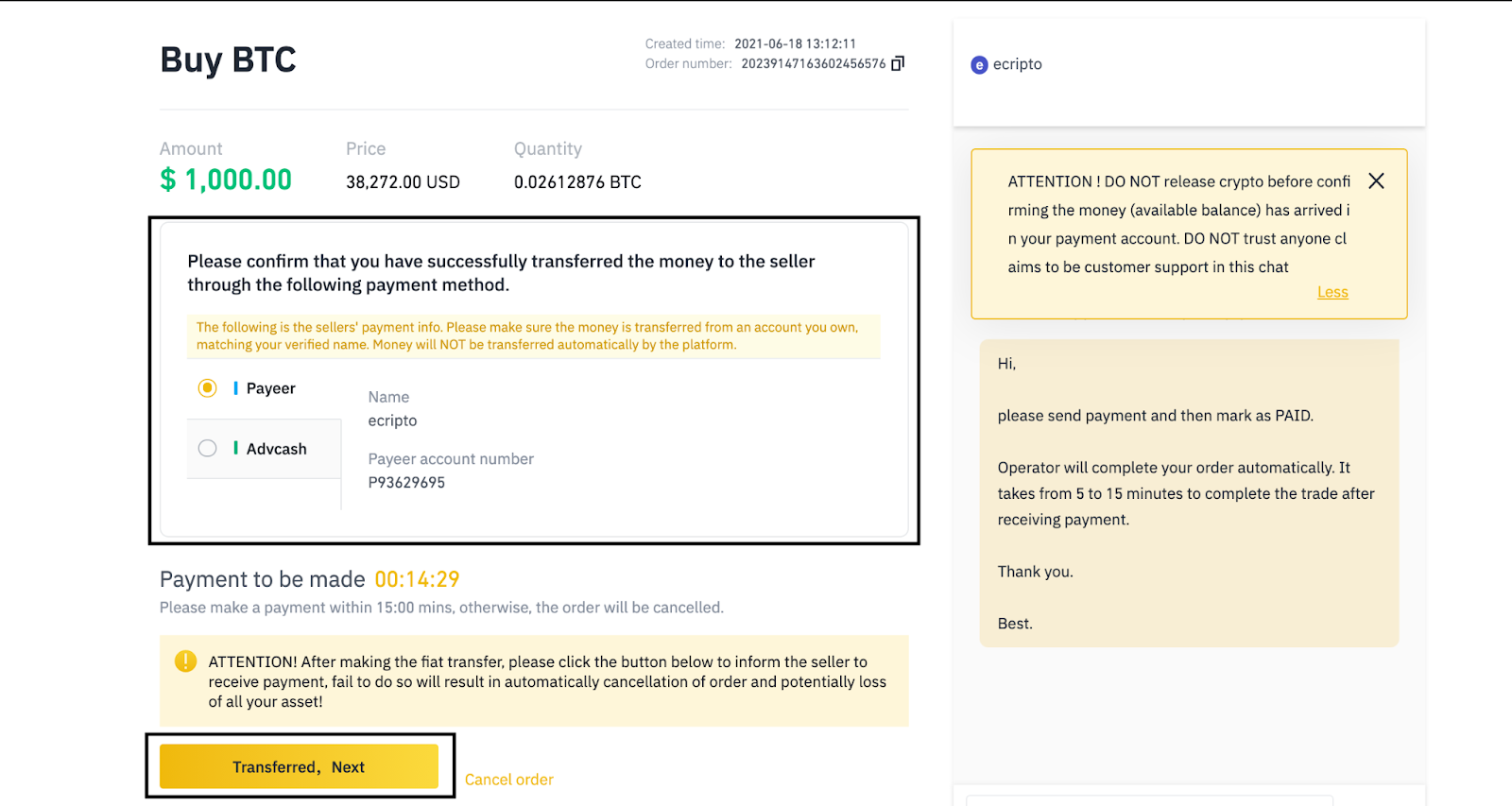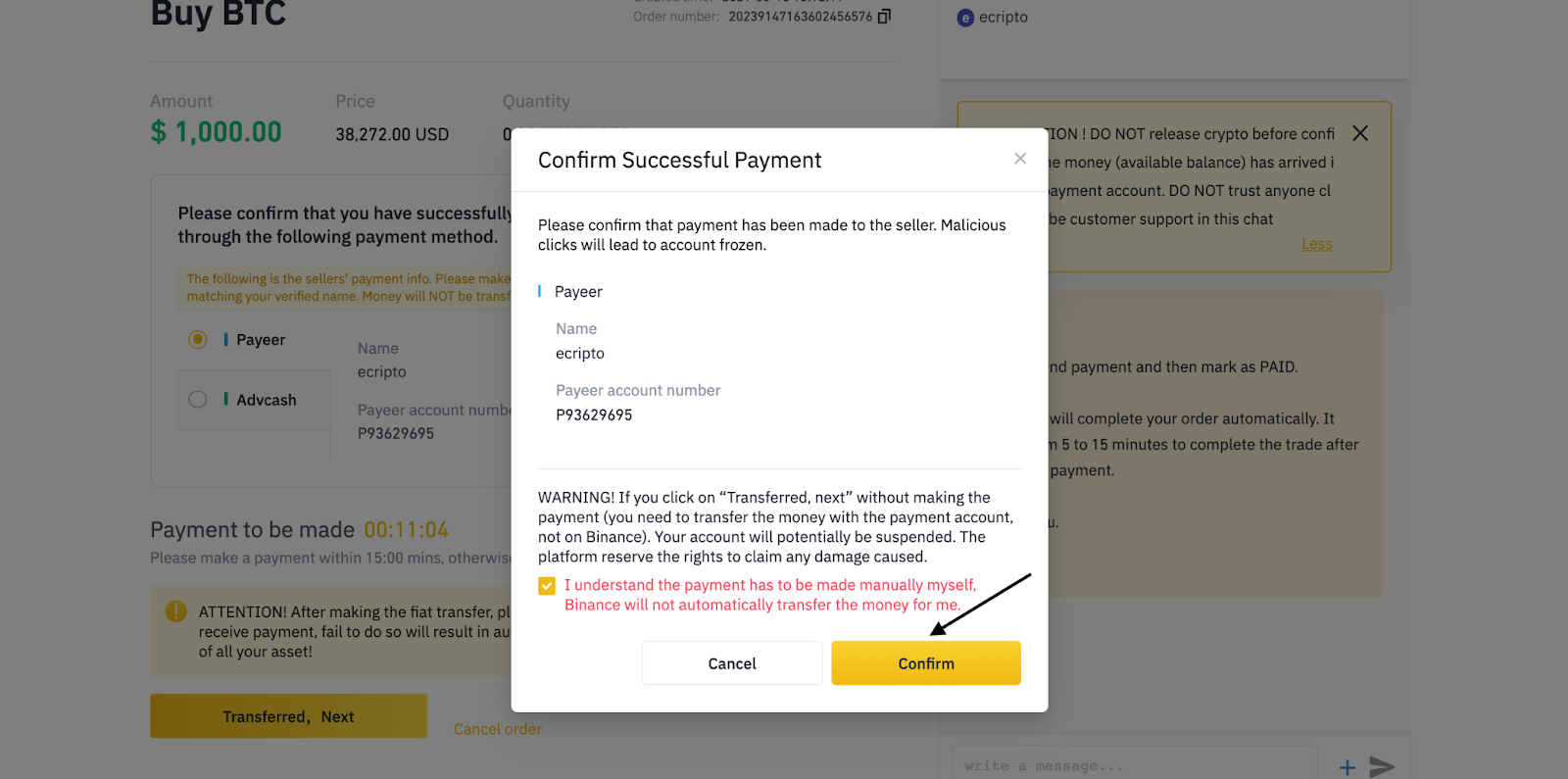 Note: You need to transfer the payment directly to the seller through bank transfer, Alipay, WeChat, or another third-party payment platform based on the seller's payment information provided. If you have already transferred payment to the seller, you must not click "Cancel" unless you have already received a refund from the seller in your payment account. If you do not make an actual payment, please do not click "Confirm" to confirm the payment. This is not permitted according to the rules of the transaction. If you encounter any issues during the transaction, you can contact the seller using the chat window.
5) Once the seller has released the cryptocurrency, the transaction is completed. You can click (2) "Transfer to Spot Wallet" to transfer the digital assets to your Spot Wallet.
You can also click (1) "Check my account" above the button to view the digital asset you just bought.