At the moment, Binance is positioned as one of the largest trading platforms on the cryptocurrency market.
Despite the fact that the exchange was launched only in 2017, it is now steadily gaining momentum, always ranking at the top of the ratings.
A futures is a derivative financial instrument for the purchase and sale of an asset (in our case, a cryptocurrency) on an exchange. In a futures contract, the parties agree only on the price and delivery date. The rest of the parameters are agreed upon in advance in the contract specification. The parties (the seller and the buyer) have obligations to the exchange until the futures are executed.
Below we will give you a guide to trading futures on Binance with as much detail as possible.

If you don't have a Binance account at all, you can create an account on Binance Futures right away without any problems.
You will see a window where you should enter your following details:
email;
think up a password;
click on the button to agree to the terms of use;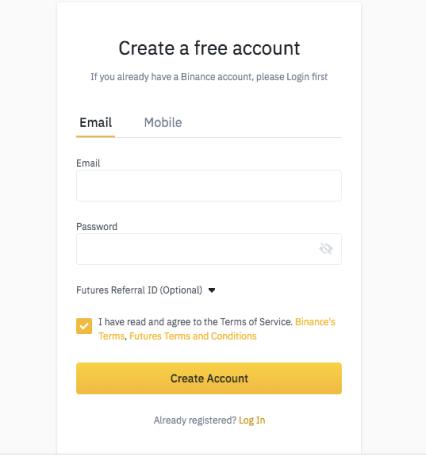 Account deposit
Liquidation of positions is the forcible cancellation of all your open orders. It occurs when your margin balance falls below the required maintenance margin.
The margin balance is your account balance including PnL (profit and loss of open positions).
Maintenance margin is the minimum amount required to maintain open positions.
These indicators can be tracked in a special indicator on the open positions panel.
If your positions are one step away from being liquidated, it is advisable to close them manually, without waiting for automatic liquidation.
It's also worth noting that there is an additional fee for automatic liquidation.
Auto-Deleveraging and Insurance Fund
Auto-Deleveraging (ADL) is a system that liquidates user positions by priority. Auto-deleveraging occurs due to the inability to close your trade at the market price.
An insurance fund exists to prevent the closing of an ADL position. It is used to cover platform losses if the trader's account balance becomes less than 0. However, the insurance fund may fail at times of high cryptocurrency volatility, which causes ADL – liquidation of open positions at the market price rather than the set price.
To prevent the liquidation of an ADL position, there is an indicator on the top panel of the platform. It shows the automatic liquidation queue (ADL). If all lights are on, the position is close to liquidation.
The priority on automatic removal is determined by the maximum amount of leverage and possible profit. It is highly not recommended to keep your positions until the automatic deletion.
See more in the video