How to use Bitcoin Dominance correctly?
By Yuriy Bishko Updated November 10, 2022
BikoTrading Academy
Many beginners in the field of cryptocurrency trading, who buy various coins in the hope of quickly earning a million percent, are very disappointed and do not understand why the price is not going in their direction. In this article, we will talk about such an indicator as Bitcoin Dominance (BTC.D), analyze when it is best to buy altcoins.
Key issues:
What is bitcoin dominance?
How does bitcoin dominance work?
How does bitcoin dominance affect altcoins?
How and where to check bitcoin dominance?
What is Bitcoin dominance?
Bitcoin dominance index shows the share of bitcoin capitalization among the entire mass of cryptocurrencies. As the cryptocurrency industry develops, the number of altcoins is constantly increasing, due to which the dominance of bitcoin is gradually decreasing.
Bitcoin dominance can be calculated as follows: the capitalization of the main cryptocurrency divided by the total market capitalization of cryptocurrencies and multiplied by 100%.
Watch NOW on Youtube How BITCOIN DOMINANCE effects the crypto market?!
Bitcoin dominance is an important indicator for understanding the general direction of the market at the moment. If the index falls, it means that investors are more at risk and are looking for higher returns by buying altcoins with lower capitalization. This can often be seen in a growing market. If the market goes into a bearish phase, altcoins are actively sold, and money is transferred to bitcoin, the most stable cryptocurrency, from which the index grows.
In this picture you can see different combinations of Bitcoin to Bitcoin Domination to Total Altcoin Capitalization.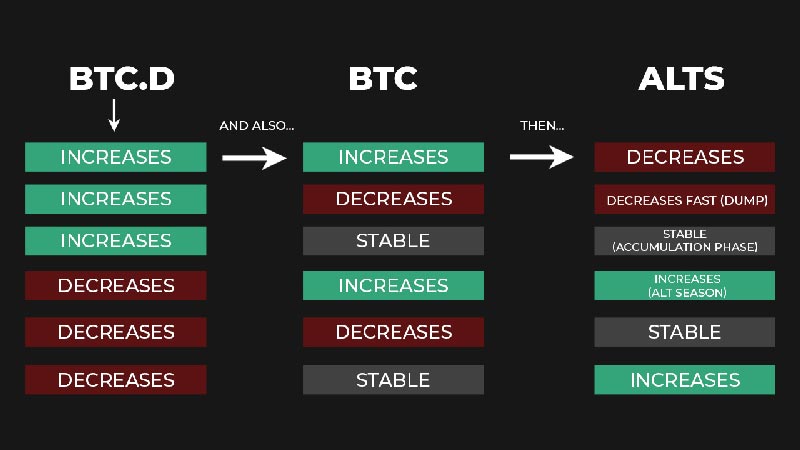 Next, we will consider the main situations that most often occur in the cryptocurrency market. Situations that we personally use in our trade and show you when it is better to buy and sell altcoins.
The first and best scenario for any cryptocurrency trader is when Bitcoin dominance is actively declining and Bitcoin is consolidating. This period is often called - Altseason. The period when you should buy altcoins. At this time, coins grow by hundreds of percent. The best trading strategy for this period is a breakout.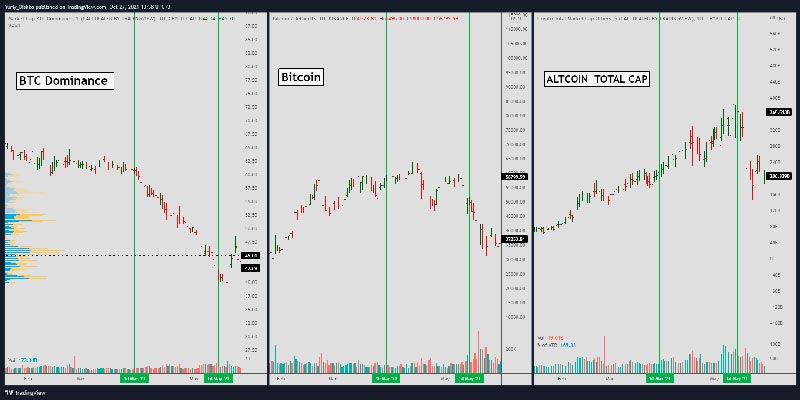 The next stage that always comes unexpectedly after each strong growth is the stage of capitulation, and a strong correction of the market. At a time when bitcoin is falling, bitcoin dominance is rising, and altcoins are falling twice as hard as bitcoin. Bad time to buy altcoins and bitcoin, best time to be in stablecoins, or open short positions if you know how to trade.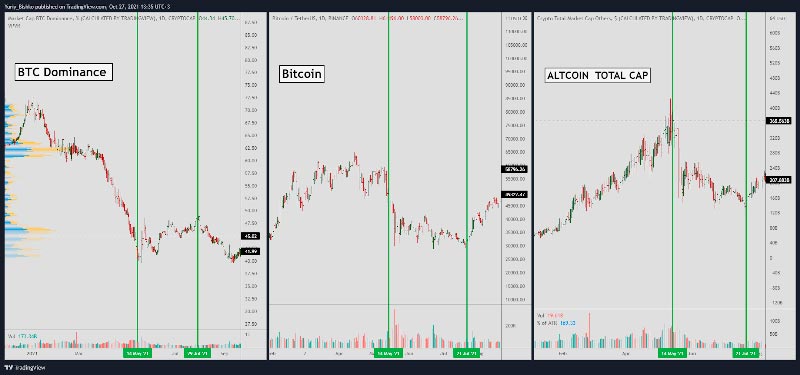 Another example is when bitcoin dominance is consolidating and bitcoin is growing. At this time, altcoins are consolidating, or growing slowly with bitcoin, not outpacing its percentage growth.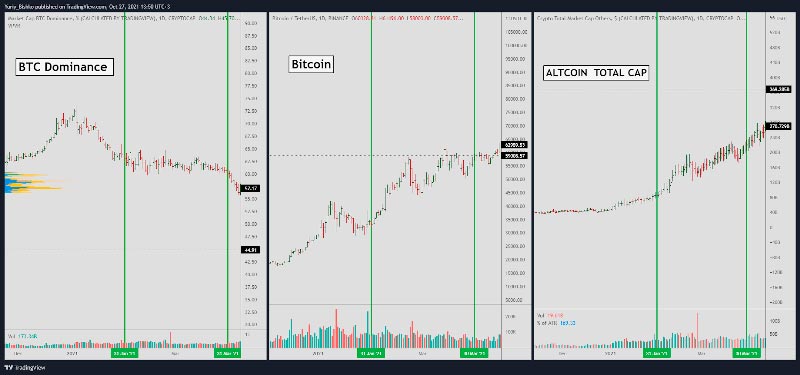 You probably remember the period when bitcoin grew from 10 to 45 thousand dollars. At a time when bitcoin was growing strongly, bitcoin dominance was also growing quite strongly, and altcoins were consolidating at their bottom. During this period, it is best to trade bitcoin using a breakout strategy. For altcoins, it is best to use a false breakout system.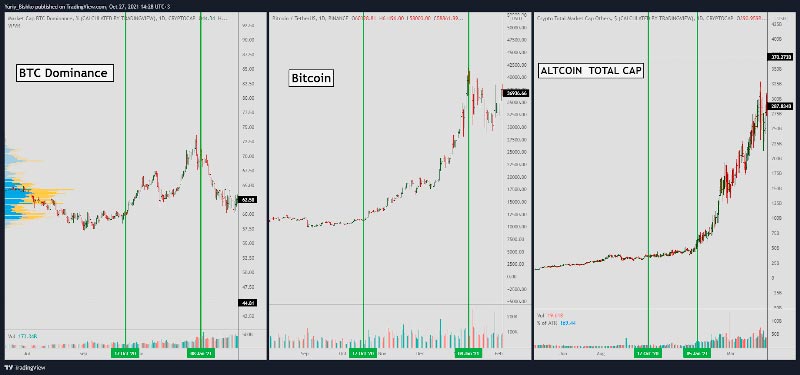 Summary
Bitcoin dominance is an important ancillary tool in trading. Next time you will know that if bitcoin dominance is rapidly going down it is a good time to buy altcoins, but remember, the euphoria passes quickly enough and bitcoin dominance can at any time change its direction to the opposite. Use these schemes in your trade and they will help you increase your profits.
How to start making money on crypto?
Investing is the easiest and safest way to make money in the crypto market. In recent years, investors have been able to increase their deposit from $1,000 or $10,000 by 10-20 times simply by buying Bitcoin and altcoins with the highest growth potential at the right period of time.   
If you want to learn how to find altcoins with the highest growth potential and know when to buy them to make money, we have created a special guide just for you - 3 RULES TO FIND ALTCOINS WITH 10X GROWTH POTENTIAL. Follow this link and get it for FREE!