Free cryptocurrency signals! How to make money with crypto signals?
By Yuriy Bishko Updated November 11, 2022
BikoTrading Academy
Most beginners do not know how to trade in the cryptocurrency market and often lose their money from the very first trades. Therefore, most beginners start using other traders' crypto signals in order to get the profit.
Free crypto signals are recommendations from experienced traders about buying or selling cryptocurrency: Bitcoin or any coin like Ethereum, Solana, Dogecoin, etc. The purpose of crypto signals is, of course, to make a profit and increase your deposit.
Main issues:
Where to get free crypto signals?
Examples of free crypto signals
What is DOM and Footprint?
Do crypto signals work?
Where to get free crypto signals? Follow this link to get free crypto signals in Telegram! Friends, the number of places is limited, so I recommend not to waste time and join our channel now.
WATCH NOW: How to make money with crypto signals! Free Telegram Group
Examples of free crypto signals
Let me show you a few of the crypto signals we've been giving in our free signals Telegram channel. For example, this short trade on UNI:
1. I've written about why you should open the trade. Also, I mentioned at what price you should open this trade, where to set stop loss and take profit. It was around 1:00 PM.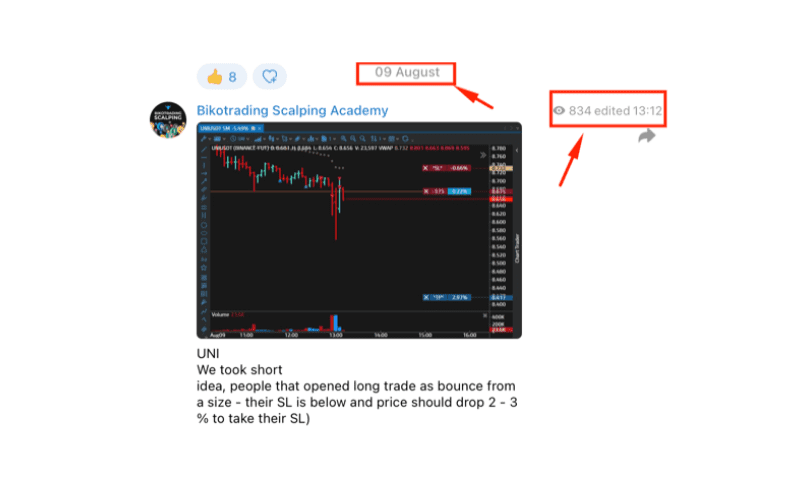 2. During the holding period of the short trade, I gave recommendations on what to do. When the UNI coin reached an important level, I decided to book 20% of the profit and wrote it to the traders.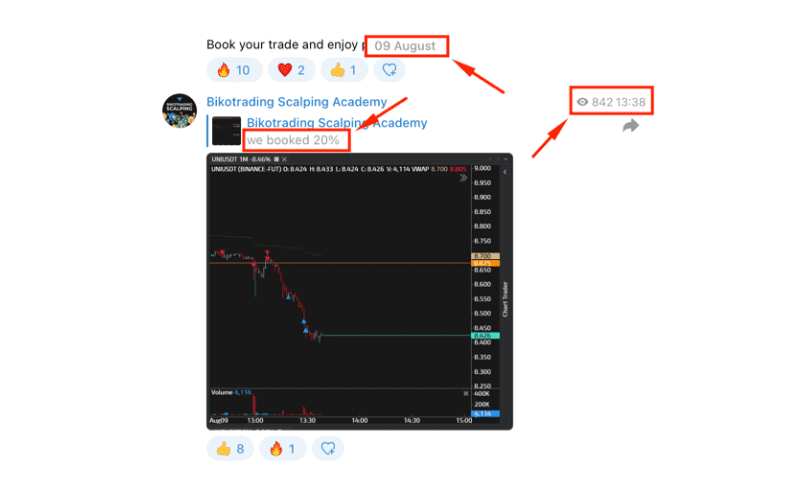 3. Around 5 p.m. I wrote to the team that they could close the trade and book all the profit. You could also get such a profit +$112.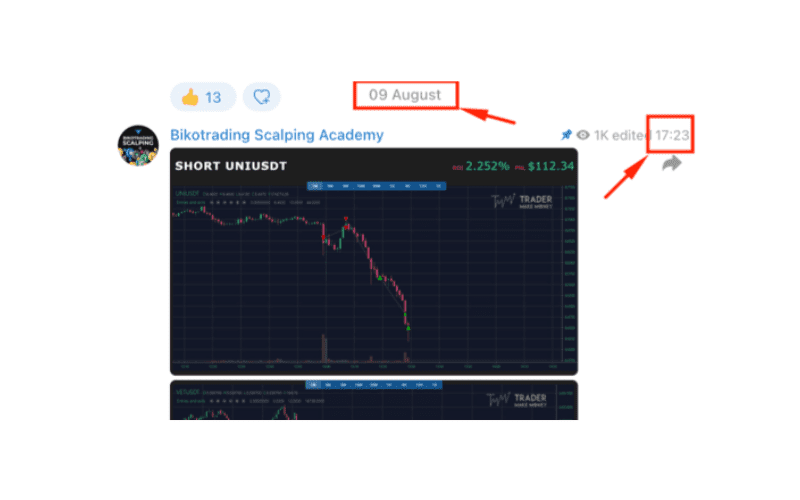 Here is another long Bitcoin trade. +$119 in just 1 hour. But you can see all the results of trades in our Telegram channel!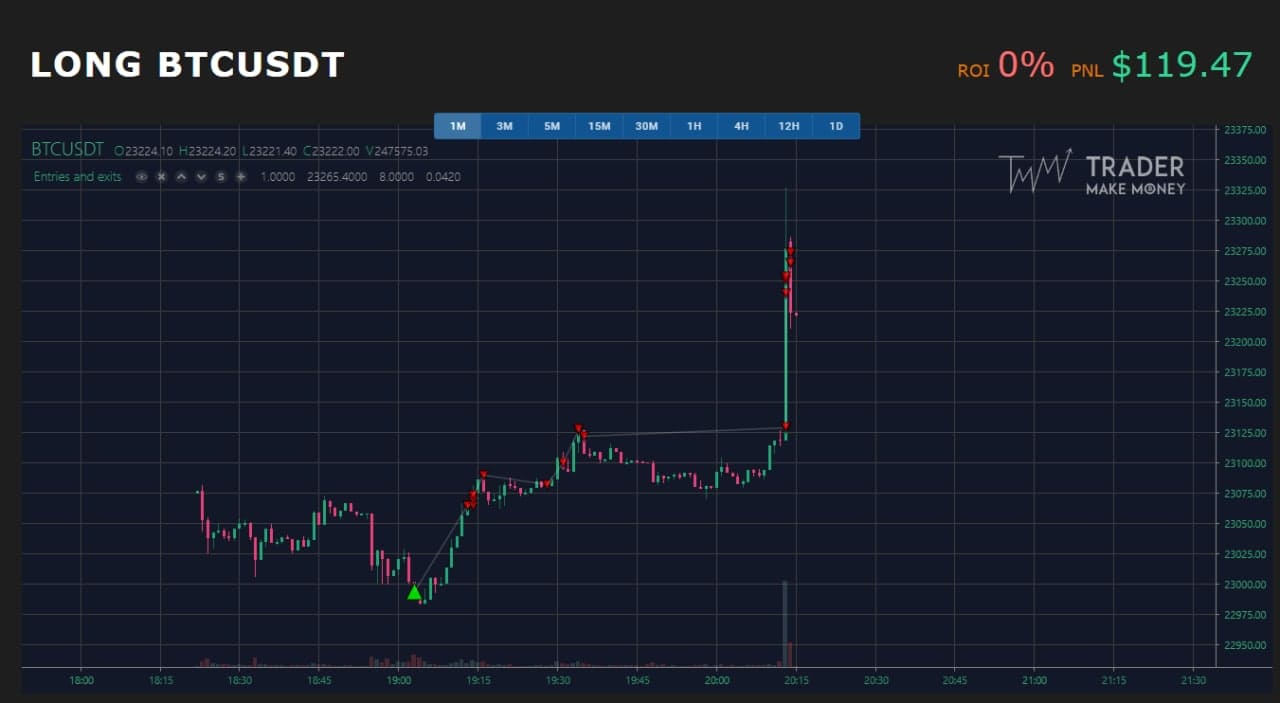 You can use crypto signals on any exchange, but I recommend you to use them on the biggest crypto exchanges: Binance and ByBit. Why? Because the largest number of coins that we trade and on which you can make money are available on these exchanges.
What is DOM and Footprint?
DOM and Footprint are the scalping tools that allow you to track the buy and sell orders of BIG players (whales). These are the tools I use to open the best trades to buy or sell cryptocurrency. You can make money while using this information in your trading because the big players often know the price will fall or grow. I use DOM and Footprint to open a trade together with a big player.
In the picture below you can see the order for 4.16 thouthands coins. This is unusual BUY order and DOM at Tiger.Trade scalping platform highlight it in yellow. The price of the coin started to rise after touching the level of $8.7, where we also placed our buy orders. I successfully closed the long trade in a profit after 2-3 hours.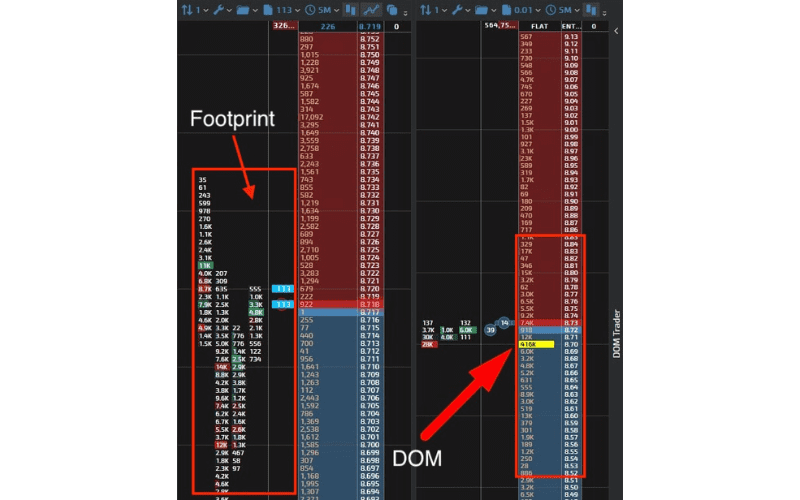 I recommend you to watch this video to learn more about DOM and Footprint. I personally use these scalping tools in my trading, I'm sure it will be useful for you too. In order to use DOM and Footprint, install a cryptocurrency scalping program: Tiger.Trade or CScalp.
WATCH NOW: Dom and Footprint | Prediction of BTC movements with 90% accuracy with DOM and Footpint
Do crypto signals work?
Friends, it is recommended to start trading with a small amount of money to understand whether these crypto signals are work for buying or selling cryptocurrency. Reddit, Discord, and Telegram have recently seen a large number of people who call themselves "traders" and can give low-quality signals. This tip will help you save your money.
Also, a lot depends on who gives these signals. I have been trading for over 8 years and have traded in the FOREX and cryptocurrency markets. During this time, I have accumulated a certain amount of experience and knowledge, and have already taught more than 1000 traders to earn on various markets.
So, I wish you not to miss the chance to join our Telegram channel with FREE crypto signals. I'm sure it will help to increase your initial deposit. Stay in touch!