Wedge pattern in Crypto trading: What is it and how to trade it?
By Yuriy Bishko Updated November 21, 2022
BikoTrading Academy
Wedge is a figure that has a fairly high level of win rate in comparison with other graphic structures. Perhaps that is why it is rarely found in its pure form. In this article we will consider real examples and answer the main questions.
KEY ISSUES:
What does a wedge pattern mean?
What are the types of a wedge pattern?
How to identify and trade a wedge pattern?
Wedge pattern
The wedge pattern is a reversal of technical analysis. There are two main types of this figure: ascending wedge and descending wedge.
An ascending/upward (Bearish) wedge is a figure that is formed during an upward trend, thus assuming a correction, or a downward trend. Levels of resistance and support are directed upwards, and the breakout of the pattern usually occurs downwards.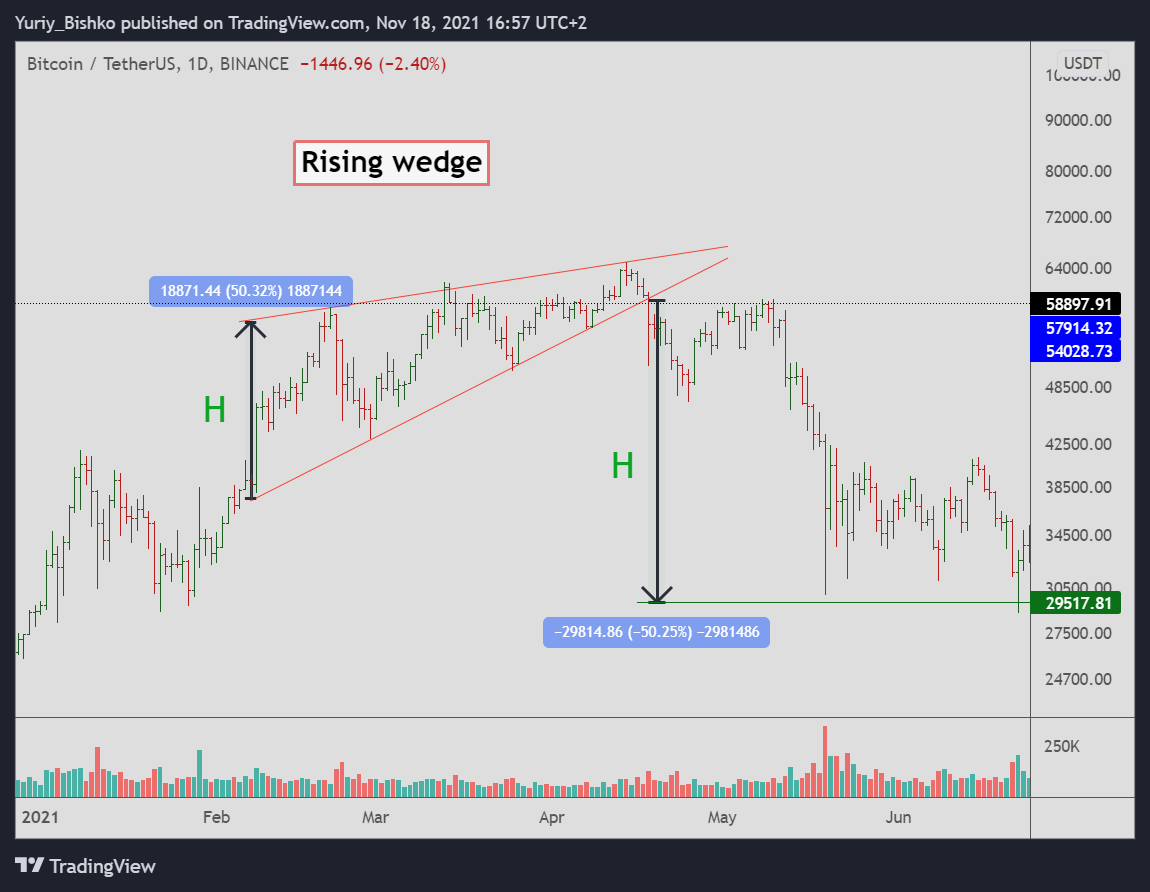 Most newcomers who have recently joined the cryptocurrency market remember the fall of Bitcoin from $ 65,000 to $ 30,000 in May. It was at this time, at the top of the market, a wedge shape was formed, the breakout of which was one of the factors of strong correction.
Watch NOW on Youtube This pattern helped me predict HIGH and BOTTOM of BTC
A descending/downward (Bullish) wedge is a figure that is formed in a downward trend and serves as a guide to a possible reversal of the trend and the transition to correction, or upward trend.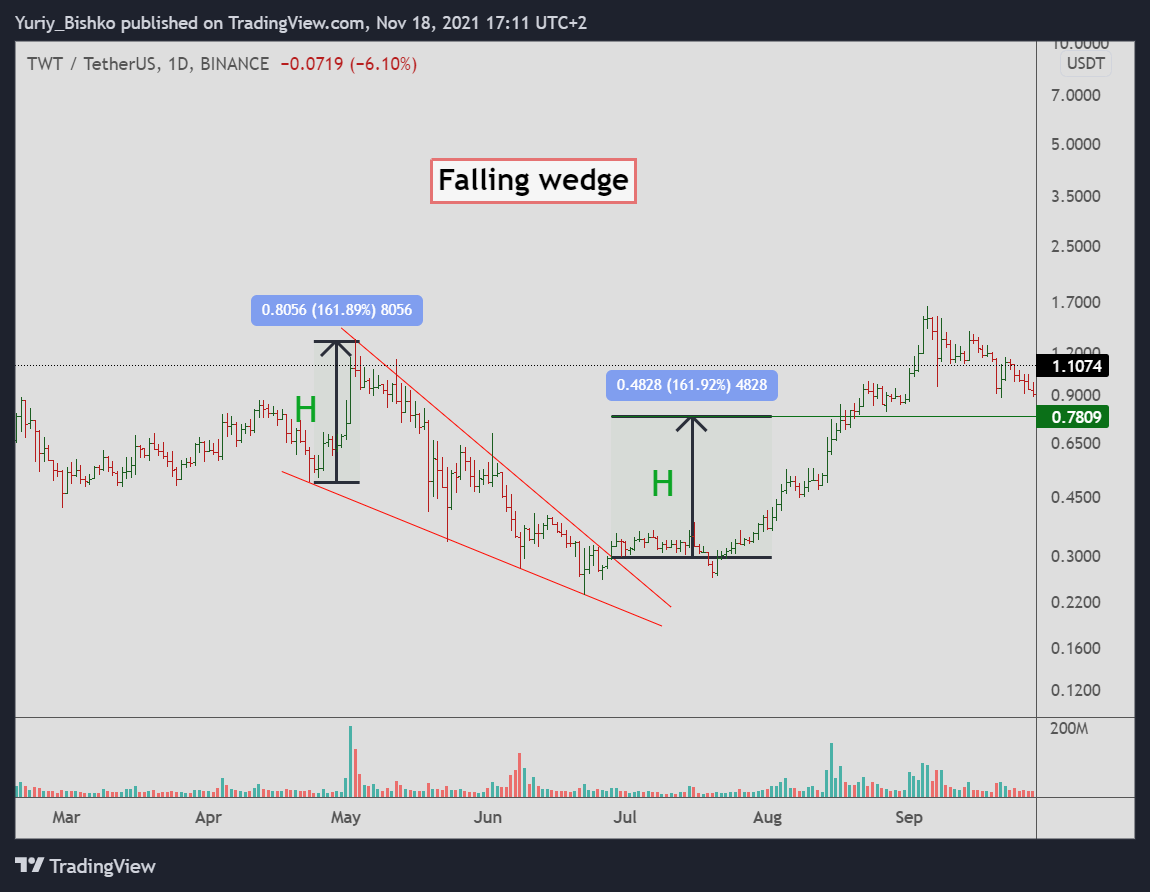 Another example, during the summer fall a falling wedge was formed on many charts. As a result, after the breakout of the upper limit, the price worked out by 160%.
How to trade a wedge pattern?
The figure below shows a conditional example. The price is moving in a downward trend, with an update of the lows (additional strong signal if the volume increases during the update of the lows), and there is a gradual narrowing of volatility, until the breakout of the figure. As a result of breakout there is a pulse movement towards breakout.
There are several methods of trading falling and rising wedges. Some traders open their positions during a breakout or resistance line, more conservative traders wait for a breakout confirmation and open their positions after a level retest. According to the rules, stop loss is placed immediately at the level or local minimum, depending on your risk management. Take profit is set equal to the height of the first wave of the figure.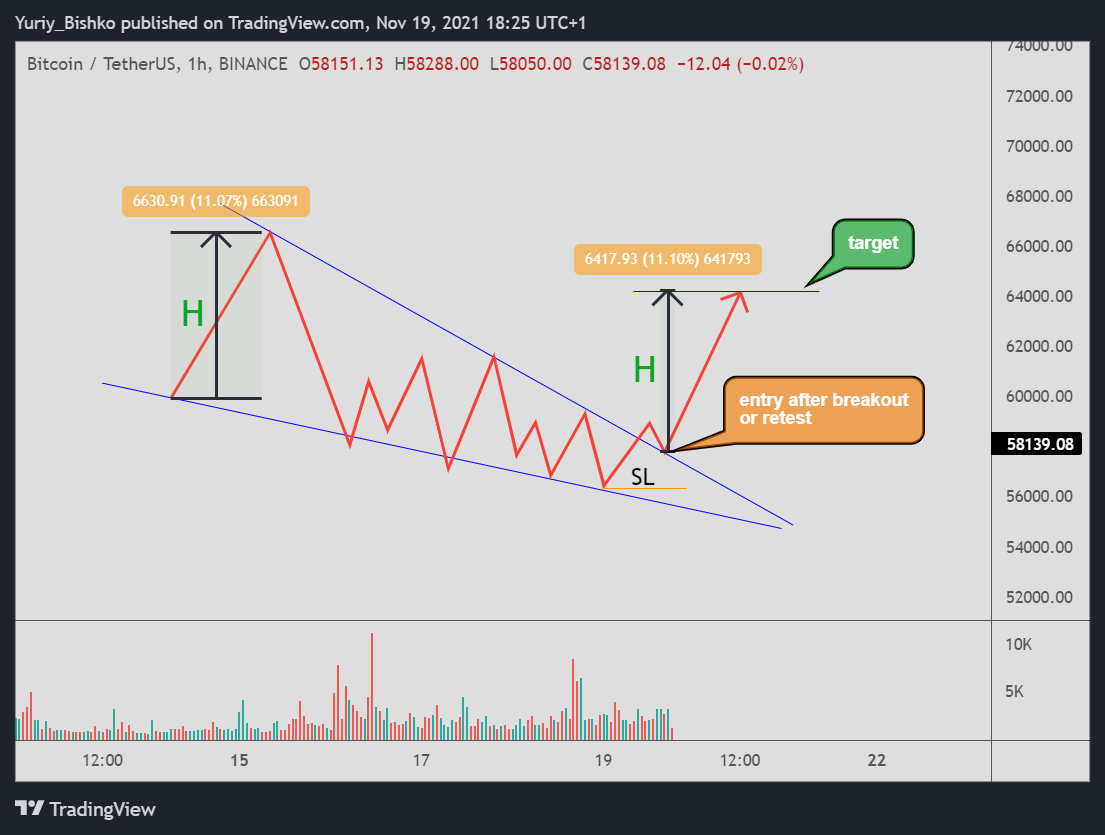 Summary
In conclusion of this graphical model we want to say that any trader who wants to achieve great results, it is desirable to know the basic figures of technical analysis and distinguish them, and even more so to know the logic and consequences of the formation of these models.