Why is crypto still falling? How to avoid losses
By Yuriy Bishko Updated November 11, 2022
BikoTrading Academy
If you analyze most of the altcoins, especially the altcoins that were previously on the hype (SHIBA INU, DOGE, MANA, SAND, etc.), you will see that most of these coins have lost 70-90% of their highs.
Many newcomers who bought these and other coins at the time of the hype do not understand why altcoins continue to fall lower and lower.
KEY ISSUES:
Why is crypto falling so much?
Why is crypto dropping so much?
Can crypto fall to zero?
What happened with crypto?
Why did cryptocurrency crash?
In this article, we will answer all these questions, explain the two main reasons why cryptocurrency continues to fall, and explain why you should not listen to bloggers who do not have enough experience in trading.
Watch NOW on Youtube WARNING!! Why Crypto is Still falling!? & Why 99% will Lose Money (Act Now!)
Big players do not buy at a high price
The first and foremost reason is that big players and institutional investors do not buy coins at a high price. On the contrary, as they grow, they sell their coins to small players who believe in the good news and hype surrounding projects. Here are some examples. One of the best examples is Solana.
The price of Private Sale was $0.04. It is at such prices that big players buy good projects. Now the price of Solana is about $100, and at the maximum level it reached $260.
The screenshot below shows in more detail the number of coins sold at this stage, as well as how many X's current profit is and at the time of the maximum point.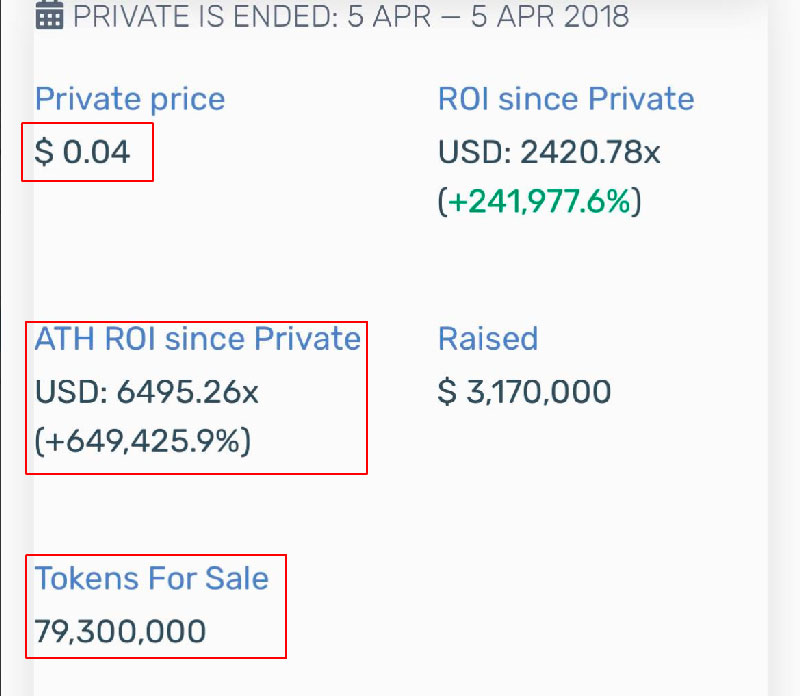 Of course, the big players weren't waiting for $100 or $200. They can't sell everything at once, otherwise they will just bring the price down to zero. They have been selling throughout this growth since the listing price and continue to sell even now.
But let's count. What if even 10% of these coins are sold at current prices, what will be the profit from a private sale? 7 930 000 (10%) х $98 (price at the moment) = $769 210 000
Just imagine how significant this profit is. Now you understand that people who bought for $0.04 will be happy to sell coins for $100 - $10 and below. The next example is Axis Infinity. The price of a private sale is $0.08. At the time of historical highs, the profit reached 200,000%, now this figure is 58,760%.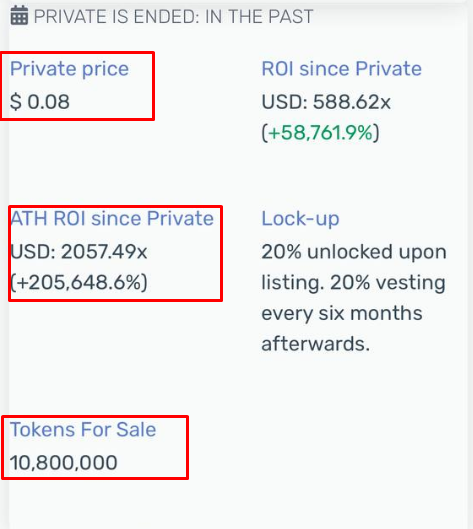 Another example is Terra Luna, ICO price was $0.8. Profit since ICO currently reaches 6,000%.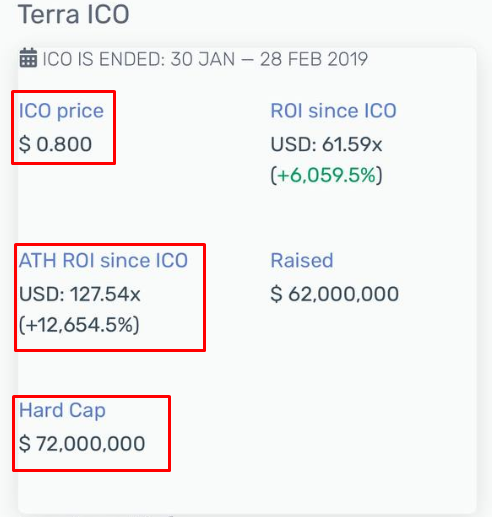 It's just extraordinary profits and no matter how good a project is, an investor who has made a profit of a few hundred percent in any case will record some part of the profits. This is one of the reasons why coins have fallen by 70-80% and continue to decline.
Hype is a trap
The second reason for the fall is hype. At a time of hype and a lot of positive news, beginners are buying coins, not even realizing that at this time the big players are getting liquidity and selling their assets. The best example of this is DOGE, MANA, SAND or SHIBA INU.
I remember very well when a massive SHIBA INU billboard appeared in Time Square. This was a clear signal of the end of growth and the beginning of a strong correction.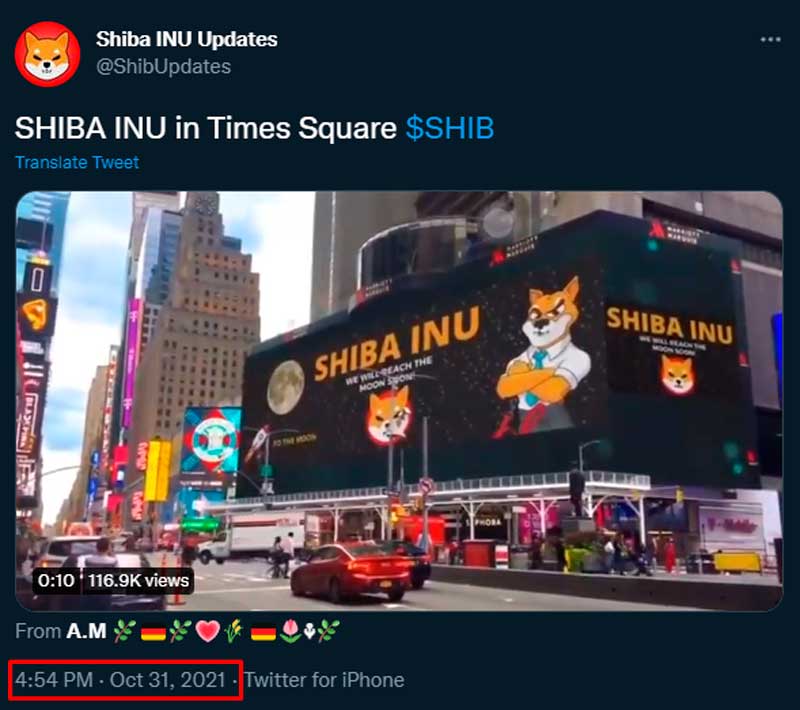 In the chart below, the time when the banner appeared and the news began to gain momentum on the Internet. These were the maximum points of SHIBA INU, after which the price decreased by 75%.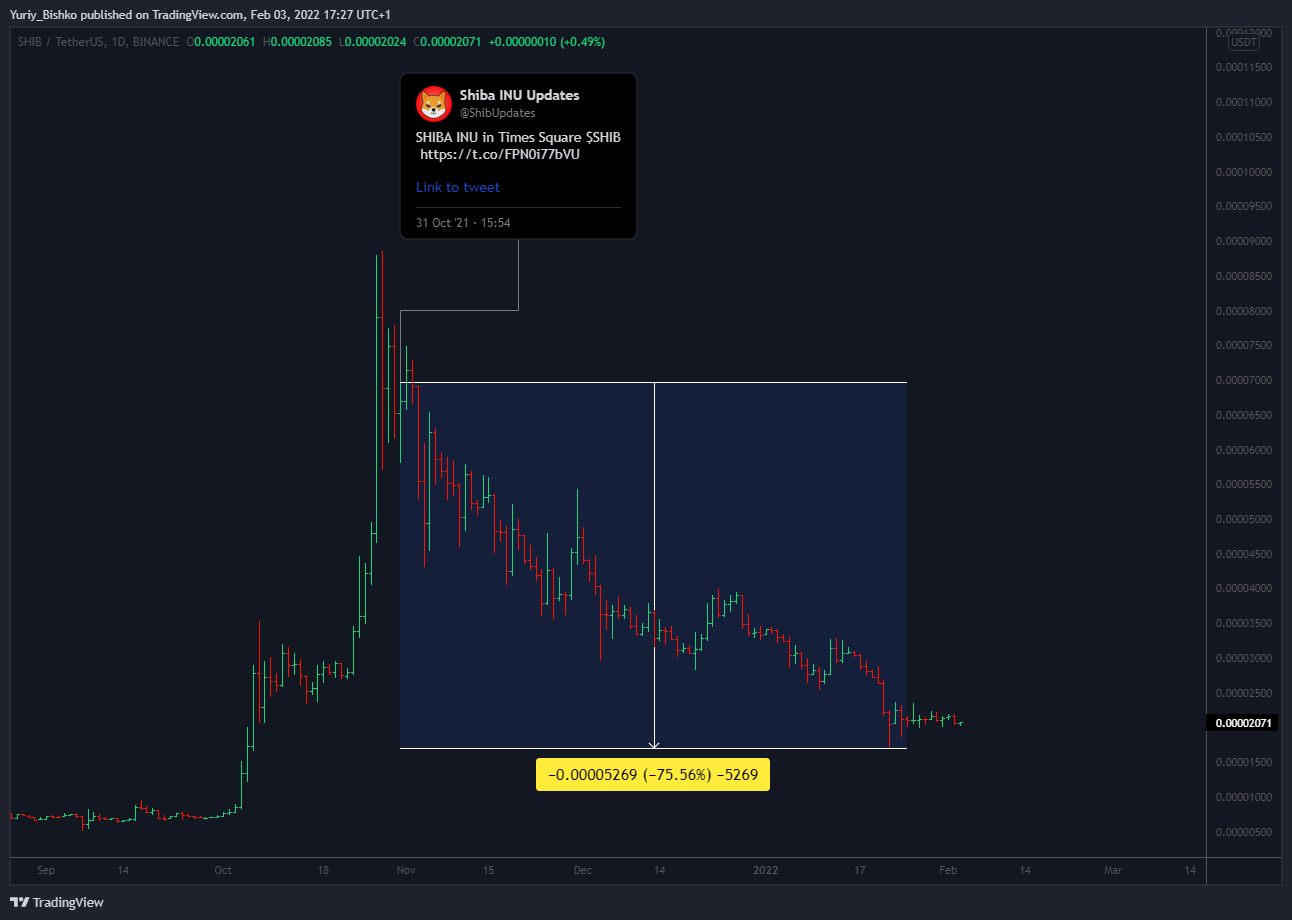 On our Trading View page, we warned about this scenario and said that SHIBA INU is repeating the history of DOGE, and that it is time to record its profit.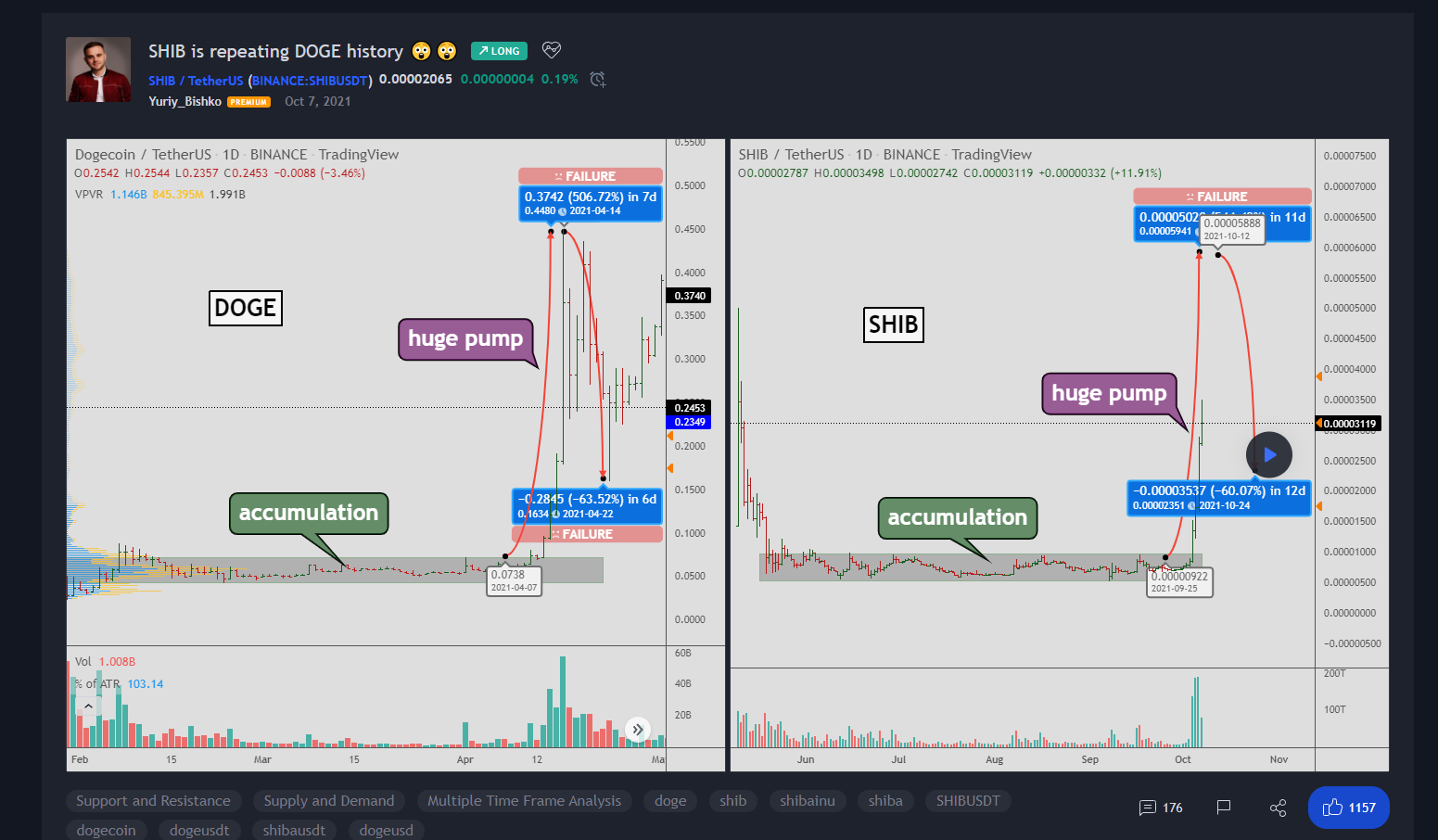 Why should you not listen to bloggers who do not understand anything about trading?
Finally, I would like to highlight another fairly common example of why people lose their money.
Many have heard of a blogger The Dogecoin Millionaire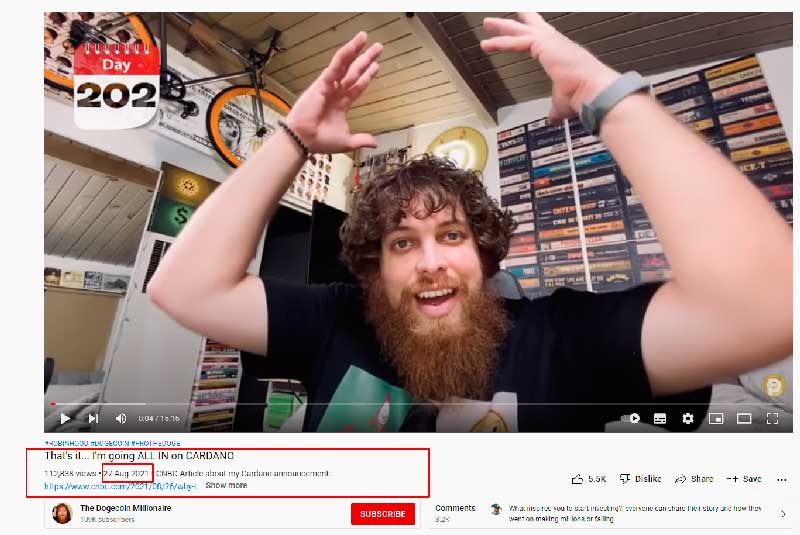 On August 27, 2021, The Dogecoin Millionaire released a video where he says he buys Сardano for all his money.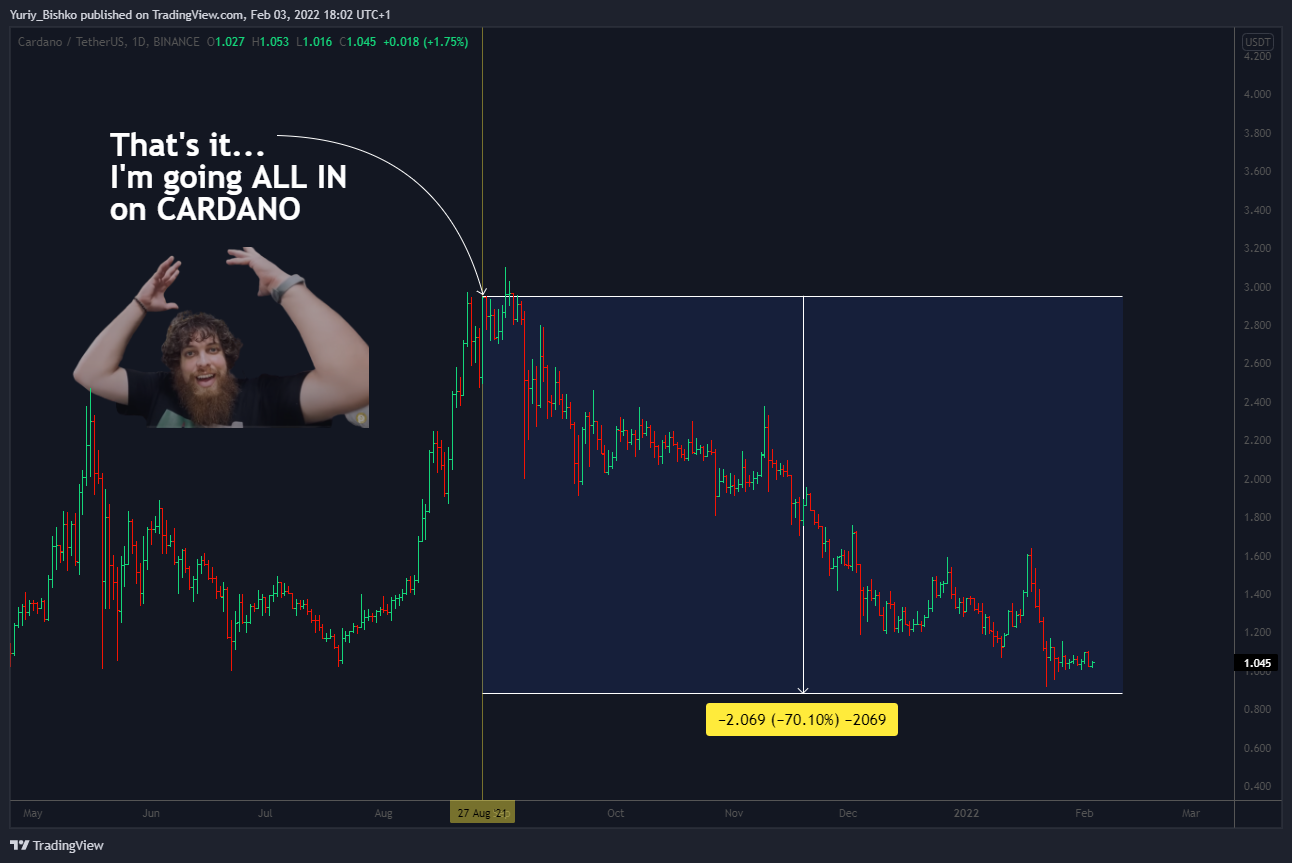 If you had listened to The Dogecoin Millionaire, you would have lost 70% of your balance.
Summary
Having read this article you will understand:
that big players buy assets at private sales at the lowest prices, even before listing coins on the crypto exchange,
that the good news from Bloomberg, CNBC and hype are not always a good time to buy,
that you shouldn't listen to the recommendations of bloggers who don't understand anything about trade.
We hope that these warnings will help you not to make mistakes and save your capital.