What are AI cryptocurrencies? 5 best AI coins to buy in 2023
By Alex Dehtiarov Updated February 14, 2023
BikoTrading Academy
Do you remember those TikTok videos where users asked artificial intelligence to create an image from just a few words and received whole masterpieces? Or maybe you've already heard of ChatGPT by OpenAI, which will write code, draw a picture, and create text for you?
Today, artificial intelligence (AI) has begun to use in crypto: automated trading bots, portfolio management programs, and trading strategy analysis. There are also AI crypto coins that are somehow related to the technology. Let's understand what it is and how it is used.
KEY ISSUES:
What is AI cryptocurrency?
TOP 5 AI cryptocurrencies worth buying in 2023
The best AI altcoins on Binance
What is AI cryptocurrency?
AI cryptocurrencies are altcoins based on artificial intelligence solutions or those that are somehow related to the technology.
Artificial intelligence (AI), like NFTs, DeFi, memecoins, Web 3.0, and the metaverse, is a hype and very popular topic nowadays. Practice has shown that technology-related cryptocurrencies have grown by 500-1000% and provided very strong returns. Nowadays, something very similar is happening: AI cryptocurrency coins for buying are growing rapidly and steadily. We recommend paying attention to a new progressive trend that can bring considerable profit.
TOP 5 AI cryptocurrencies worth buying in 2023
We have analyzed the market and created an AI crypto list of the top 5 cryptocurrencies that are likely to bring you a huge profit very soon!
1. The Graph (GRT)

The Graph (GRT) is a project that has given life to a completely new method of indexing and querying data on the blockchain. GRT allows you to create graphs (the basic element of the system) and independently determine how to query, index, and process data, which gives developers access to blockchain data. Access is granted through GRT tokens, which are also available for staking, in-network transactions, and rewards.
Altcoin is the leader among all AI cryptocurrencies in terms of its capitalization: it currently reaches $1.5 billion, and the token itself ranks 40th in the CoinMarketCap ranking of the same name. The Graph is also a protocol for rapidly creating decentralized applications on Ethereum and IPFS, and developers have already deployed more than 31 thousand subgraphs for Uniswap, Decentraland, Aave, Livepeer, and other projects. A year ago, The Graph was integrated with Chainlink. Currently, the coin's price is $0.17, and its historical high is $2.6.
Price target for GRT: $1.5, $3, $10
2. OCEAN Protocol (OCEAN)

It is impossible to imagine the AI crypto list without OCEAN, which honorably took second place in our TOP.
The OCEAN Protocol (OCEAN) is a blockchain-based data exchange system. The ecosystem allows free exchange and monetization of data, and the protocol itself is open source. The main advantages of the cryptocurrency are high data transfer speed and a guarantee of data protection. The OCEAN Protocol allows developers to create immersive applications and software, and the system has recently been updated with ONDA V4.
The update improved the security, flexibility, and ROI of the system, as well as added integration with non-fungible tokens (NFTs). This decision caused a boom among users, resulting in a 123% increase in the price of the coin in one month. Currently, the project's capitalization is $340 million, and the cost of AI altcoin for cryptocurrency trading is $0.5.
Price target for OCEAN: $1.4, $5, $20.
3. Fetch.ai (FET)

Fetch.ai (FET) is a network of automated software agents for AI-based first-order applications. The project combines artificial intelligence and blockchain technologies: it has agents, or users, who communicate and interact with the new layer, a network for economic calculations, and tools, including CLI software for testing and fast request processing. At the beginning of the year, Fetch.ai was on a wave of hype as it turned out to be a cross-chain bridge.
Such giants as Coinbase, Binance, Gemini, and Bosch have already invested in the project, and the system has gained even more popularity as a result of its work on Autonomy of Things (AoT). In December, the coin grew by 188%, and this is just the beginning. Fetch.ai's capitalization is $441 million, and the cost of an altcoin is $0.5.
Price target for FET: $1.2, $10, $20
4. iExec RLC (RLC)

The iExec RLC (RLC) is an ETH-based blockchain platform for cloud computing distribution, and RLC is its service token. It works as follows: users can share resources that they do not use, as well as rent capacity, servers, and storage centers. The founders of the project claim that the platform is fully decentralized and that it can support compute-intensive applications, including AI, medicine, fintech, and other areas.
In addition, the project has 3 more products: Web3 Marketplace, Oracle Factory, and Confidential Computing. The RLC coin itself was created a long time ago, but with the presence of impulses, the altcoin's price is rapidly rising. Last year, a new historical high of $16 was reached, while now the cryptocurrency is worth $2.2. The project's capitalization is $184 million.
Price target for RLC: $6.7, $16, $33
5. Numeraire (NMR)

Numeraire (NMR) is a kind of hedge fund that allows users to trade securities on the blockchain (!). The token itself is the service coin of the Numera platform, which serves as a reward for correct forecasts of market price movements. Simply put, the project was created to organize machine learning that could predict stock market movements using code. In this way, financial institutions get access to sophisticated strategies and forecasts, and users get access to trading stocks and creating these forecasts.
In total, there are two main programs: tournaments (a once-a-week competition in trading algorithms and bets on the most likely outcome) and signals (downloading strategies for a particular trading style). Currently, the project's capitalization is $144 million, and the price of the coin is $24.5. It is likely that altcoin will reach $100.
Price target for NMR: $50, $95, $240
How to make 150-400% in a month investing in altcoins?
AI altcoins have increased our capital by hundreds of times in a bull market, but they can also make you money even in a falling market.
I want to show you our results so that you can see how profitable buying altcoins with great potential and low capitalization can be.
APT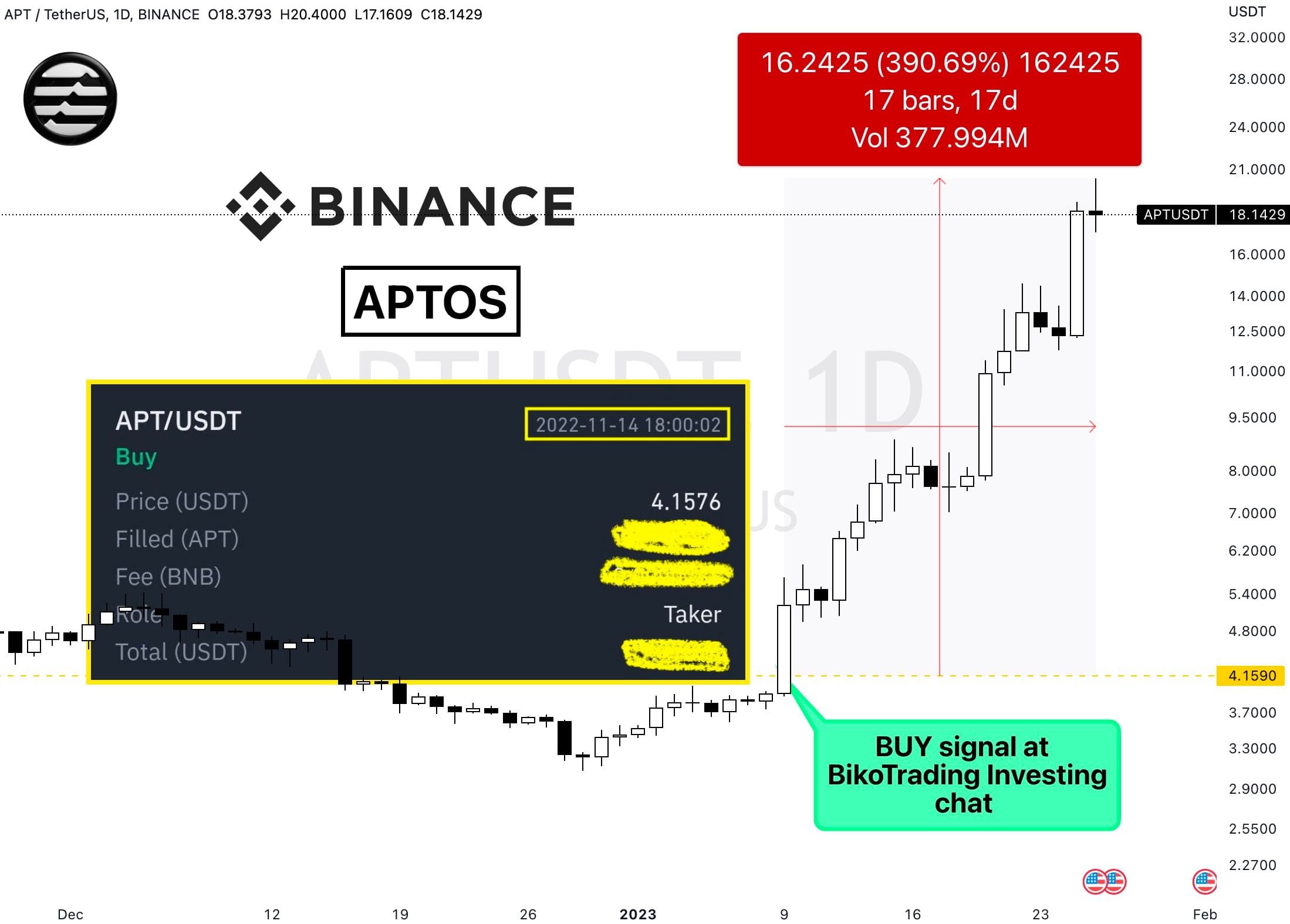 Aptos (APT) brings us +400% in just 17 days of growth. How is this possible? Because of its low initial value (capitalization). Before the growth, its capitalization was only $0.6 billion. For example, it takes years for Bitcoin (BTC) or Ethereum (ETH) to grow by 400%, while such unique altcoins can grow 4 times in just 2 weeks.
On the chart, you can see the price of our purchase and the results we got from this APT growth.
RNDR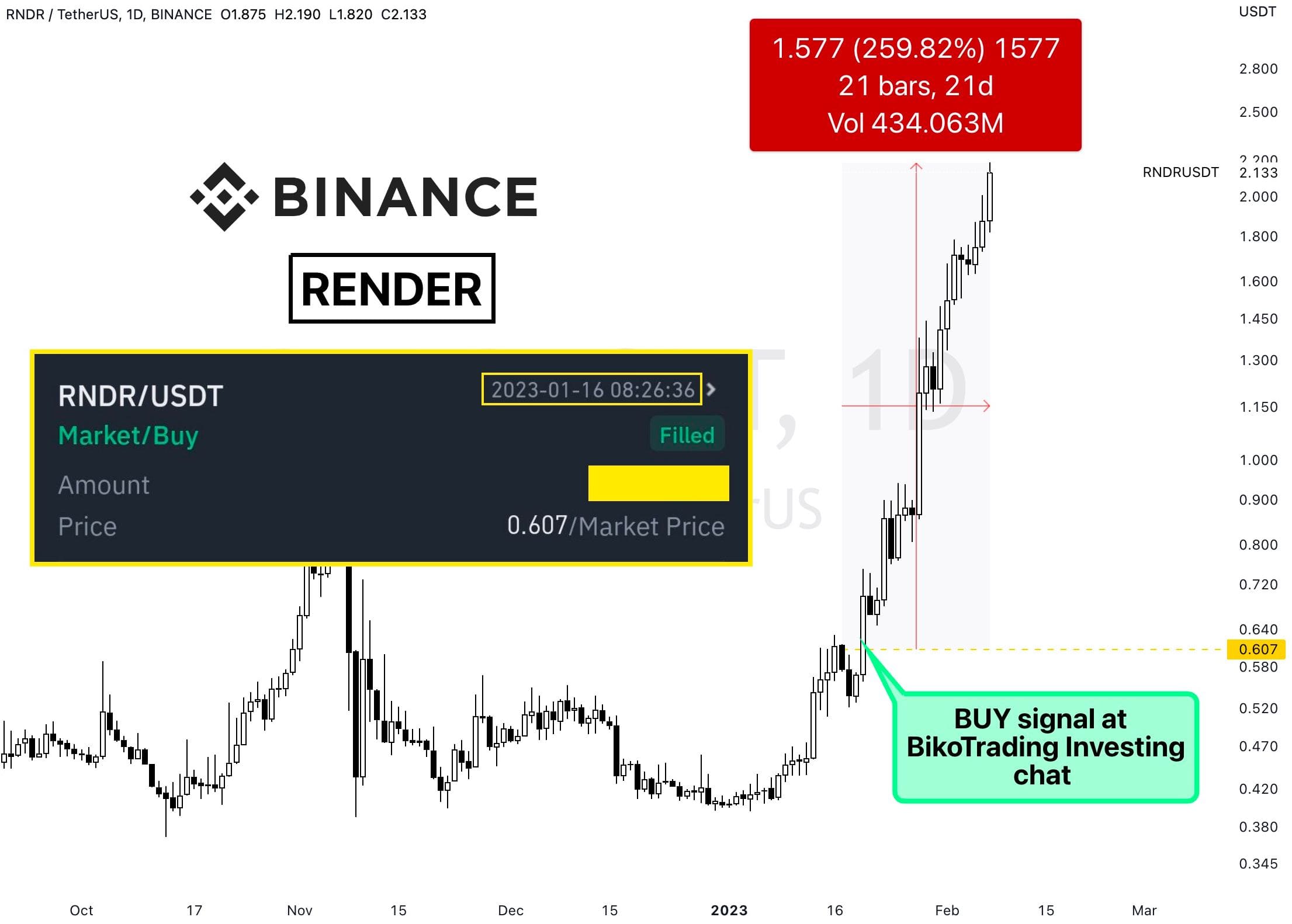 The next example is Render (RNDR), which has grown by +260%. The coin, with a total value of $350 million, almost tripled our deposit and reached $900 million in just 3 weeks! Such growth is possible only on altcoins with great potential and low capitalization, which we select for members of the BikoTrading Investing community.
GET IT TODAY: