Black friday on TradingView. How to trade get a 60% Discount on Pro + and Premium accounts
It is known that according to various statistics, only 5-10% of traders earn in the market, and in order to have a competitive advantage, every trader must have an arsenal of tools that will help him reach a new level.
In this article you will learn:
how to get a 60% discount on PRO, PRO + and PREMIUM accounts?
and what benefits and opportunities can you get?
TradingView is a platform for chart analysis and a social network where more than 30 million traders and investors around the world explore the possibilities of global markets. It is a place where traders analyze assets to the fullest, using technical analysis tools.
30M+ Traders and investors who visit us every month
#1 Top website in the world when it comes to all things investing
4.9 Finance app-wise, no one else is more loved.
8M+ Custom scripts and ideas shared by our users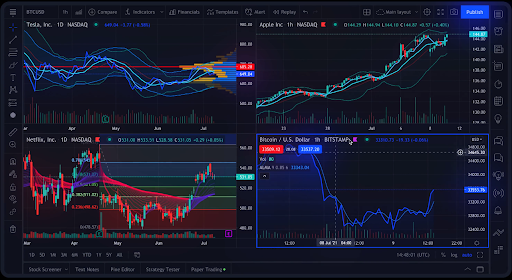 How to get a 60% discount on PRO, PRO + and PREMIUM accounts and what benefits will you get?
Very soon, on November 26, Black Friday will take place. All platforms will provide huge discounts. Every year, this day TradingView provides a discount of up to 60%. This is the best opportunity to purchase the full range of features at an affordable price.
TradingView currently offers subscriptions in three paid packages. 
Get a $30 bonus by opening an account with this invitation
Free subscription includes the ability to add 3 indicators and 1 chart in one window. With a Pro subscription you will have twice as many opportunities and will be able to add 5 indicators, 2 charts in one window, you will have the opportunity to use alerts, horizontal volume and will not be distracted by advertising.
Watch NOW on Youtube How to get a 60% discount on pro, pro + and premium accounts?
With the Pro + package, you can add twice as many indicators and charts in one window compared to a Pro subscription. Additionally, you will be able to save templates for various charts and all other Pro subscription options.
If you decide to buy the Premium package, you will have the maximum opportunities of the TradingView platform. You can add up to 25 indicators on one chart, 8 charts in one window, 400 alerts and an unlimited number of saved charts. If you are a scalper, you will be able to use a second time frame. And 4 times more data for testing your own strategies and the ability to publish your own trading scripts with limited access.