Boost Your Trading Success with the Greenwich Indicator: Say Goodbye to Guesswork!
Attention traders and investors! Are you tired of making trading decisions based on guesswork? Say goodbye to uncertainty and welcome the Greenwich indicator, a powerful tool designed to enhance your trading precision in the cryptocurrency market. Discover how this indicator can help you determine the optimal buying and selling points for Bitcoin and altcoins, backed by a proven track record of over 10 years of profitable results.
Interpretation: 
Lower grey zones (fundamental value, areas where cryptocurrency is most undervalued relative to its actual value. If the BTC price drops into this zone, it's the best time to start investing in cryptocurrency.)
Green diamonds (a visual signal that indicates the price has dropped into the fundamental value zone.)
Middle grey zone (median, which acts as a strong support if the price is below this zone and vice versa, a strong support zone if the price is above it. In simple terms, this is the area that roughly estimates the real value of the cryptocurrency.)
Upper grey zone (a time when the price is significantly overvalued and overbought. In these places, it's worth considering reducing risks and preparing for the end of the bull market.)
Red diamonds (an additional indicator that evaluates the maximum euphoria points in the cryptocurrency market and is a very strong reversal signal.)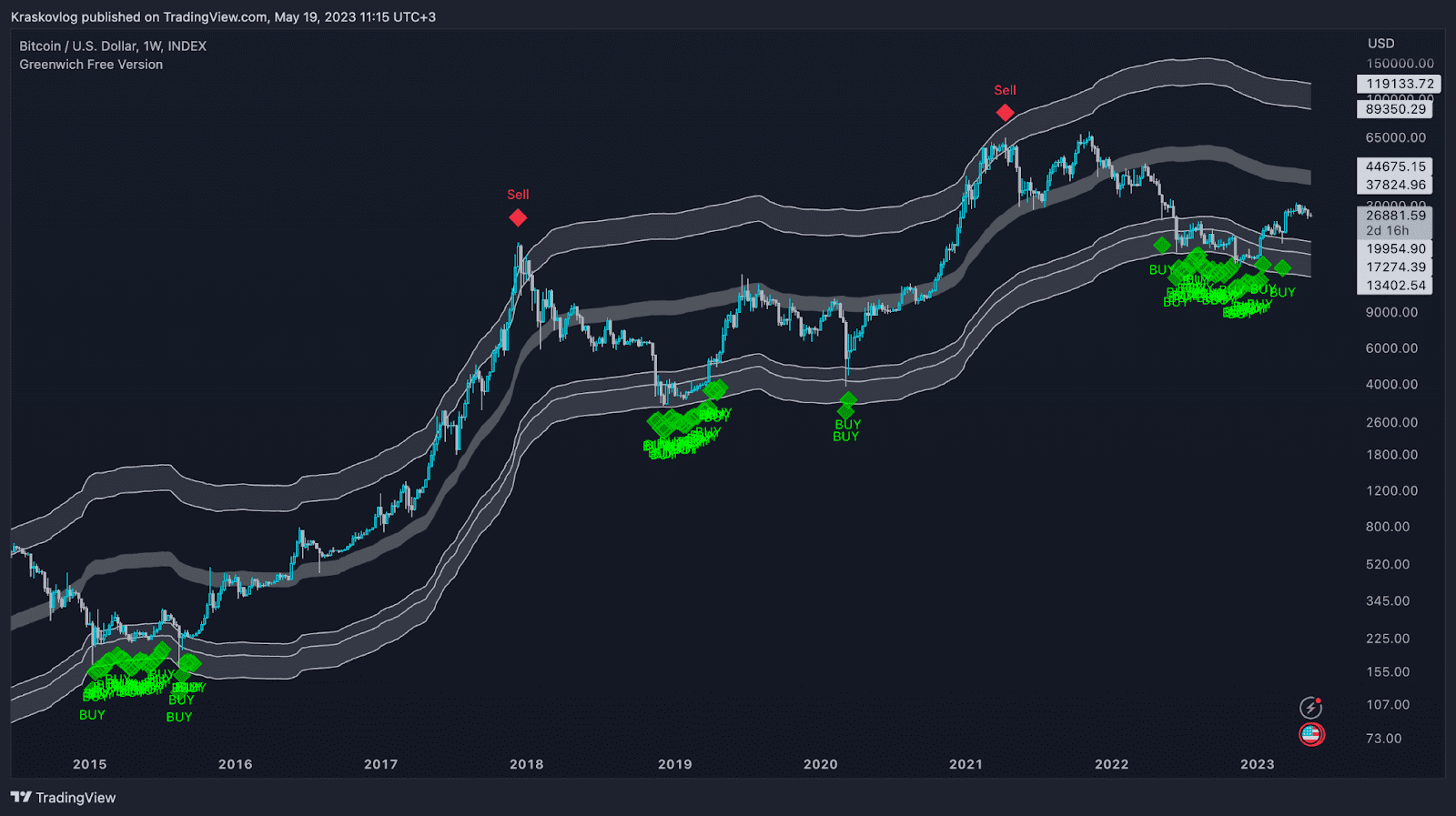 The free Greenwich system is designed solely for spot trading and includes analysis of volumes, market liquidity, global support and resistance zones, liquidation level measurements, and market cyclicality models. 
Combined, these elements create a comprehensive investment system, which to this point in Bitcoin's history has never been incorrect in its calculations and has perfectly identified the best times to invest in cryptocurrency and the optimal moments to take profit.
Key Features:
Spot trading analysis: Comprehensive analysis incorporating volumes, liquidity, and support-resistance zones.
High Accuracy: Flawless track record for predicting optimal investment times.
Live Alerts: Real-time notifications of critical market shifts.
Advanced Forecasting: AI-driven prediction of market trends.
Interactive Dashboard: A one-glance view of investment performance.
Backtesting: Verifies accuracy with historical data.
Mobile Compatibility: Works with iOS and Android devices.
Proven Profitability:
Explore the remarkable profitability of the Greenwich indicator over different periods:
2011-2013: +30,000%
2015-2017: +8,600%
2018-2021: +1,800%
2022-2025: Based on the cyclicity model, the projected potential profit for this cycle is estimated at 800-1,000%.
How to Get Started:
Follow these simple steps to set up the indicator on your chart and unlock its potential: 
1. Register on the TradingView platform. 
2. Access the exclusive Greenwich indicator page using the provided link. 
3. Click on "Add Indicator" after scrolling down the page.
4. Open the chart page.

5. Open the BTCUSD Bitcoin Index. 


6. Select the weekly timeframe for optimal performance. 

7. Enable logarithmic price display for accurate analysis. 

8. Navigate to the "Indicators" section, go to "Favorites," and find the Greenwich Free Version indicator. Click on the indicator to add it to your chart.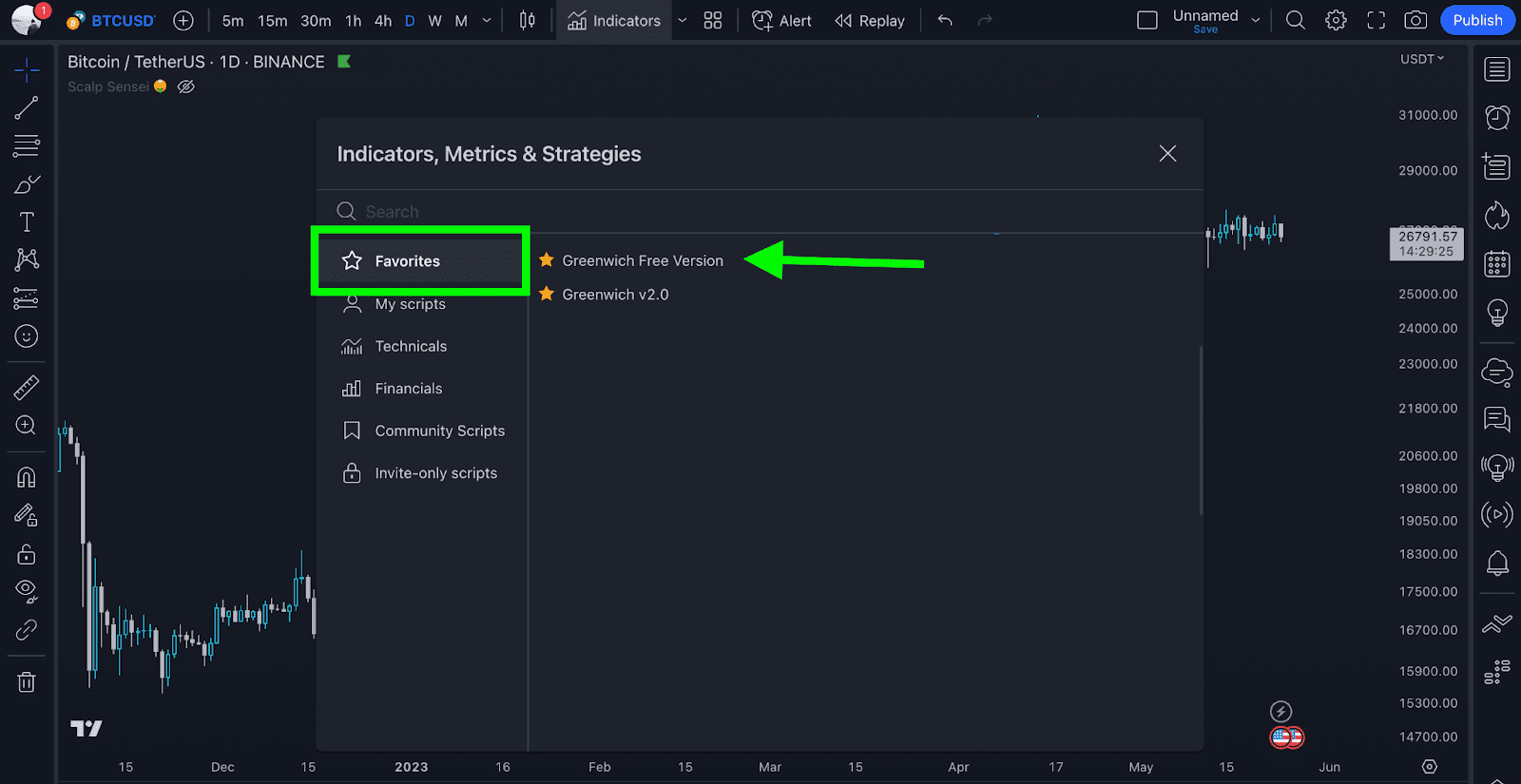 9. Congratulations! The indicator is now ready to use. If you encounter any issues, refresh the page and reopen the indicator.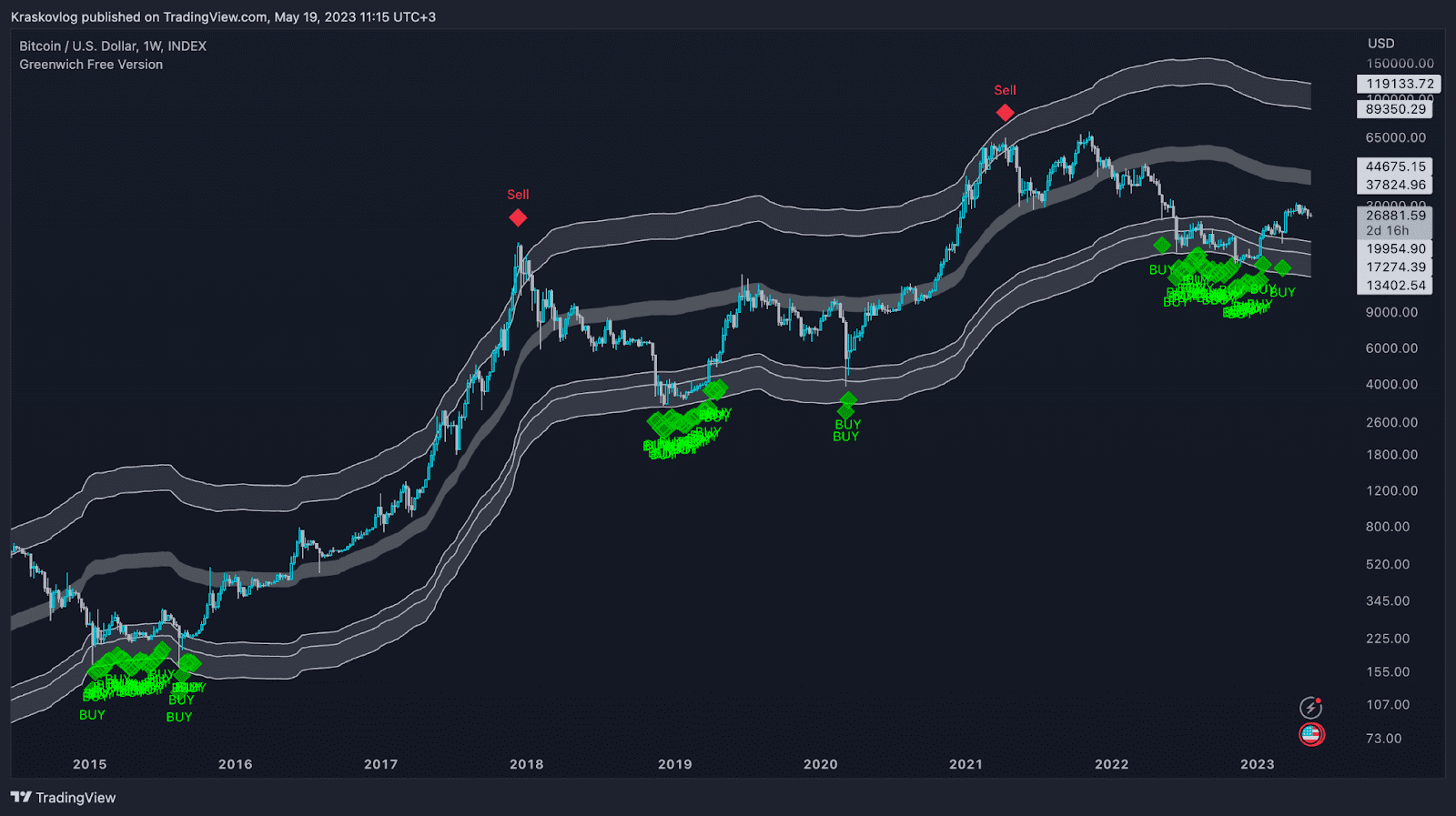 Unlock Premium Features:
For those seeking to amplify their initial investments by 30-50 times, consider upgrading to the Premium version. Gain access to additional features such as the medium-term futures trading strategy, along with other powerful BUY-SELL indicators like the PUMP Tracker, Whale Detector, and Scalp Sensei.
Greenwich Premium Version
Multiply your investments up to 30 - 50 times with this comprehensive indicator, including the medium-term futures trading system.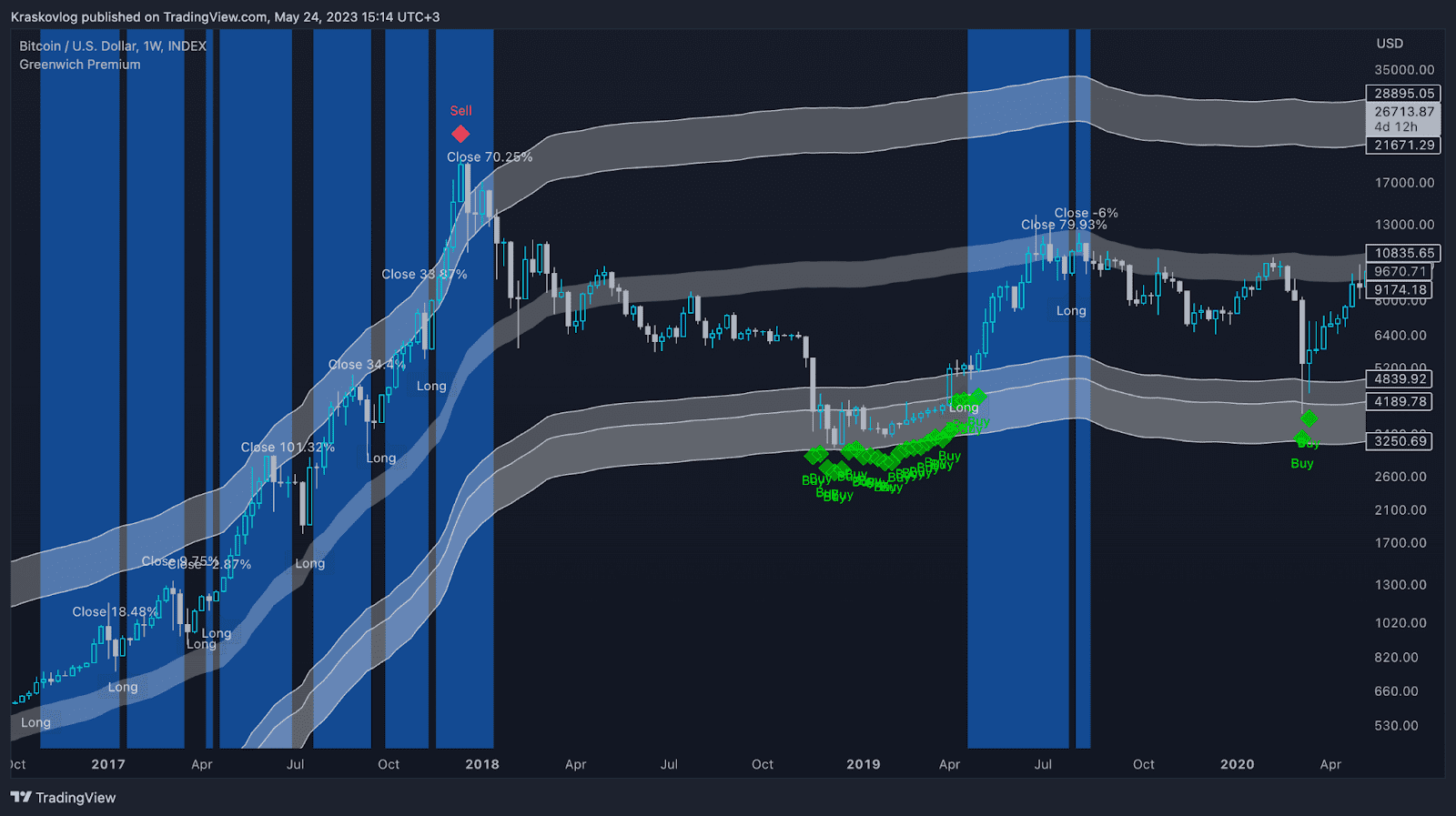 The table below demonstrates the effectiveness of the Greenwich Premium Indicator using the example of an initial $10,000 investment and all transactions over the past 7 years. By leveraging this premium version, the initial investment has impressively increased from $10,000 to $33,000,000 through 19 trades over 7 years.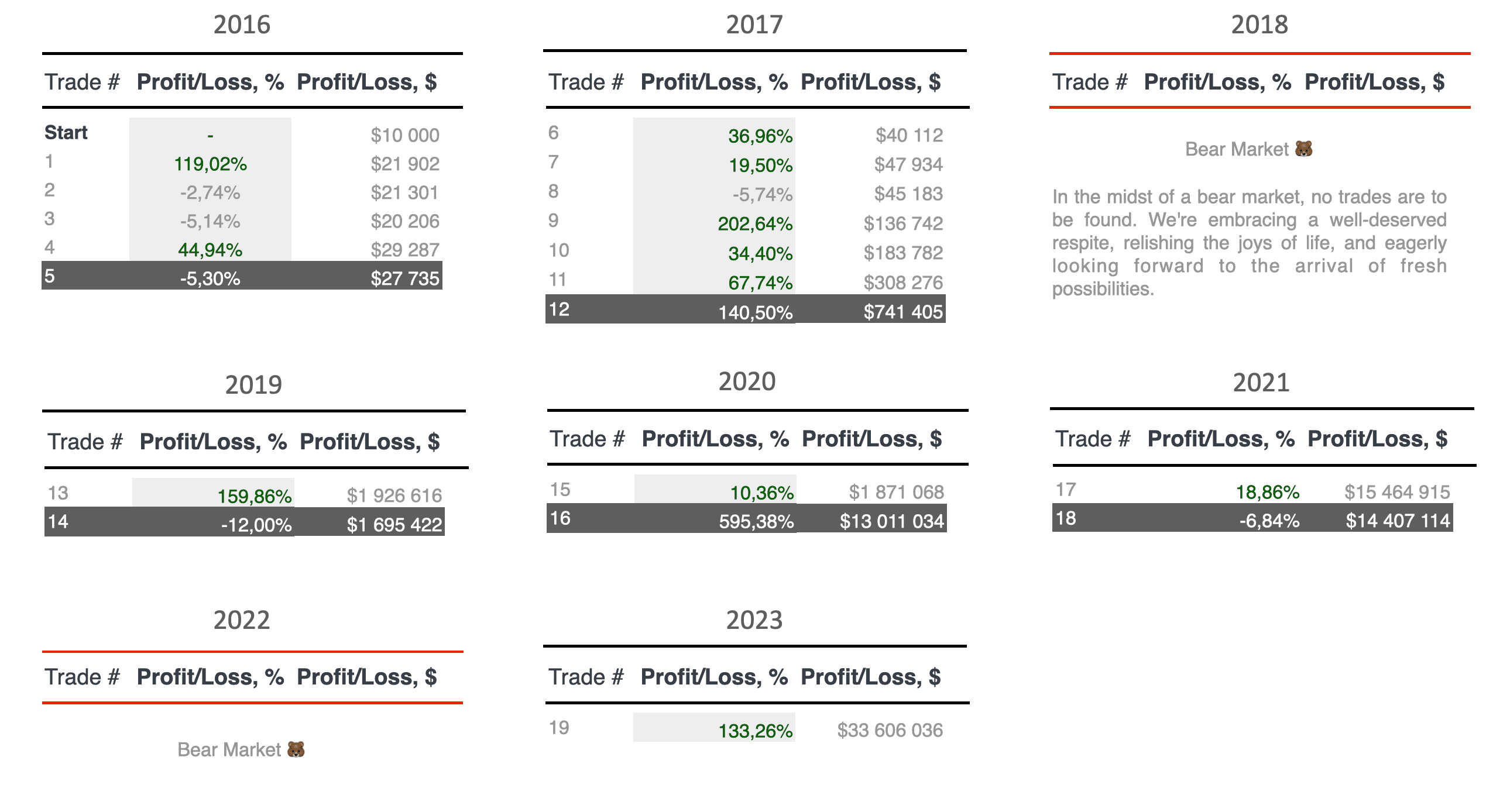 Pump Tracker
Enhance your trading opportunities with this daily timeframe strategy, delivering exceptional results.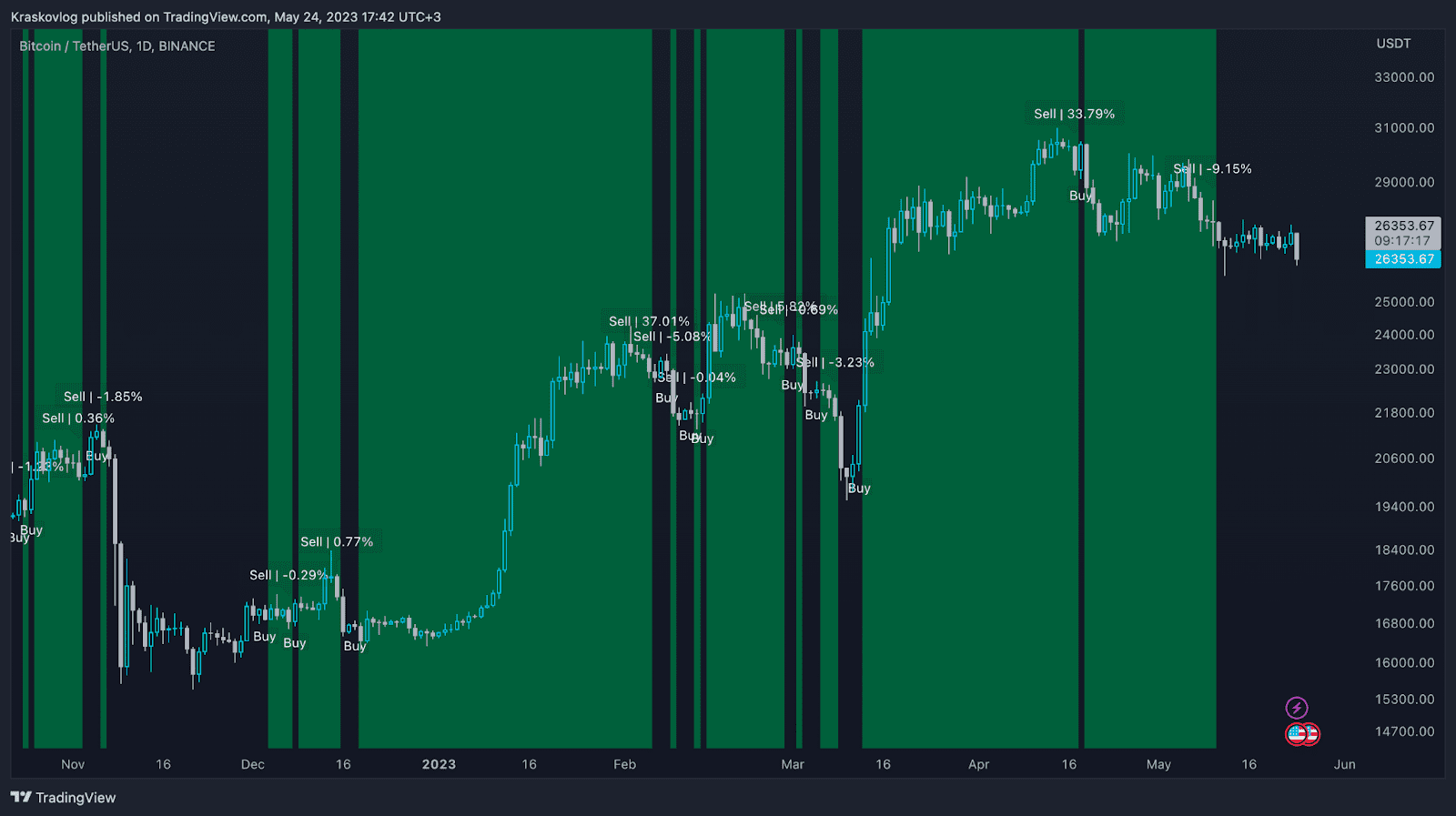 Below are the system's statistics over the past 4.5 years, demonstrating how the indicator successfully grew an initial investment of $10,000 to $2,176,000.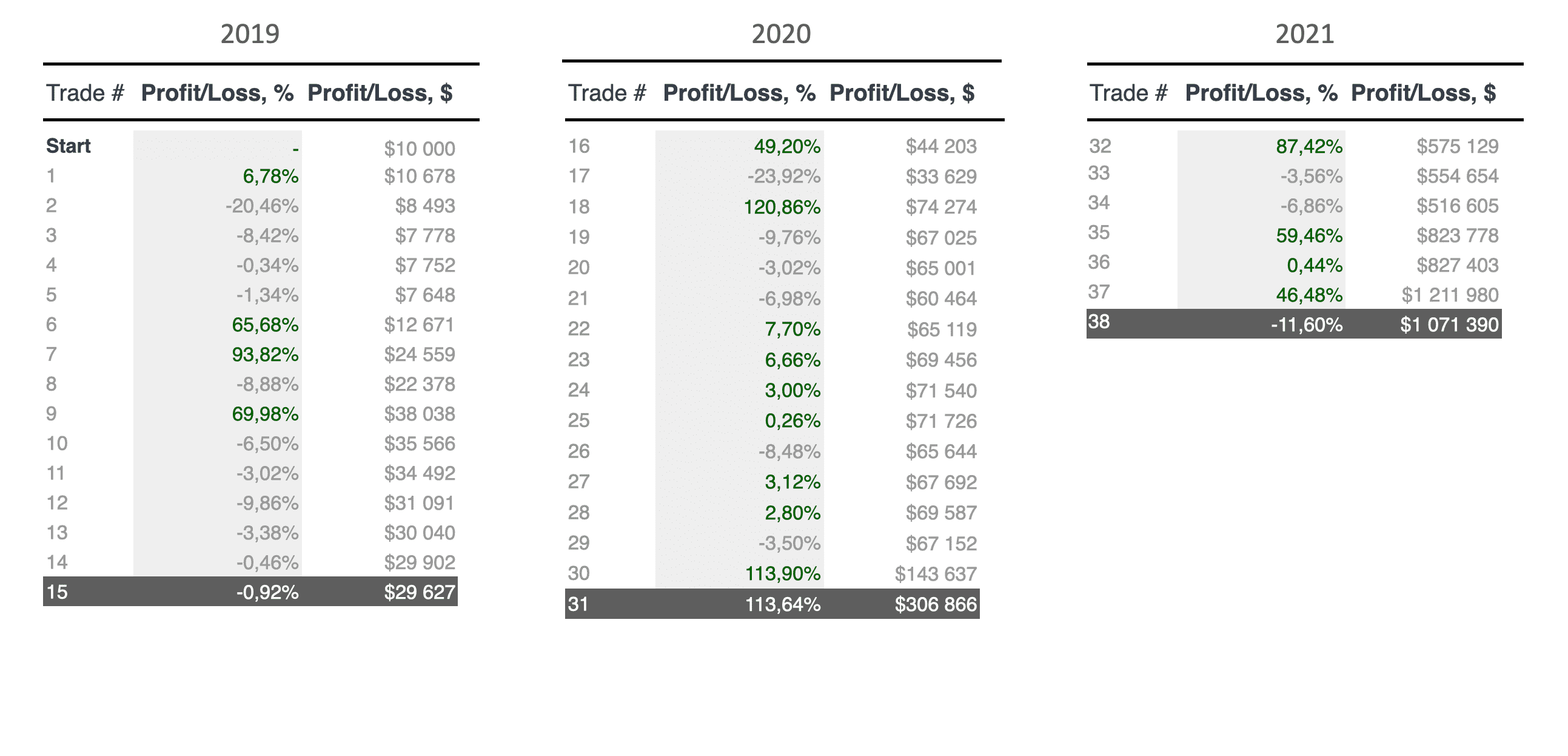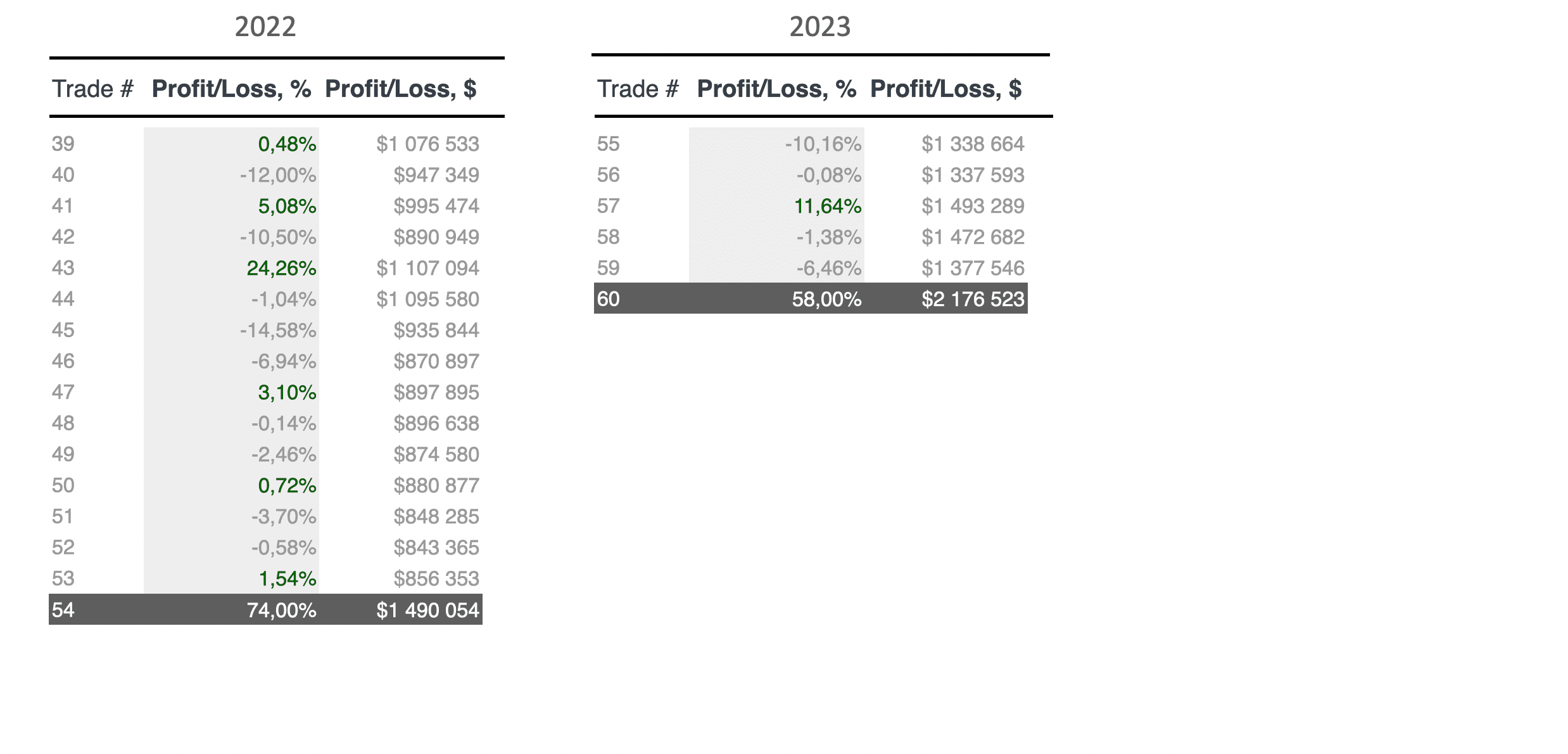 Whale Detector 
Unlock the potential of weekly timeframe trading and identify the best entry and exit points with 70% accuracy.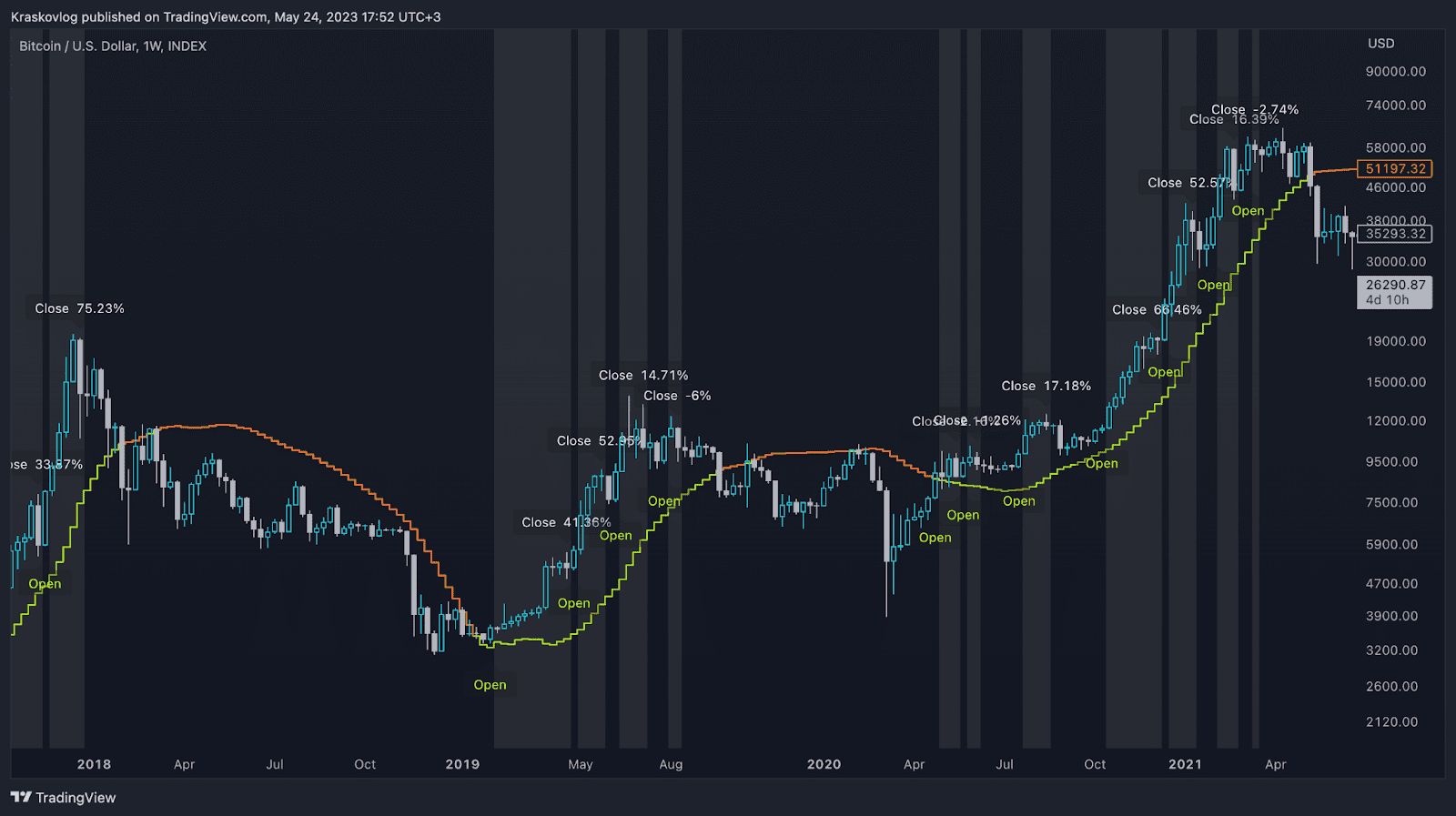 In the past 7 years, the system has amplified the initial investment by 2,590 times, converting an initial investment of $10,000 into a staggering $25,914,000.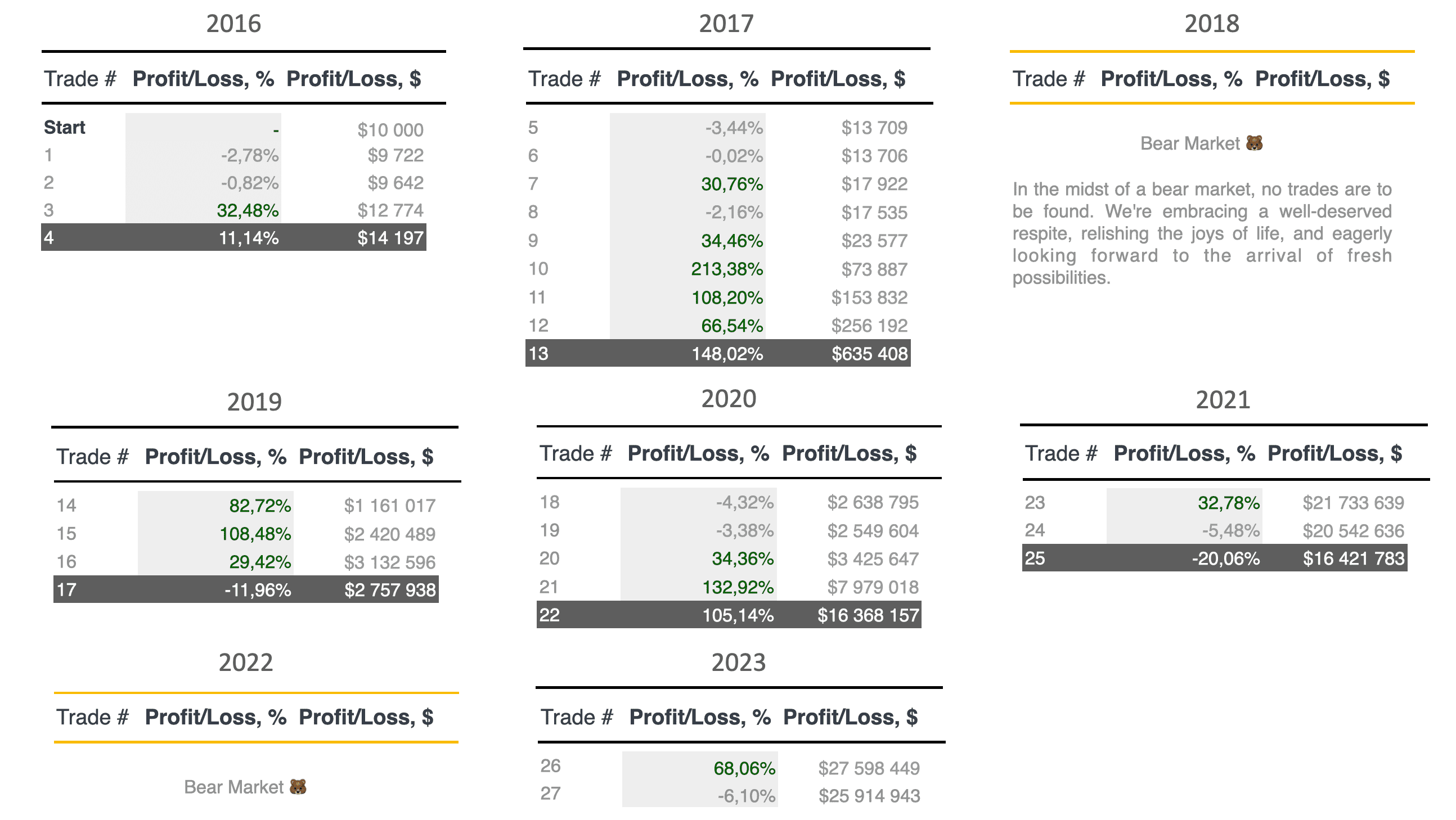 Please note that the number of signals does not require constant monitoring of charts. You can calmly carry out your primary activities, open several deals a month, and even with a small initial investment increase your balance by thousands of percent.
Transform Your Trading Experience: