How to make $ 1 million out of $ 1,000? Greenwich trading indicator for Cryptocurrency.
Friends, the Bikotrading team has been working on a new product for a long time. A product that could solve the problems of many beginners and traders who are constantly looking for the perfect trading system.
Most people who are just entering the cryptocurrency market try to find secret indicators, buy altcoins in the hope of earning hundreds of percent, start using huge leverage and as a result lose their time and money. Trading is not a lottery or a hope for good luck, trading is a clear set of rules that make up the trading system.
In this article, we will present you our Greenwich trading indicator, show statistics and tell you how to really earn $1 million.
Watch NOW on Youtube - The BEST crypto indicator that`ll make you a successful trader INSTANTLY!! The Greenwich indicator
What is the Greenwich trading system and how does it work?
Greenwich is a set of rules and market patterns statistically tested over a decade of bitcoin history and successfully tested over the past few years.
The indicator consists of long-term and medium-term strategies, which in combination bring extraordinary profits according to the results.
In order to better understand how the indicator works, let's look at bitcoin cycles. Bitcoin, like all world markets, has its cycles. On average, 1 cycle is 4 years, of which 2.5 years the market is in a bullish trend and 1.5 years it is in a bearish trend. It should also be noted that the cycles expand over time.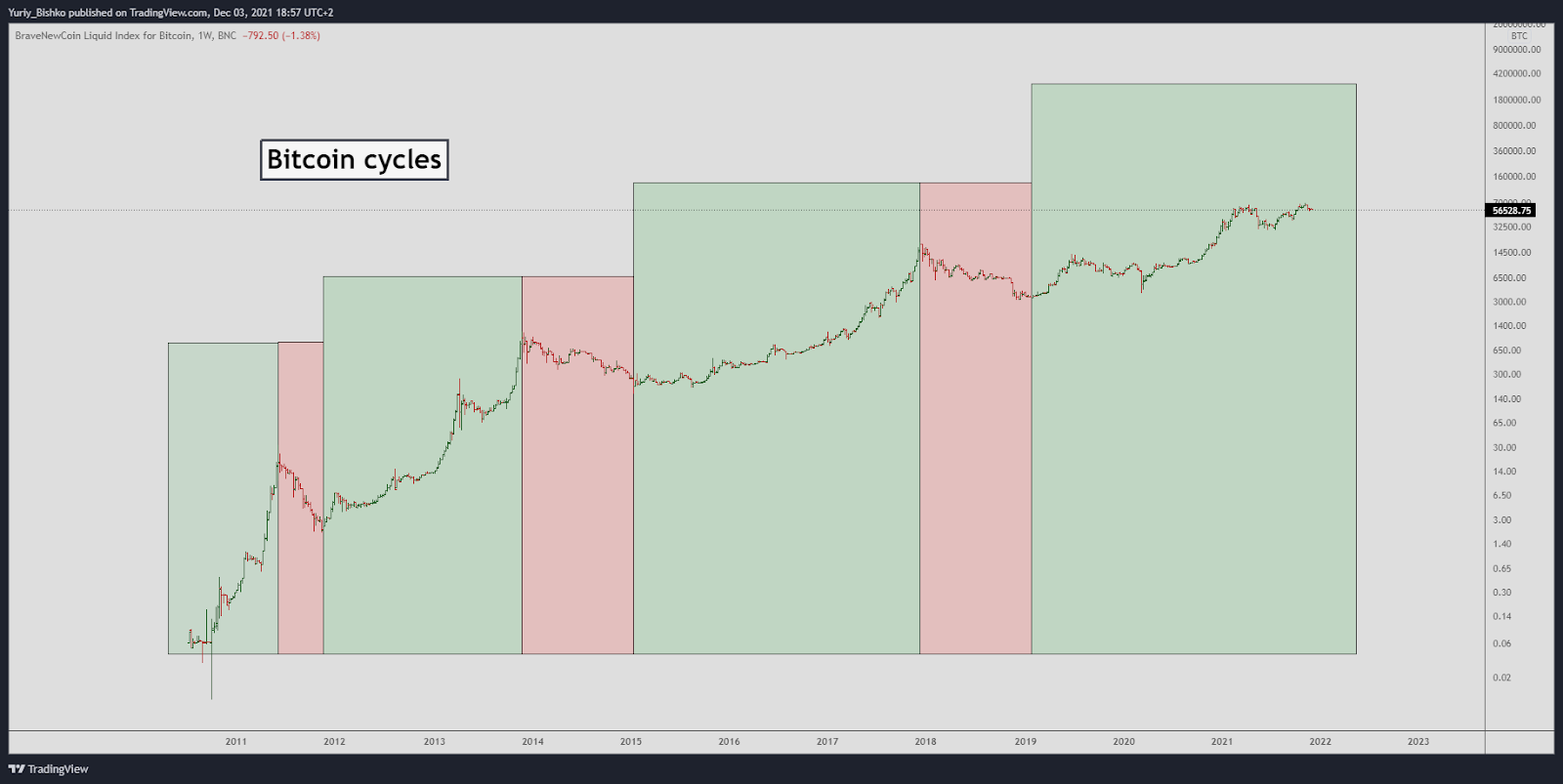 The main task of the long-term system is to find the market minimum and maximum.
And as you can see on the chart below, it does its job perfectly.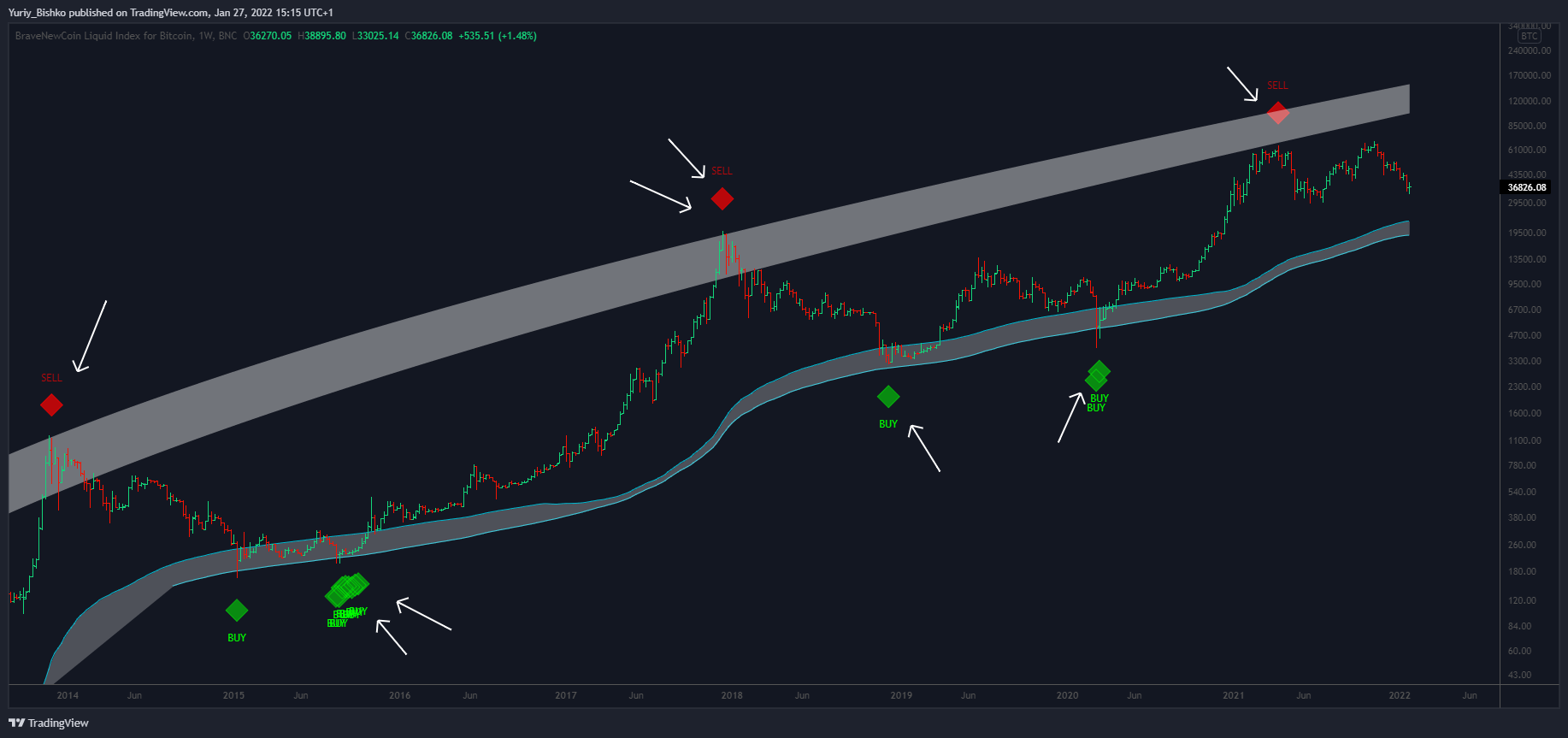 After the green diamonds appear on the chart, the indicator users need to buy bitcoins on their spot account, and as you have already understood, when the red diamonds appear, they need to sell.
Next, the medium-term strategy (blue areas) is activated, the main task of which is to increase the amount of bitcoins. As a result, we have a trading system that increases the number of bitcoins, while the price of bitcoin also increases.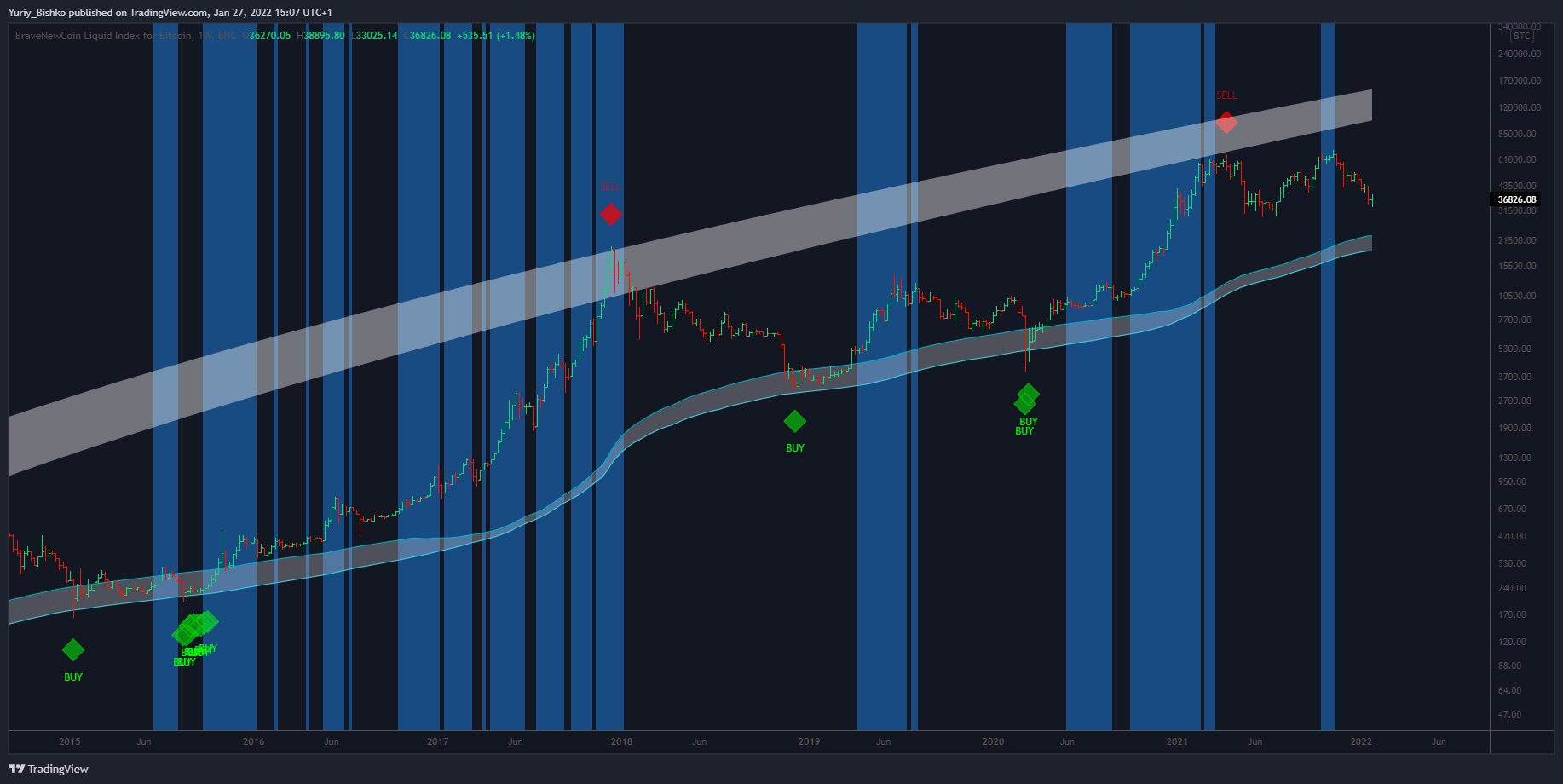 You may have a question: what to do if you failed to buy on green diamonds? The answer is simple: open positions on medium-term signals (blue areas) and wait for green diamonds to take long-term spot positions on bitcoin. The results will be a little smaller, but you can still increase your capital considerably.
Over the entire history there were only 6 losing trades. The maximum loss was only 6%. Win rate of the strategy = 74%, which means that for every 4 trades 3 of them are profitable and only one losing. Profit factor = 19, which means that for every dollar you lose, you make $19 in profit. In the table below we have written out all the trade statistics.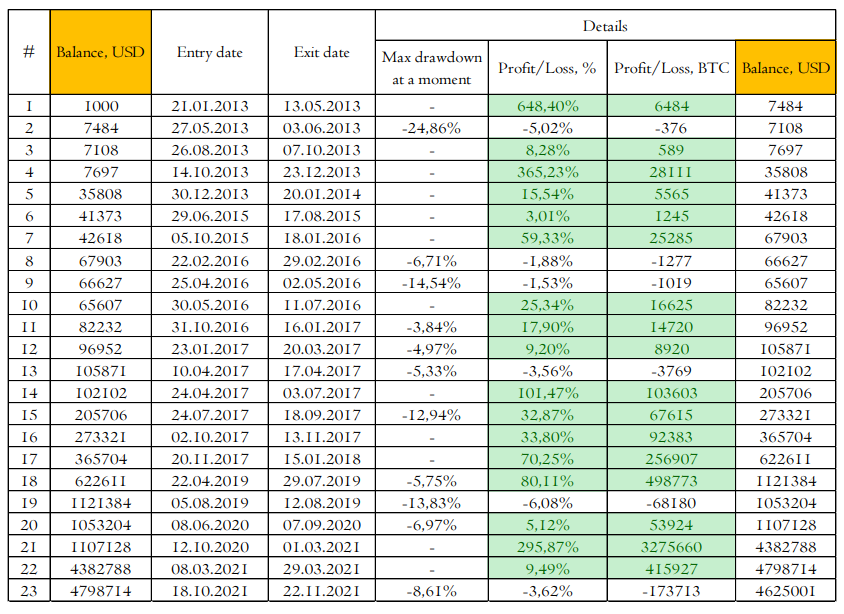 According to statistics, the invested thousand dollars would turn into $ 4.6 million.
But of course, ten years ago no one could have predicted such a growth result, so below we will consider the trades for 2015-2017 and 2019-2021.
The table and chart below show all the trades from 2015 through 2017. Let's look at an example: in 2015, you wanted to invest $1,000 and use the Greenwich strategy. At that time, 1 bitcoin was worth $230, so you bought 4.35 bitcoins on a Buy signal. After that, on each medium-term strategy signal (blue area) you leveraged 1x on your bitcoin and increased the number of bitcoins. As a result, in just 11 trades, your 4 BTC increased to 64 BTC, and the price of BTC increased from $230 to $17,000. Thus, you earned $1.2 million in 2 years by investing only $1k. It sounds unrealistic, but it is.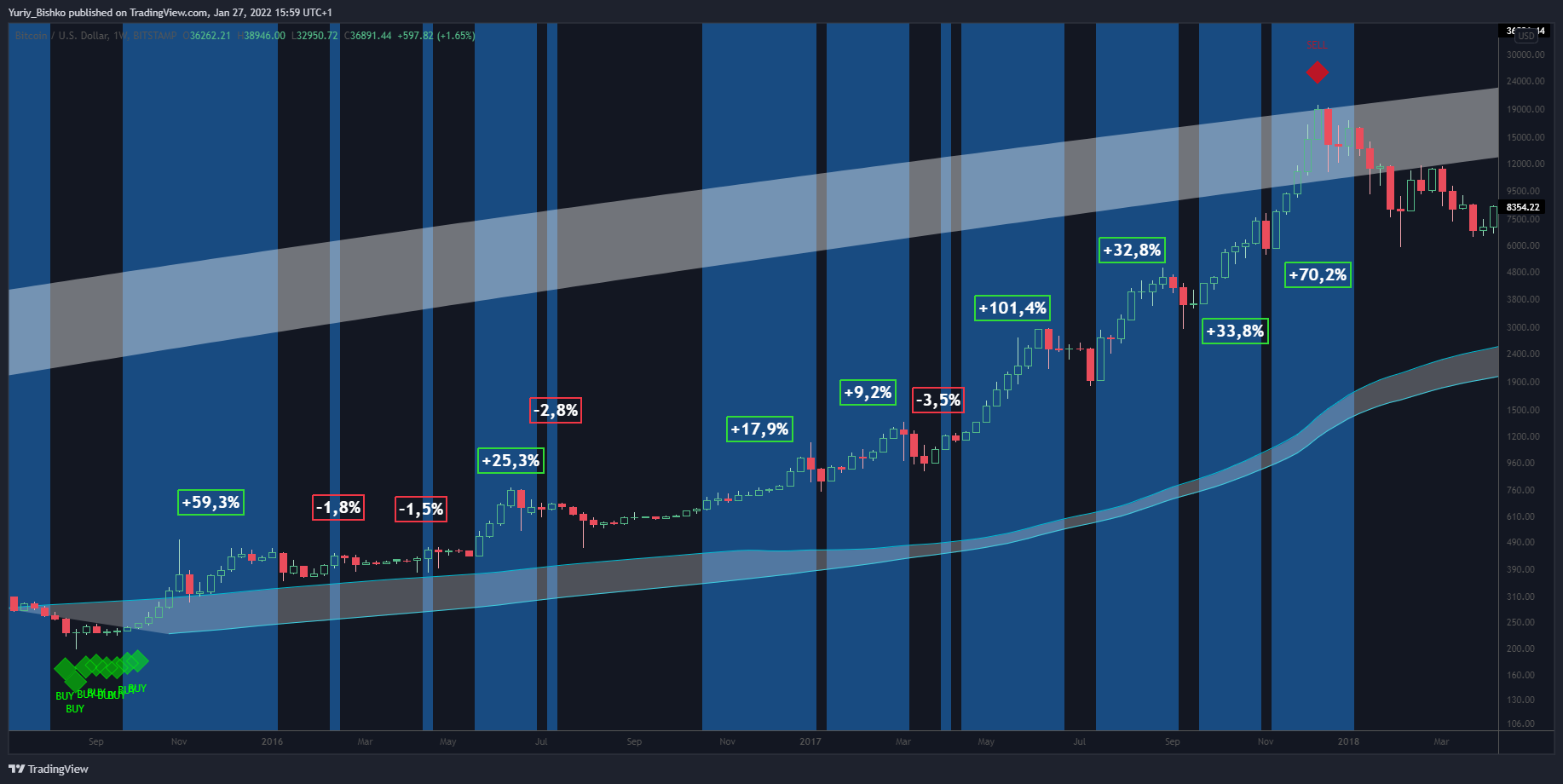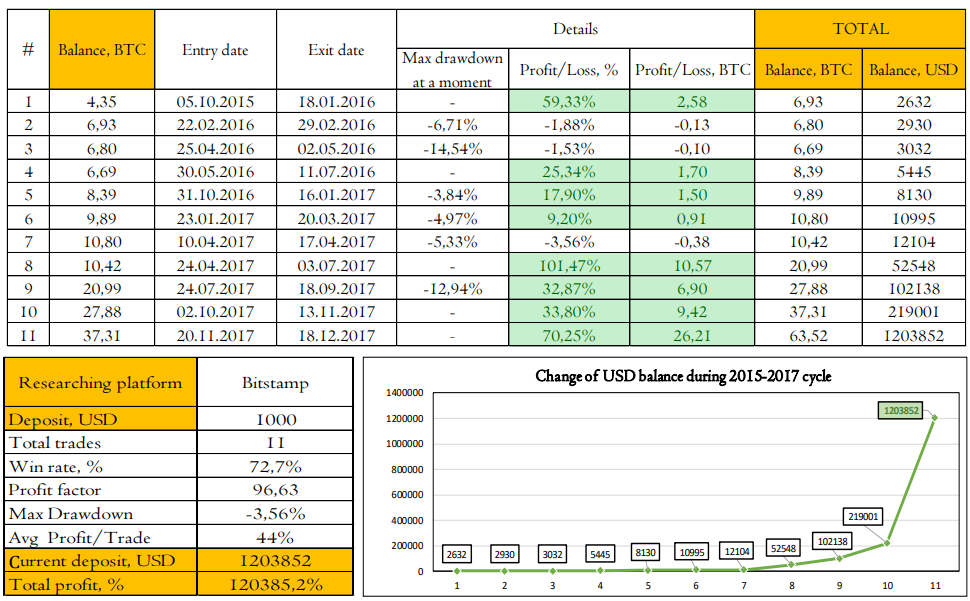 Of course, you can say that in 2015 few people were interested in cryptocurrency, so let's consider 2019 - 2021, when everyone already knew what bitcoin was.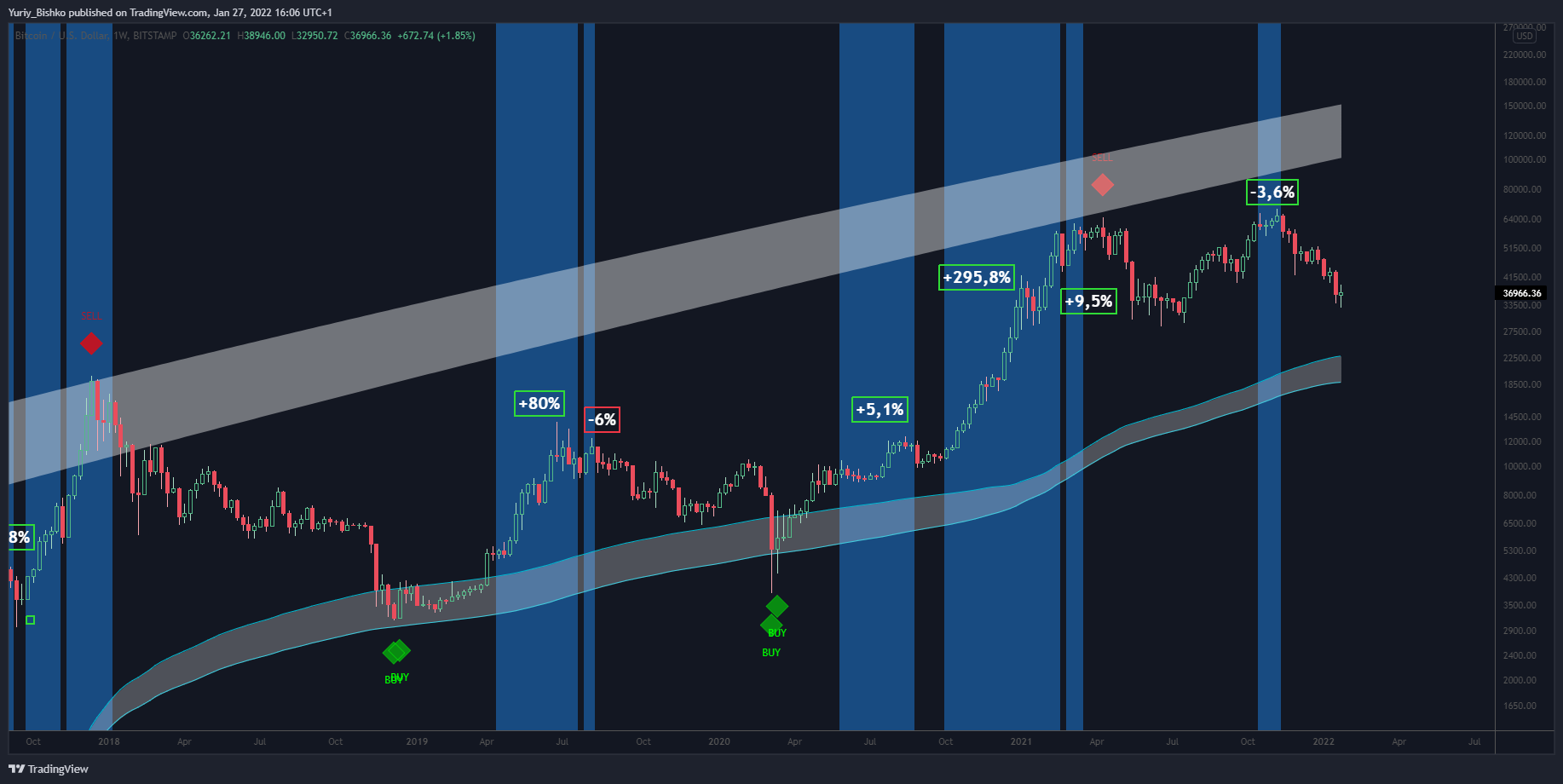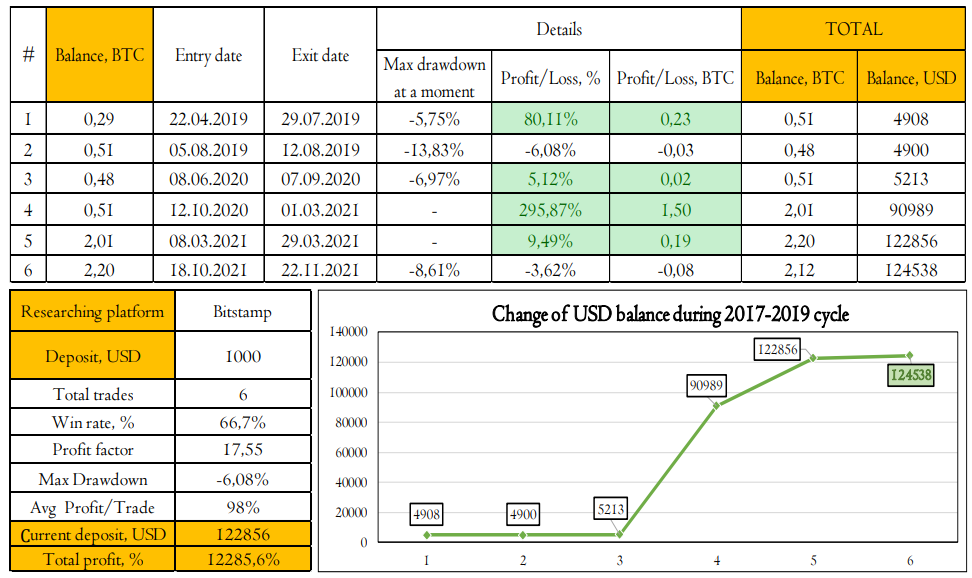 The signal to buy BTC appeared at $3.200, we bought 0.29 BTC for $1 thousand. After that there were 6 trades, with the help of which we increased our bitcoins from 0.29 BTC to 2.12 BTC. And that's $120k with only $1k invested. 120x profit. You can also use the system to buy altcoins. The bull market isn't over yet and this result can increase 5-10 times more.
Now back to the question 'How can I become a millionaire with the Greenwich Indicator? According to our predictions, analyzing real facts and statistics in the next cycle, there is an opportunity to increase your capital by 100x. Having 10 thousand dollars you can really become a millionaire, but if you start now even 1 thousand dollars may be enough to get full financial freedom.