Unveiling the Secrets of ICO, IDO, and IEO: Your Ultimate Guide to Profitable Crypto Investing
By Alex Dehtiarov 
BikoTrading Academy
Introduction: Are you ready to dive into the thrilling world of cryptocurrency fundraising and make your fortune? As the crypto market evolves, the innovative methods of Initial Coin Offerings (ICO), Initial DEX Offerings (IDO), and Initial Exchange Offerings (IEO) have taken center stage, offering lucrative opportunities for investors. Buckle up as we embark on an exhilarating journey, unraveling the mysteries of these powerful fundraising mechanisms, and unveiling the secret strategies to maximize your profits in the ever-evolving crypto landscape. Let's get started!
KEY ISSUES:
How to make money with ICO, IDO, and IEO investing
Profitable strategies for ICO, IDO, and IEO investments
Understanding ICO, IDO, and IEO for successful crypto investing
Best practices for investing in ICO, IDO, and IEO projects
ICO Revolution: Unleashing Unimaginable Wealth in the Crypto Universe
In 2017-2018, Initial Coin Offerings (ICOs) revolutionized investment, becoming a popular, cost-effective alternative to traditional Initial Public Offerings (IPOs). Unlike IPOs, ICO investors buy project tokens instead of company shares, with token prices driven by supply and demand on cryptocurrency exchanges. 
Before launching, ICO teams create websites, draft compelling white papers, and develop strategic roadmaps. Despite their quick, affordable appeal, the lack of regulation led to an influx of fraudulent ICOs, with up to 80% failing to meet expectations or being outright scams. This trend severely damaged investor trust in the ICO landscape.
IEO Jackpot: Master the Art of Crypto Investing with Exchange-backed Power Plays
Initial Exchange Offerings (IEOs) emerged in 2018-2019 as a secure, user-friendly alternative to ICOs, with cryptocurrency exchanges acting as intermediaries. IEOs streamline the tokenization process, offering a simpler investment experience and reduced fraud risk through project verification.
Exchanges manage IEO infrastructure, audience, and promotion, benefiting token issuers by providing an extensive client base as potential investors. However, IEOs have limitations, such as price manipulation due to exchange-imposed restrictions on token prices or user sales volumes.
Discovering the IDO Goldmine: Unlock the Hidden Treasures of Decentralized Exchanges
Initial DEX Offerings (IDOs) revolutionize fundraising by combining coin sales and listings on decentralized exchanges (DEXs), bypassing the need for cryptocurrency exchange vetting. IDOs use liquidity pools and automated market makers (AMMs) for asset trading, unlike centralized exchanges such as Binance or Coinbase, which rely on market makers and order books.
Liquidity pools enable direct asset exchanges without waiting for buyers or sellers, catering to specific asset pairs. IDOs primarily run on Uniswap (Ethereum), but alternative blockchains like Solana, Polkadot, and Binance Smart Chain (BSC) are gaining traction, providing cost-effective network fee alternatives.
Summary
As the world of cryptocurrency evolves, investment models like IEOs and IDOs are rapidly advancing, offering new opportunities for innovative projects. However, it is crucial to approach these platforms and projects with due diligence.
Before investing, thoroughly examine the white paper, documentation, team members' background, and developers' experience. Seek feedback from fellow crypto enthusiasts to make well-informed decisions in the dynamic crypto investment landscape.
How to make 150-400% in a month investing in altcoins?
I want to show you our results so that you can see how profitable buying altcoins with great potential and low capitalization can be.
APT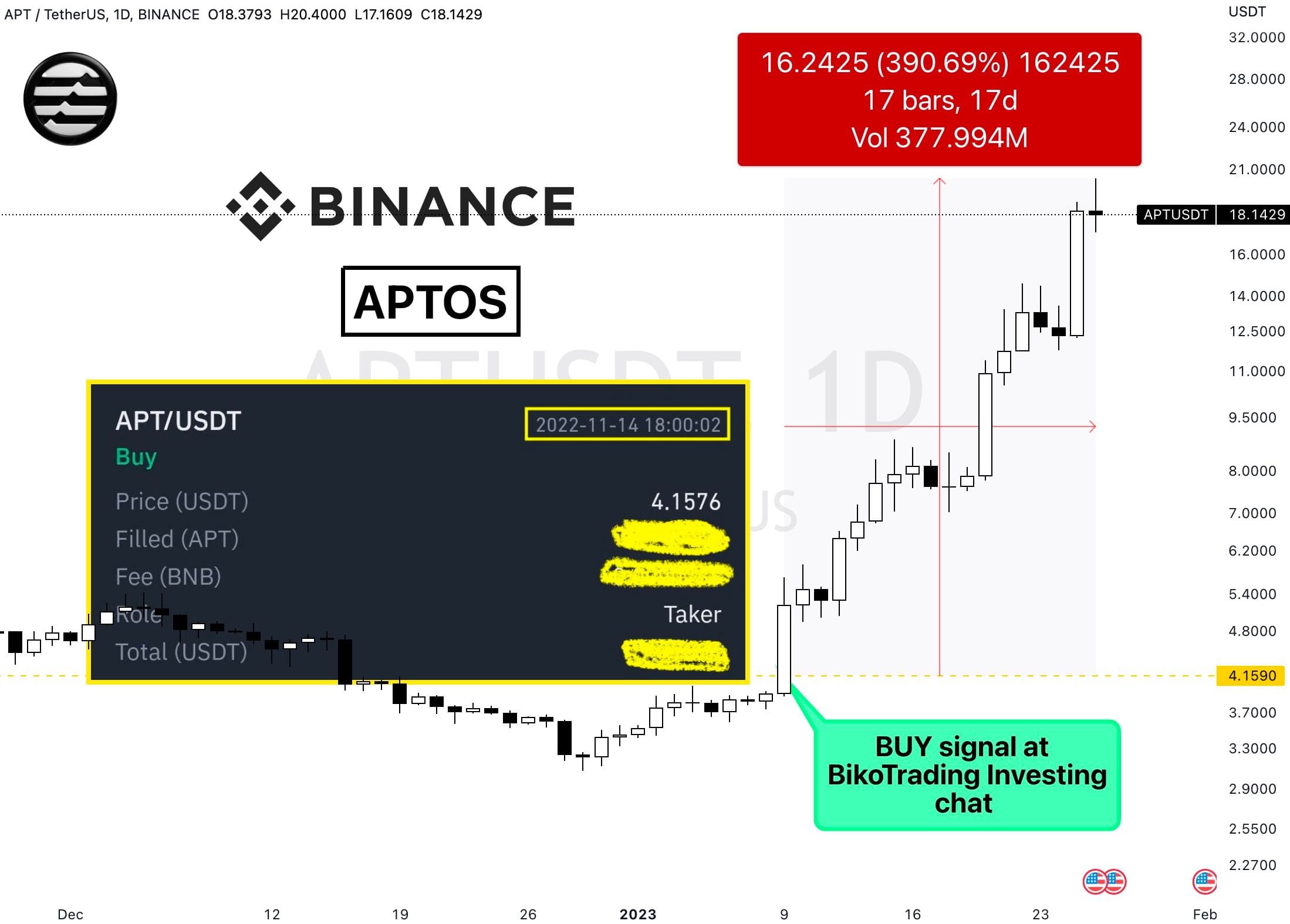 Aptos (APT) brings us +400% in just 17 days of growth. How is this possible? Because of its low initial value (capitalization). Before the growth, its capitalization was only $0.6 billion. For example, it takes years for Bitcoin (BTC) or Ethereum (ETH) to grow by 400%, while such unique altcoins can grow 4 times in just 2 weeks.
On the chart, you can see the price of our purchase and the results we got from this APT growth.
RNDR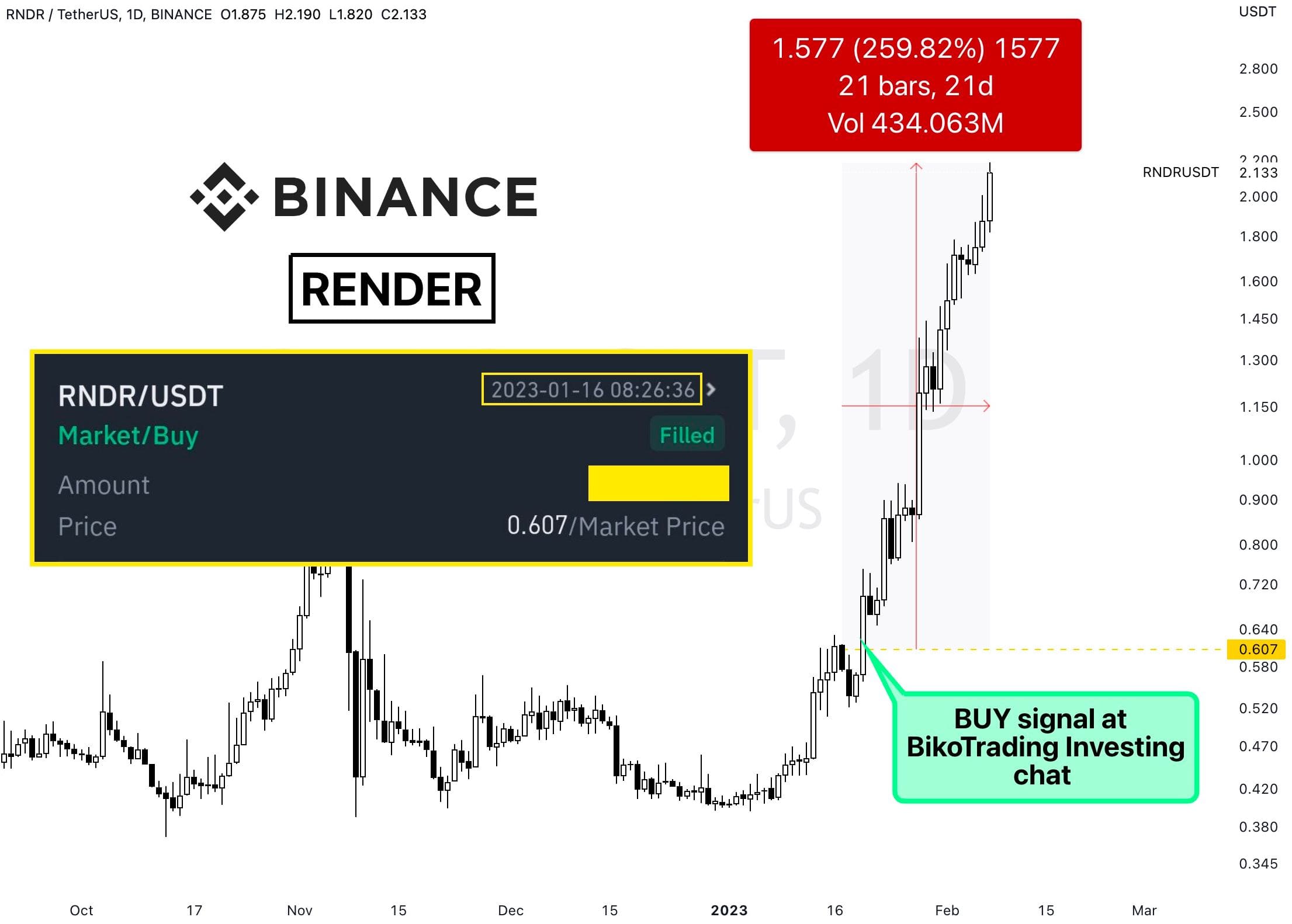 The next example is Render (RNDR), which has grown by +260%. The coin, with a total value of $350 million, almost tripled our deposit and reached $900 million in just 3 weeks!
Such growth is possible only on altcoins with great potential and low capitalization, which we select for members of the Altcoin Gems community. Don't miss out! Use the links below and unlock the secrets to earning on altcoin growth with our community! 
GET IT TODAY: