Top 10 altcoins to Buy on Spot for 100-200% rise
By Yuriy Bishko Updated November 11, 2021
BikoTrading Academy
1.WING is the proprietary token of the decentralized finance platform Wing Finance, built on Ontology Blockchain (ONT).
Wing developed the DeFi platform, designed for the digital asset lending market, supporting cross-network collaboration between various DeFi products.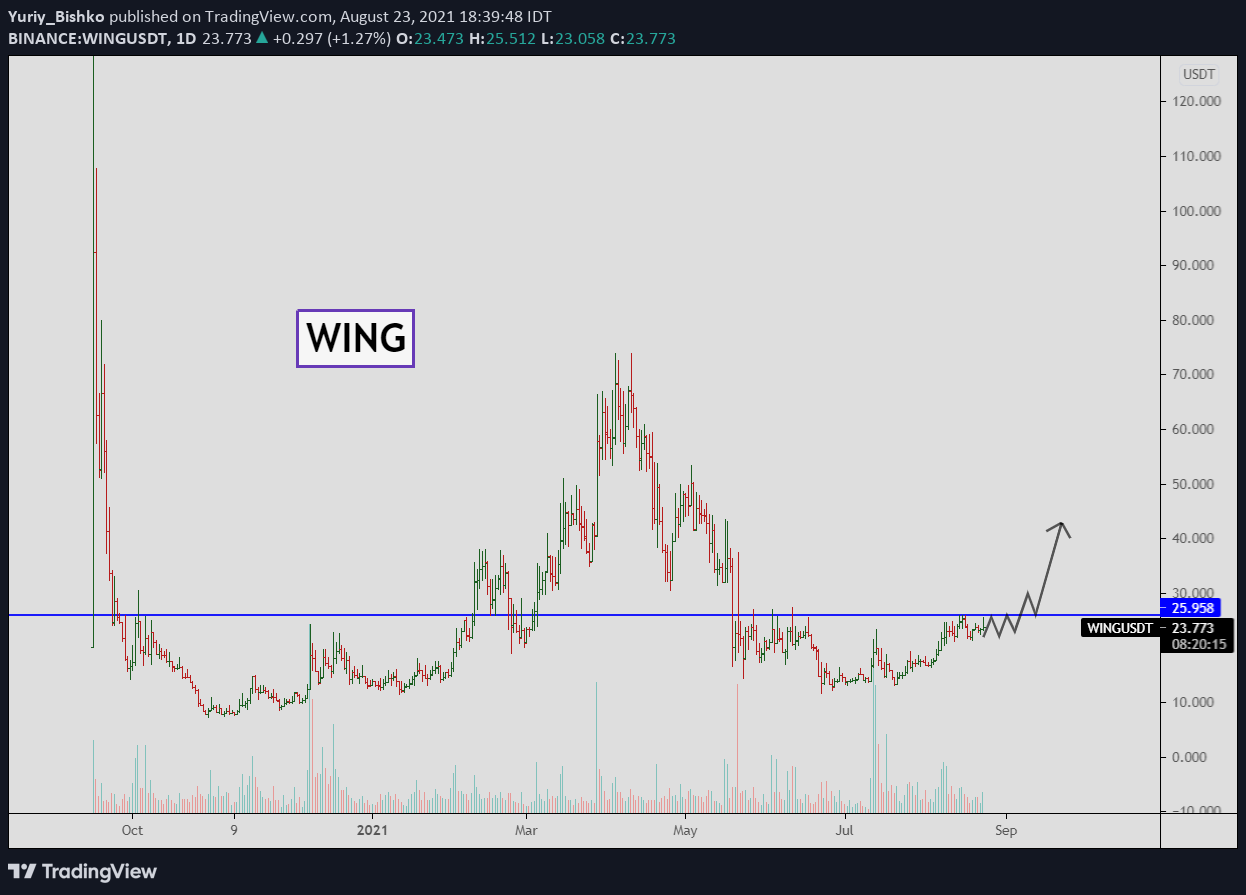 The field of lending is widely developed in our daily lives and has great prospects in the field of cryptocurrency, if we conduct a technical analysis, it is a coin that in the near future can bring good interest. The price is approaching the key level of $ 26. A good opportunity to buy, after a breakdown, or retest level $ 26.
2.CRV is one of the new decentralized financial services (DeFi) protocols based on Ethereum. It allows trading not using a central order book, but using cryptocurrency pools. Pools are provided to users so that they can receive a commission from their deposits.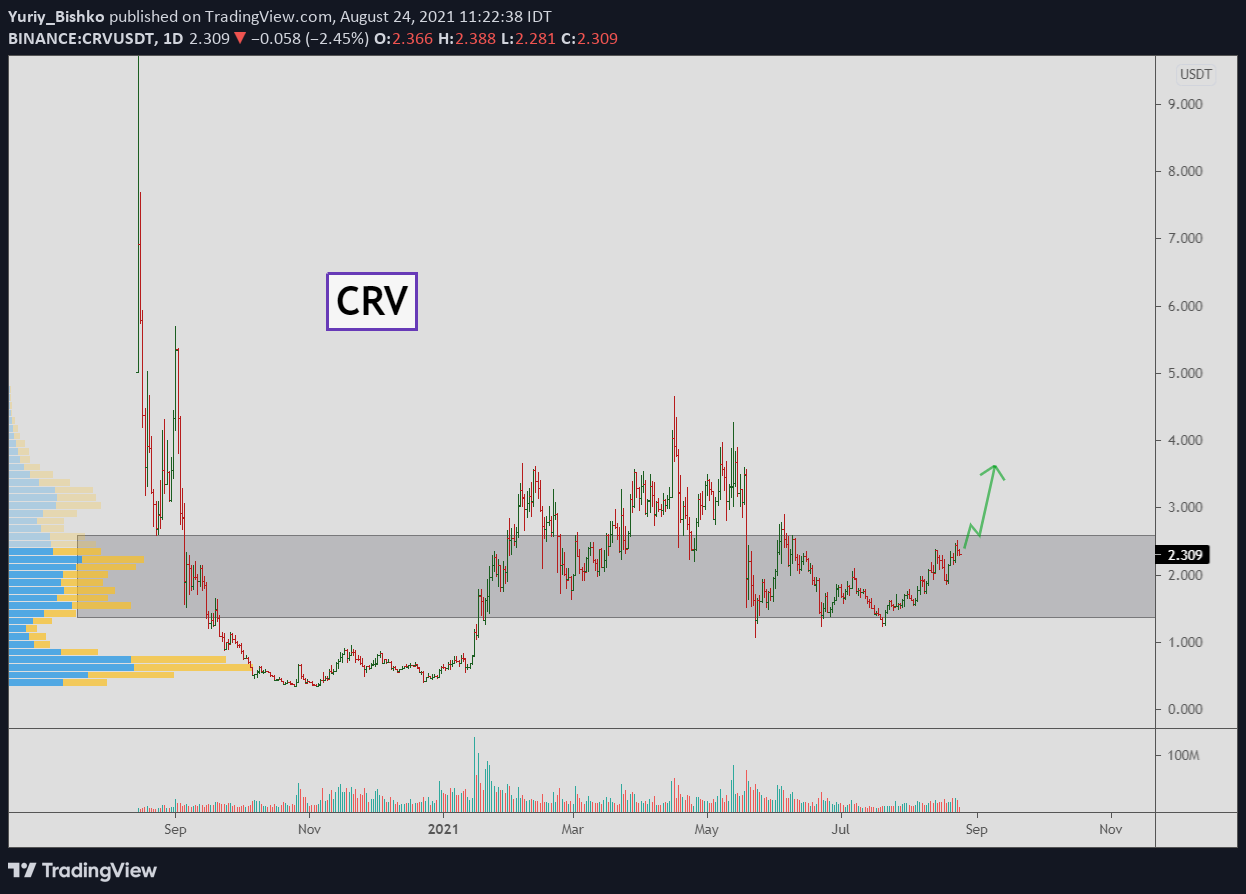 A very strong project, the world company PayPal was interested in buying it.
If analyzed from the point of view of technical analysis, the coin is now in the value area, and is pressed to the upper limit. After the breakdown, the price can soar quite high. Compared to other DeFi projects, CRV is exactly the coin that has not yet realized its potential.
3.BEL – Bella Protocol – is a platform that provides a suite of DeFi products designed to make crypto-banking easier and more accessible. The protocol aims to create a better user experience by eliminating the problems of high fees and slow transactions that can affect some blockchain platforms, while improving the user experience with DeFi's simplified smart portal.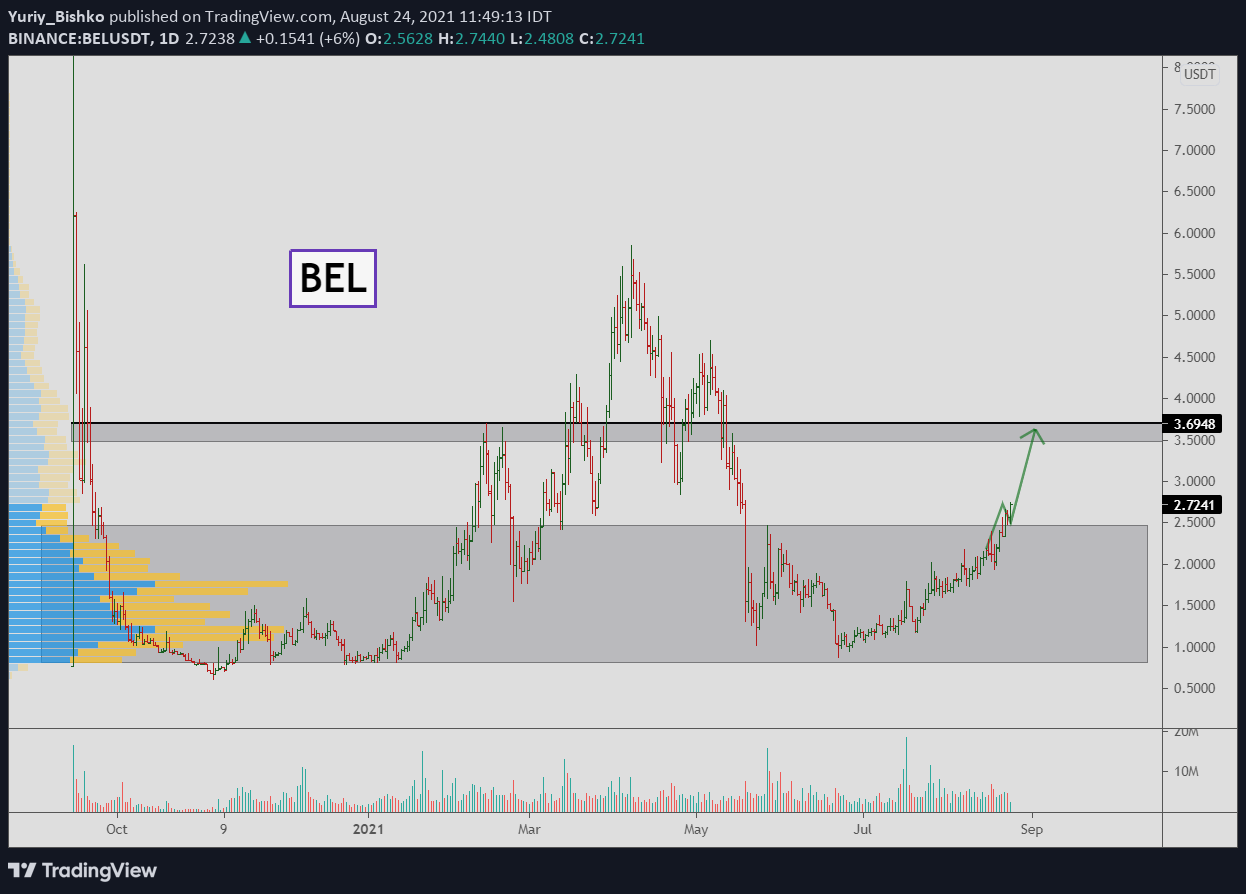 Another DeFi project with huge prospects. It is worth noting that a very large number of people are interested in this project. Bel has not shown enough results yet, but will most likely show itself soon. After analyzing those analyzes, it can be seen that Bell broke the upper limit of the value area and tested it as support, now the price is going up.
4.XVS is an algorithmic money market and synthetic stablecoin protocol launched exclusively on Binance Smart Chain (BSC).
The protocol introduces a simple-to-use crypto asset lending and borrowing solution to the decentralized finance (DeFi) ecosystem, enabling users to directly borrow against collateral at high speed while losing less to transaction fees. In addition, Venus allows users to mint VAI stablecoins on-demand within seconds by posting at least 200% collateral to the Venus smart contract.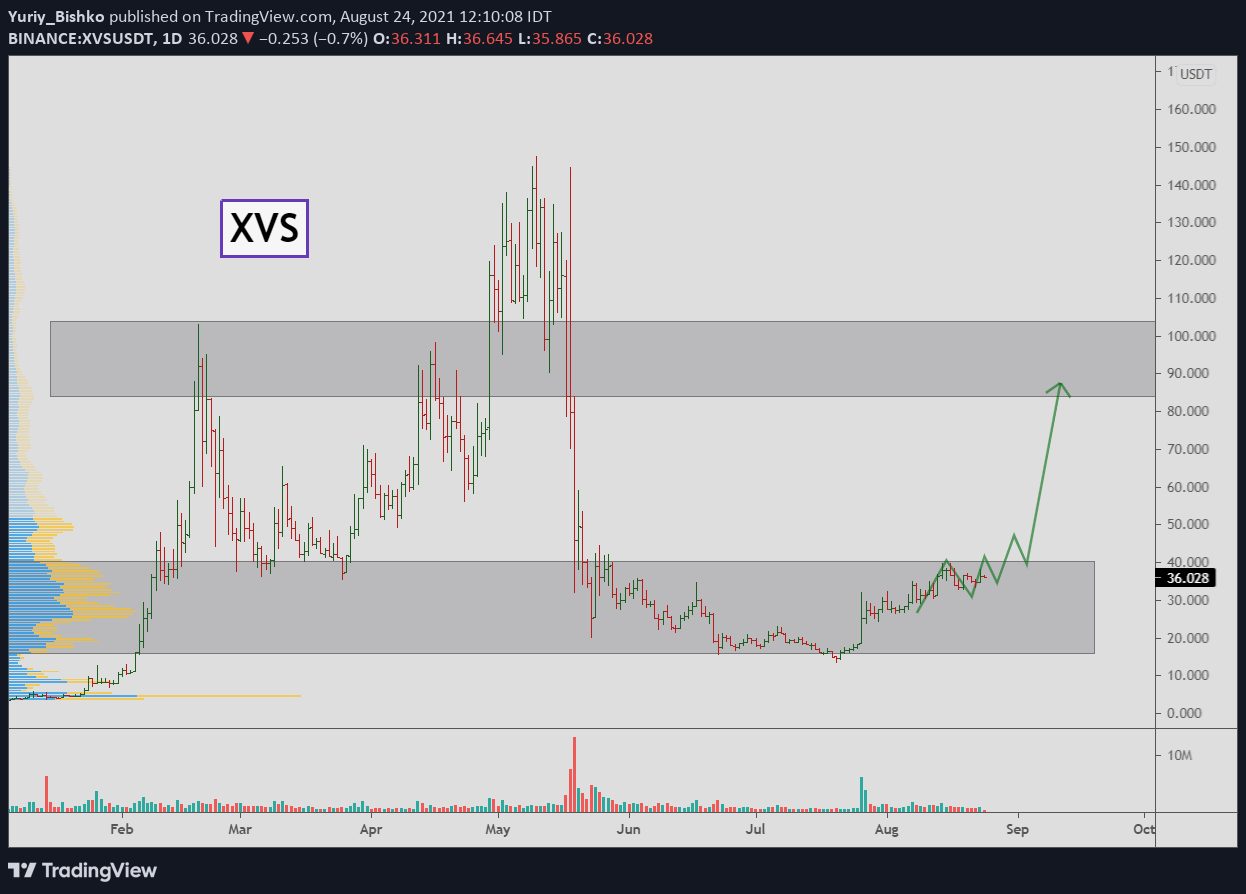 Another DeFi project in the field of lending. The price is slowly approaching the upper limit of the value zone, this is a good signal. In all likelihood, large capital accumulates positions. A good option may be to buy at the breakdown or retest the upper limit of the value area. If you look at the dynamics of the price of XVS, you can see from the previous pumps, how quickly the coin can soar in price. Therefore, we advise you to take a closer look at this project!
5.WIN is a WINk platform, formerly known as TRONBet, positioning itself as a gaming and social platform for gamblers. WINk is built on the TRON blockchain and was once the first platform to use it.
WIN cryptocurrency is a virtual currency released by the platform's creators after being rebranded. It is used for betting and transactions within the WINk ecosystem.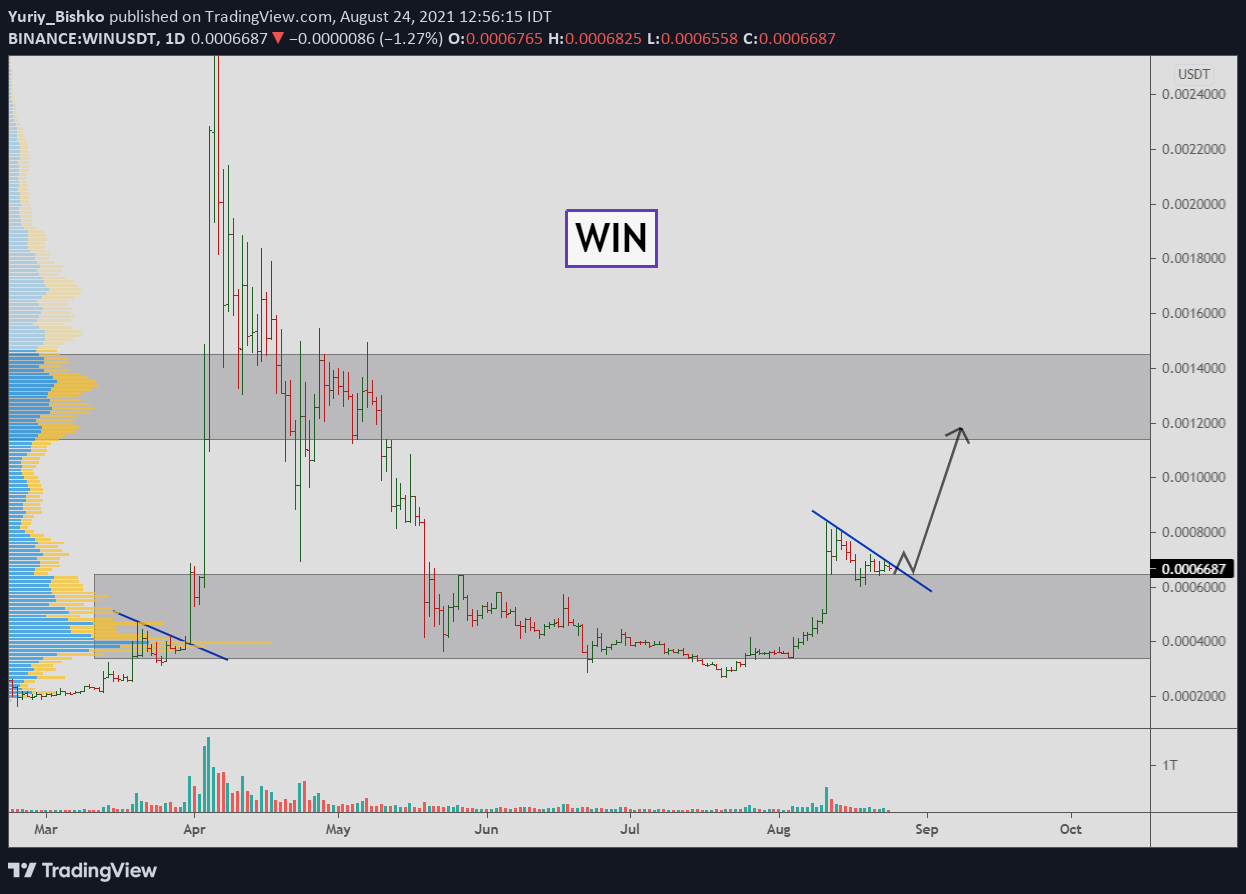 Gambling platforms now generate incredible amounts and grow by hundreds of percent per year. Therefore, it is safe to say that these are very promising projects for investment, although quite risky. If your level of risk allows you to invest in such projects, you can pay attention to the win coin. The graph shows that the price came out of the lower value area. The price has tested the correct limit several times as support, which is a good enough signal for continued growth. Additionally, the chart clearly shows the trend line. If the price breaks this trend line, it can be a good opportunity to buy.
6.Reef is a DeFi platform built on Polkadot that aims to deliver cross-chain trading. A yield engine and a smart liquidity aggregator are among the project's offerings.
Reef aggregates liquidity and provides automation. It also aims to address the drawbacks associated with existing trading platforms. While centralized exchanges are prone to security breaches, decentralized rivals can lack liquidity and are often difficult to use.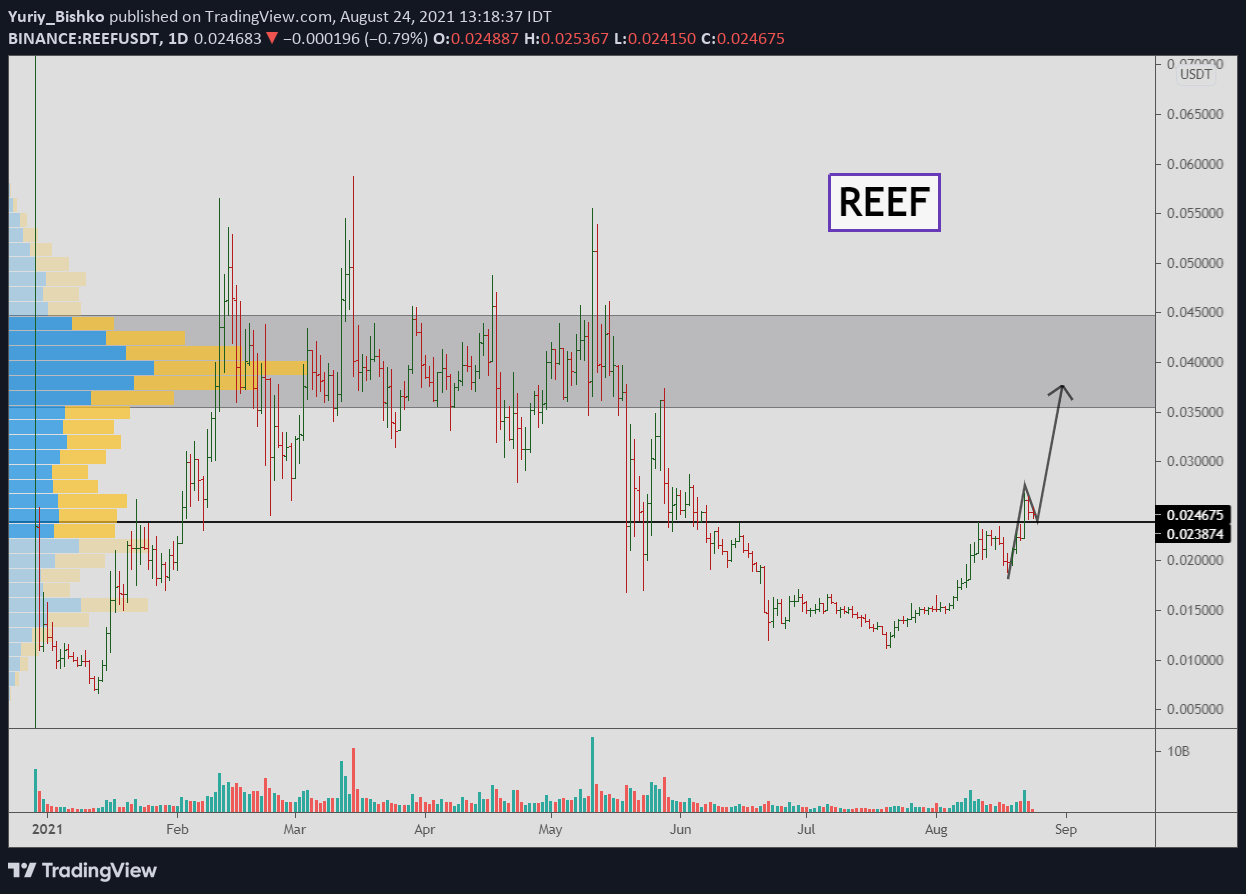 One of the projects that I am often asked about and asked to conduct a technical analysis of the schedule. On the chart, the price broke an important level of $ 0.024, and is now testing as support. If this level passes, the next target will be the area marked above. I advise you to pay attention to a strong project, both from a fundamental and technical point of view.
7.RAMP DeFi is a decentralized protocol that intends to boost DeFi adoption by allowing non-Ethereum (ETH) users to stake tokens on ETH platforms; at the same time, Ethereum users can interact with the RAMP protocol and increase their yields.
RAMP DeFi allows the staked capital of non-ERC-20 staking blockchains to be collateralized into a stablecoin known as rUSD that is issued on the Ethereum blockchain. The main result of this is the maximization of capital efficiency on stacked digital assets, where users earn staking rewards, unlock liquidity from staked assets and stack multiple yield streams at the same time.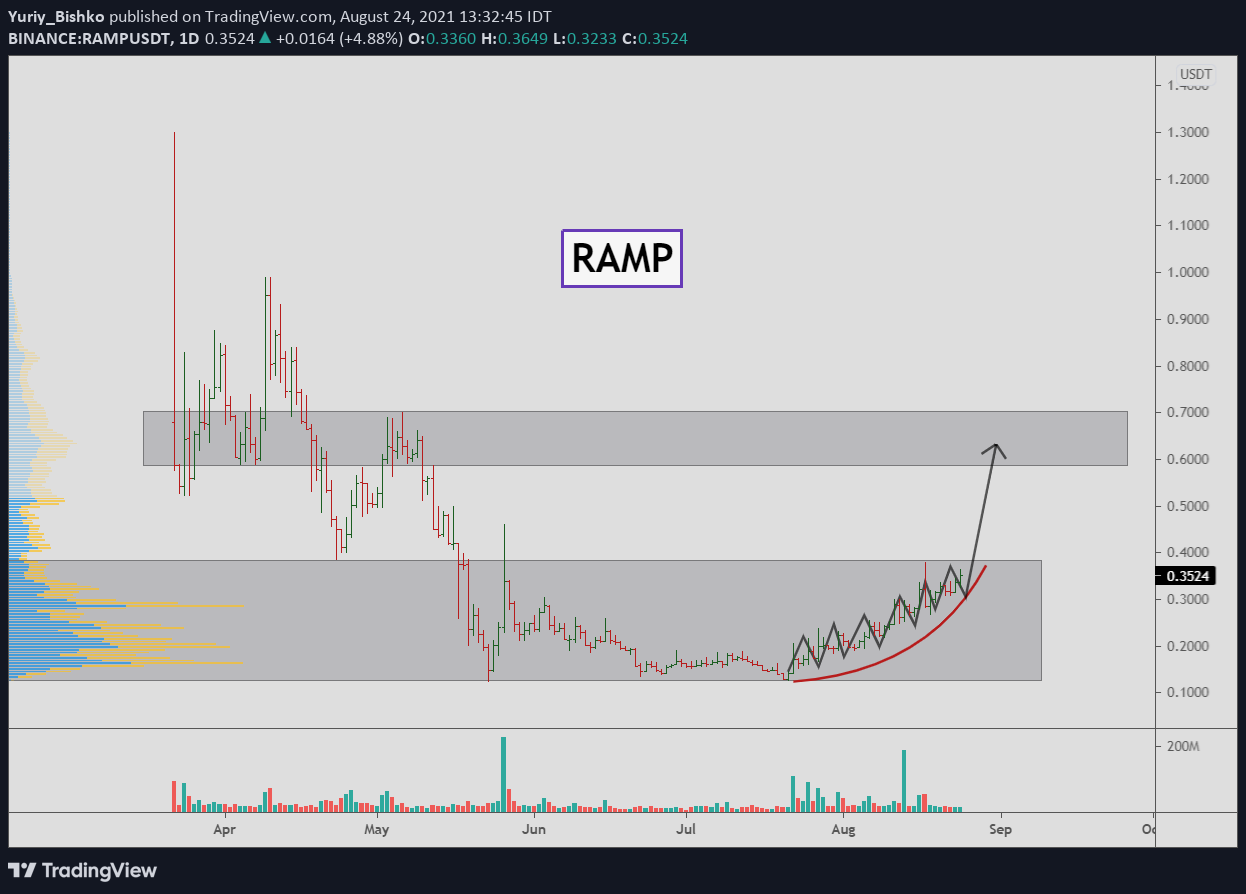 A project that is designed to improve the availability of stacking. Stacking is gaining momentum, so we 100% recommend looking closely at this coin. The graph shows that the price approaches the upper limit of the value area. Most likely the ramp is now in accumulation. A strong growth of this coin is possible soon.
8.Mithril (MITH) is a decentralized social media platform on the Ethereum Blockchain that rewards users for creating content. The team plans to partner existing social platforms to drive adoption of its ERC-20 MITH token, which can reportedly be integrated with any social media platform. In addition to storing funds, the Mithril Vault wallet can be used for staking and swapping into other currencies.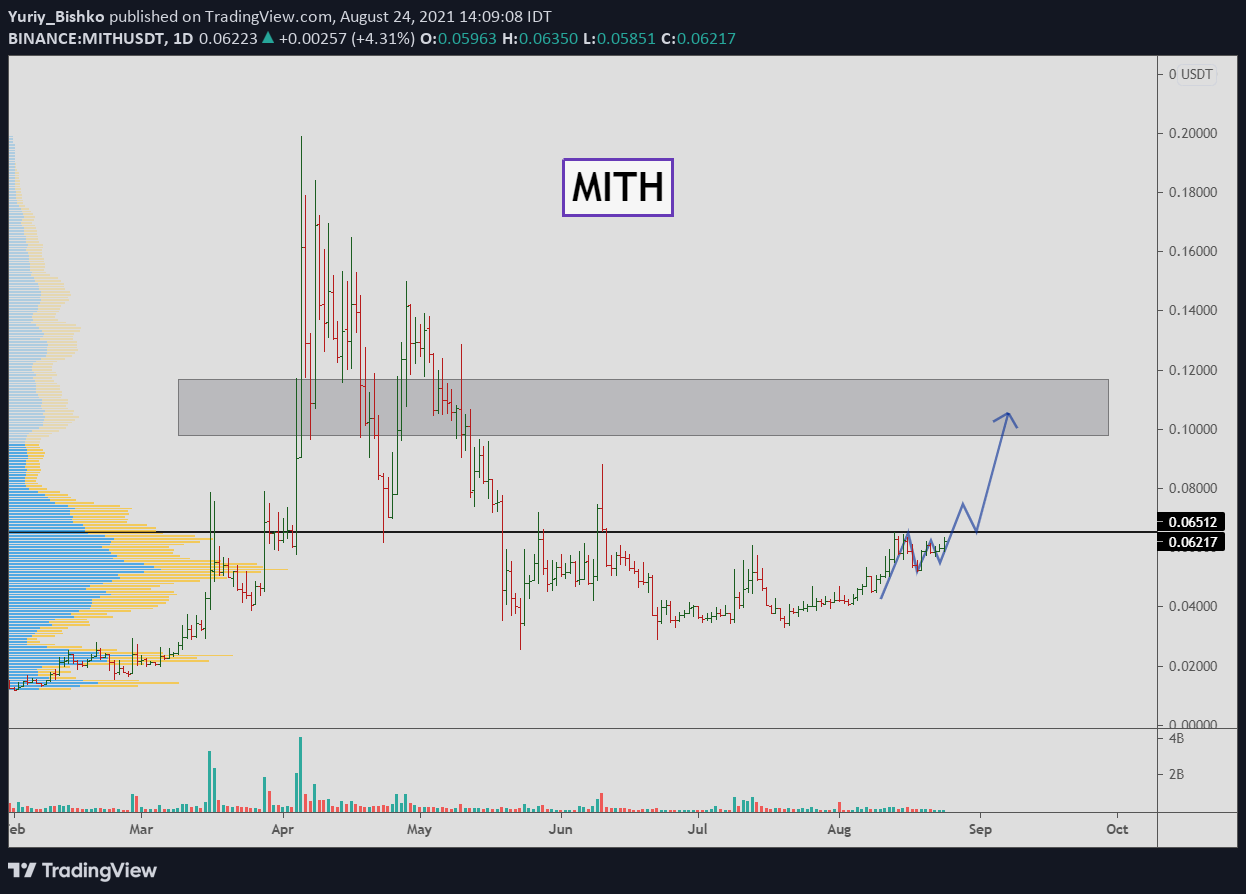 MITH looks pretty good at a breakout of $ 0.065. After a breakout, there will most likely be a strong movement. Therefore, a good opportunity to buy can be a breakout of the marked level.
9.TCT is a cryptocurrency investment community that provides investors with professional blockchain information, cryptocurrency market analytics and investment strategy consulting.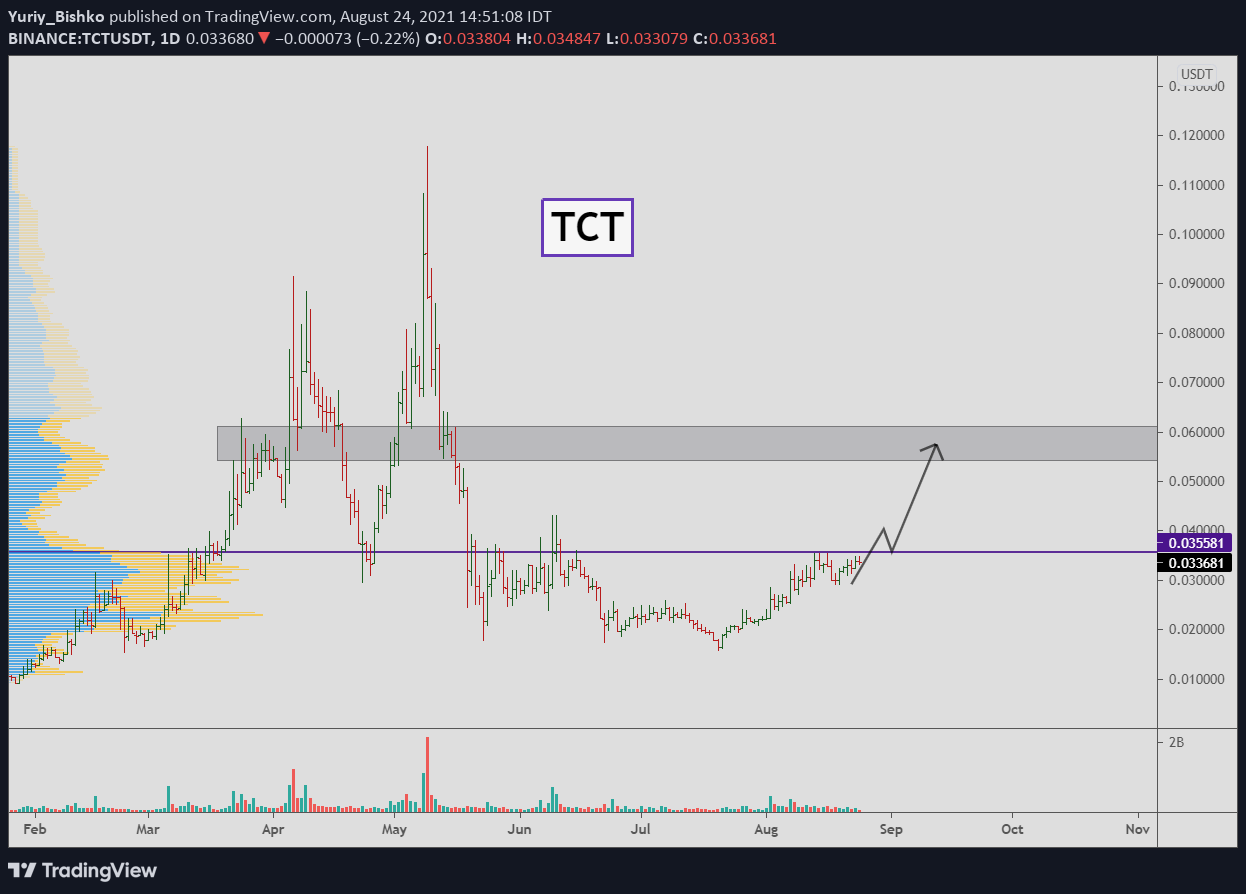 The chart of this coin looks pretty good at a breakout of $ 0.0355. The project is not of sufficient value, and does not have any useful product, but can bring a quick profit. It should not be considered as a long-term investment.
10.Komodo describes itself as an open, composable multi-chain platform. With blockchain development roots going back to 2014, Komodo is reportedly one of the pioneers of multi-chain architecture in the blockchain space. As of Aug 2019, Komodo focuses on providing business-friendly blockchain solutions that are secure, scalable, interoperable, and adaptable. Komodo's current technology suite, the Antara framework, offers tools for end-to-end blockchain development, including a customizable, application-specific Smart Chain complete with a library of built-in modules and an open API for building blockchain-based applications.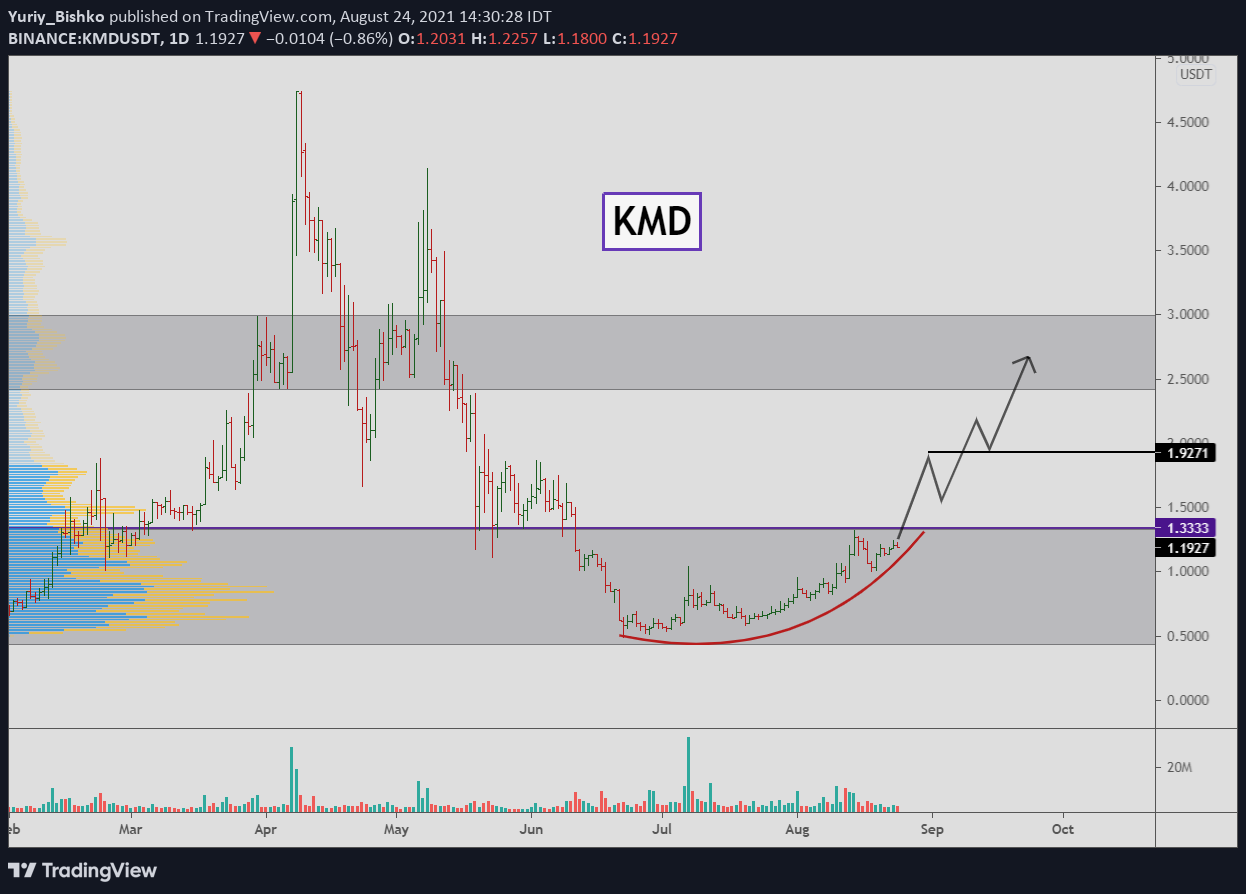 The price on the chart is in the accumulation zone, for the first time it failed to pass the resistance level of $ 1.33, and there was a slight rollback. But the correction was bought quickly enough and the price again tries to approach the level that shows the strength of the buyer.
A good opportunity to buy would be a breakout or retest of $ 1.33 as support.
How to start making money on crypto?
Investing is the easiest and safest way to make money in the crypto market. In recent years, investors have been able to increase their deposit from $1,000 or $10,000 by 10-20 times simply by buying Bitcoin and altcoins with the highest growth potential at the right period of time.   
If you want to learn how to find altcoins with the highest growth potential and know when to buy them to make money, we have created a special guide just for you - 3 RULES TO FIND ALTCOINS WITH 10X GROWTH POTENTIAL. Follow this link and get it for FREE!