Top 3 most trusted cryptocurrency exchanges for traders
According to various sources, the number of new bitcoin addresses has doubled in the last year, and the number of transactions is constantly increasing. Companies such as VISA, MASTER CARD, PAYPAL, Micro Strategy have begun to actively support and work with cryptocurrency, and some countries such as El Salvador have generally recognized bitcoin as a payment system at the state level. This is an indication that the cryptocurrency will gain momentum over time.
Over the past couple of years, bitcoin has grown by 2,000%, and some altcoins have grown more than 100 times, which is the main reason for the interest of new entrants. First of all, before you start investing in the cryptocurrency market, beginners often ask these questions:
what are the top crypto exchanges?
what are the best and safest crypto exchanges?
which cryptocurrency platform is best?
what are the best crypto exchanges for beginners?
Top 3 cryptocurrency exchanges for traders
According to the FTX analytical report, the top 5 exchanges on which the largest volume is concentrated are: Binance, OKEx, FTX, Kucoin and Bybit. In this article, we will compile our top cryptocurrency exchanges and take into account such indicators as: trading volume, security level, convenience, customer focus, development and number of products provided by the exchange.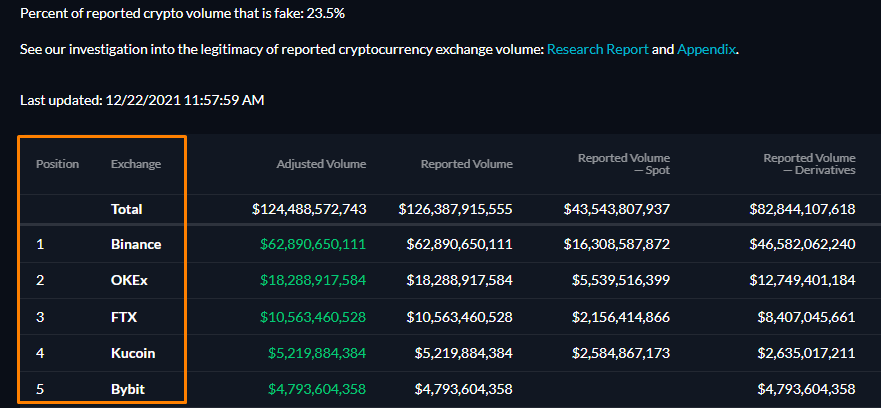 Watch NOW on Youtube TOP 3 CRYPTO TRADING EXCHANGES!
1. In the first place, the well-known and beloved Binance exchange
The Binance Exchange is the most popular in the world. Virtually everyone who is involved in cryptocurrency knows about Binance and has used this exchange.
In terms of trading volume, Binance ranks first (at the time of writing – about a quarter of all spot and half of all futures trading takes place on this exchange.)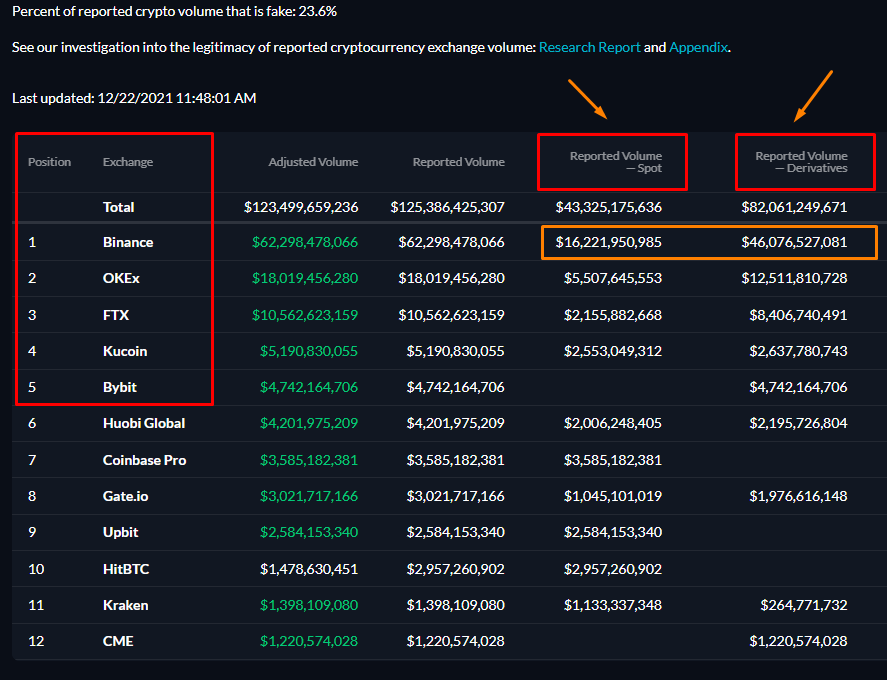 The Binance Exchange was founded in 2017, and this is one of our best recommendations for cryptocurrency trading. A trading platform that offers some of the best conditions for trading. Whether you are a beginner or an experienced trader who wants to trade cryptocurrency, this is one of the easiest and cheapest ways to do it.
The platform works with users from around the world and receives the most positive feedback from the crypto community. Score on the Coinmarketcap service (1st place): 9.9 points. The exchange has its own BNB coin with a capitalization of $90 billion and a broad ecosystem.
Pros of the exchange :
Huge infrastructure and ecosystem of Binance

The most liquid platform

Security and reliability

Simplicity and convenience

Futures trading using leverage up to 125x

Own blockchain

Ability to connect to the TigerTrade platform and analyze trading transactions in DOM and Footprint
Cons of the exchange :
Centralized system

Even despite the very high level of security, the possibility of hacking and burglary is not ruled out

Temporary failures during periods of strong market volatility
2.In second place there is one of the fastest growing and most convenient cryptocurrency exchanges – ByBit
Another interesting cryptocurrency exchange that is gaining popularity among new users. First of all – due to its simple and user-friendly interface for trading and a wide range of new cryptocurrency products.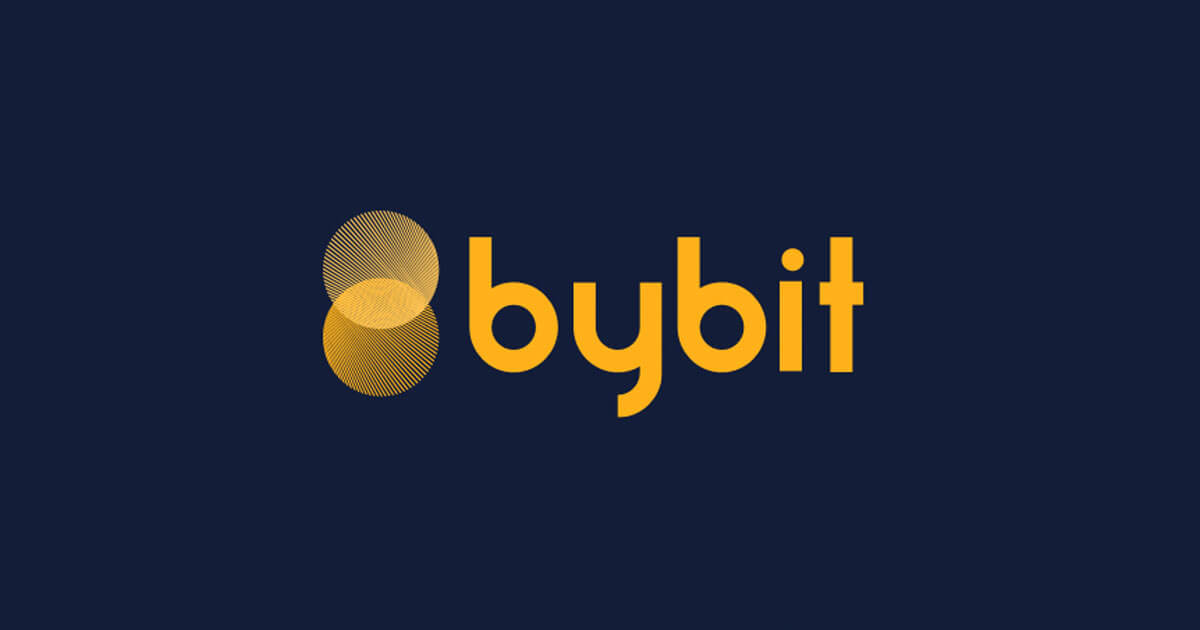 ByBit ranks fifth in terms of trading volume (at the time of writing – the volume reached 5 billion dollars, it should be noted that this figure is growing rapidly).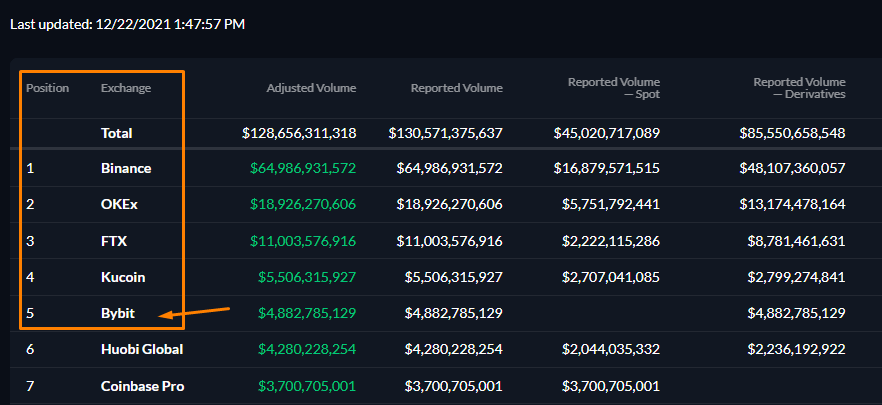 The platform was founded in March 2018 and is one of the fastest growing cryptocurrency exchanges. With more than 3 million registered users it is a professional trading platform with ultra-fast trading algorithms and round-the-clock support service. Bybit provides a platform for trading in the derivatives and spot markets, stacking and DeFi mining services, and an API.
Pros of the exchange :
Simplicity and convenience
Many different products
KYC does not have to be verified
Derivative trading using leverage up to 100x
Price analysis tools
Permanent bonuses and contests
Low commissions
Cons of the exchange:
Centralized system

Less liquid compared to other top exchanges

Trade is not available to US citizens
3. In third place there is the FTX exchange, which successfully took one of the top places in two years.
FTX is primarily a cryptocurrency exchange, but it also has a fairly large spot market. Supports digital stocks, leverage tokens, OTC transactions and NFT marketplace. The team consists of employees of analytical firms and technology companies from Wall Street. Such as Jane Street, Optiver, Susquehanna, Facebook and Google.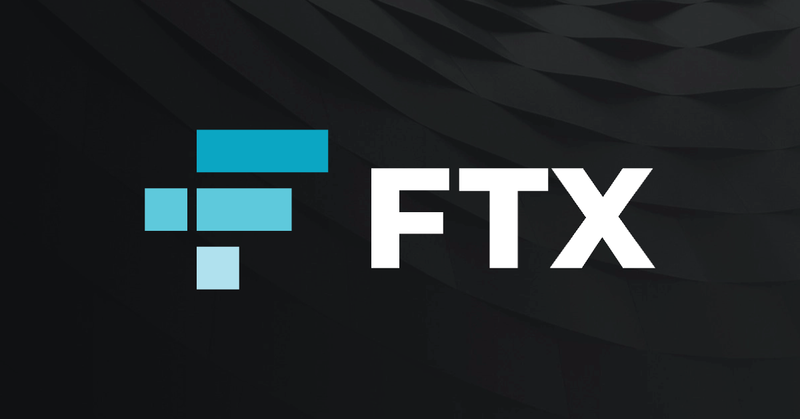 The Ftx cryptocurrency exchange is known as a trading platform "created by traders for traders". And also the fact that one of the investors and partners is the well-known exchange Binance. In terms of liquidity, the platform successfully ranks 3rd.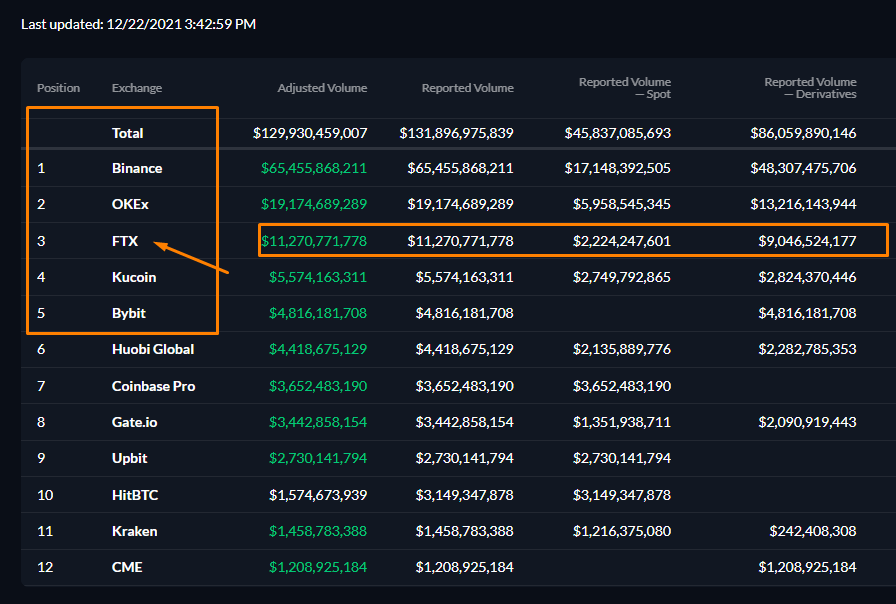 Pros of the exchange :
Accessibility

Derivative trading using leverage up to 101x

Price analysis tools

Low commissions

KYC registration is not required

Availability of insurance fund
Cons of the exchange :
Centralized system

New platform

Low level of trust

Interface complexity
Summary
Cryptocurrency exchange is one of the main elements of trading, it is very true that people are serious and responsible when choosing a trading platform. After all, the level of security, development and comfort of use may determine the trading results and security of your funds.