Why and Where are Bitcoin reserves transferred from Binance?
We recently wrote an article about the Binance Exchange, Binance's intentions to change CEO, and what to expect from regulators.
Currently, bitcoin reserves on the Binance exchange are declining rapidly. According to cryptocurrencies, over the past month and a half, a significant amount of bitcoins has been withdrawn. The exchange's reserve decreased by 70,000 BTC from the total 580,000 BTC to 510,000 BTC.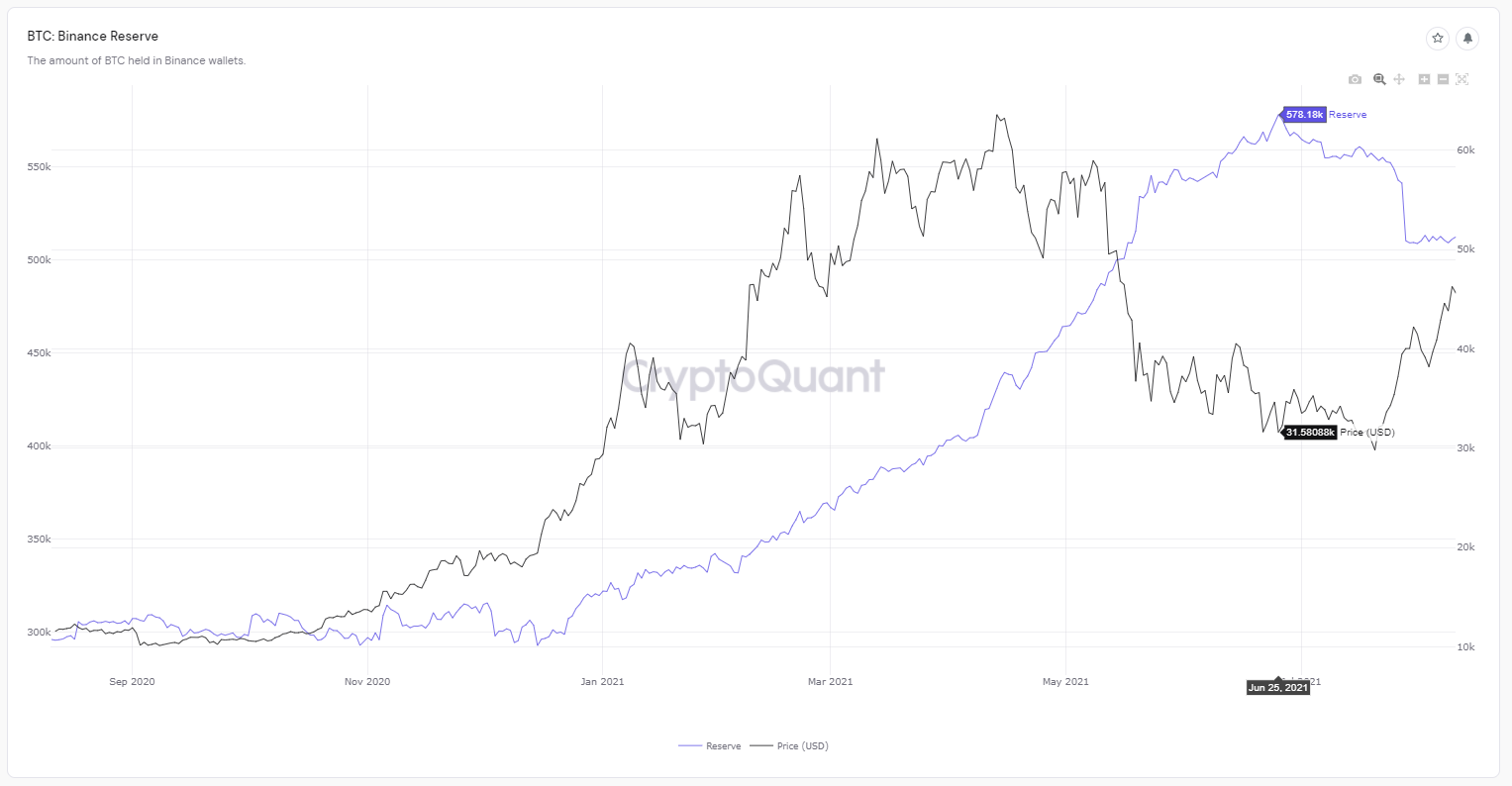 We have explored this issue from different angles, namely:
what actions on the part of the Binance provoked the mass withdrawal;
and where the reserves are transferred.
Recently, quite a few countries and regulatory institutions have blocked the work of Binance. After that, Binance radically changed its direction of doing business to a more legal one. Which led to some changes in the system.
Some of them are given below:
А) Binance closed the possibility of trading in derivatives in Germany, Italy and the Netherlands. Users were required to close their positions within 90 days.

B) The Bitcoin exchange Binance closed users from Hong Kong access to trade in cryptocurrencies, including futures, options, leverage tokens and margin products. The decisions were explained by obligations to comply with local laws.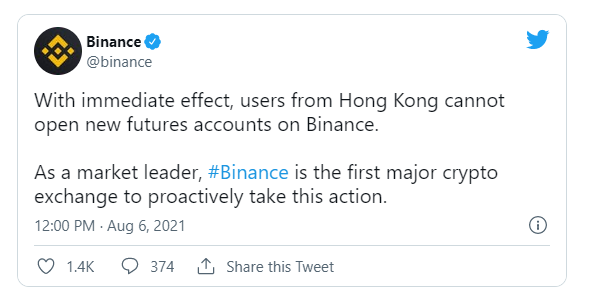 C) On July 19, the crypto-derivative platform Binance Futures reduced the maximum leverage for new customers to x20, and is going to gradually reduce for all other users, said the CEO of the exchange Changpeng Zhao.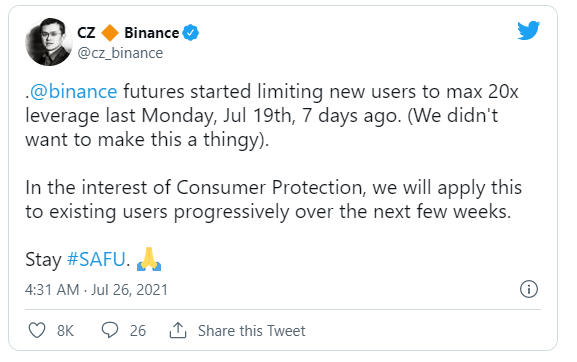 D) Cryptocurrency exchange Binance reduced from 2 BTC to 0.06 BTC daily withdrawal limit for new users who have passed the basic account verification stage.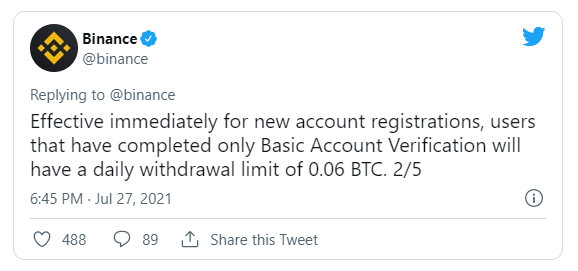 Given all these innovations, many users have been forced to switch to other trading platforms. But Binance still remains the largest exchange with about 500 thousand BTC in its reserves.
In the long run, the work of the exchange according to the rules of regulators should have a positive impact on the company, cooperation with institutional investors and in general in the entire cryptocurrency space.
Where are the reserves transferred?
In this chart you see the reserves of the FTX exchange.
Over the past month and a half, the reserves of this platform have increased almost 3 times, from 20 thousand BTC to 52 thousand BTC.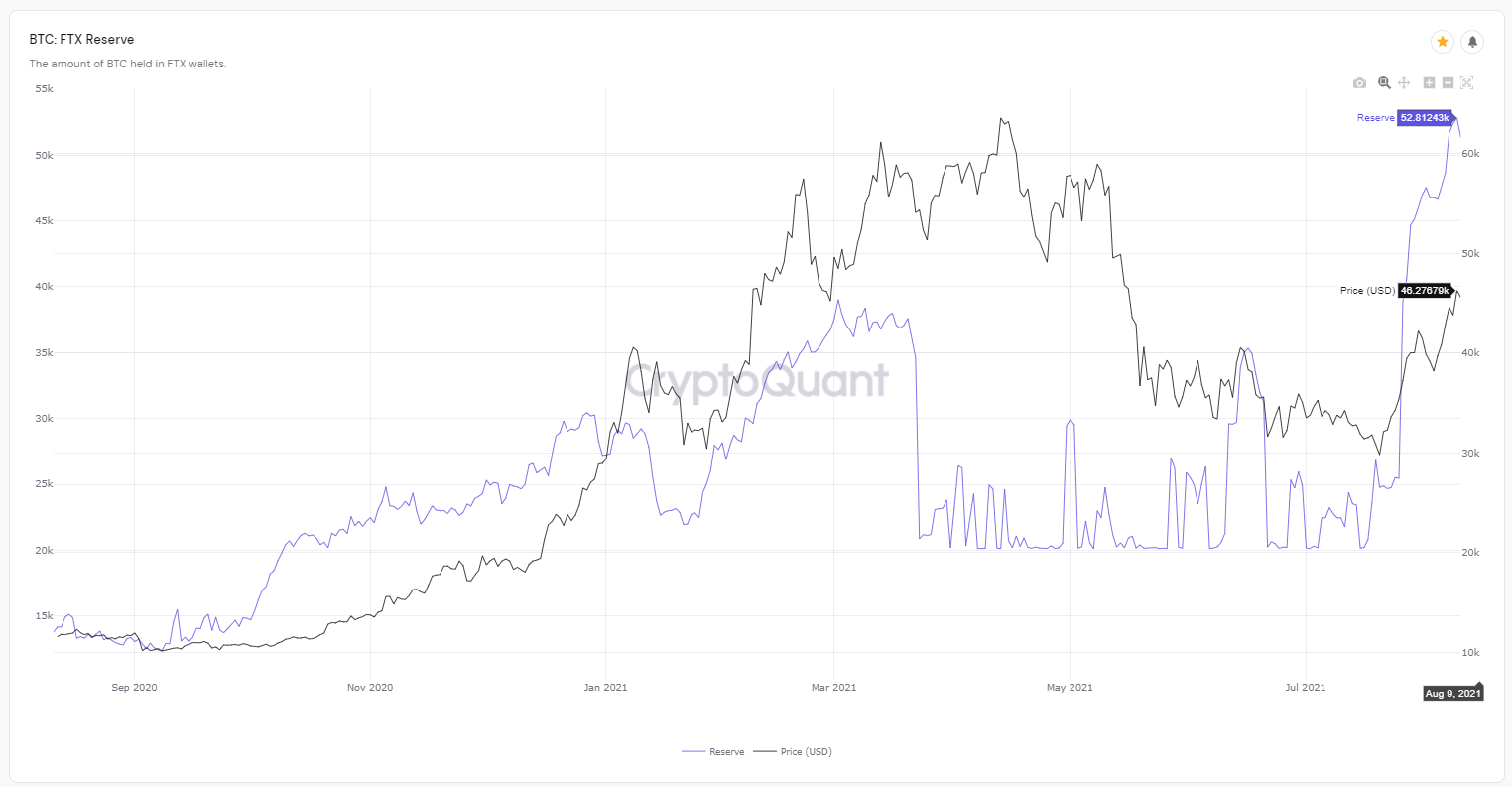 FTX is a fast-growing cryptocurrency exchange, with support for spot trading, as well as a huge number of unique derivatives and securities.
The platform was launched in May 2019 and quickly reached the top in terms of trading volume, earning a high reputation and trust in society.
FTX was founded by former Jane Street Capital trader Sam Bankman-Fried and former Google developer Gary Van. They launched the successful trading firm Alameda Research. The leading investor in FTX is the popular exchange – Binance.
Given all the new circumstances and this situation in general, we can assume that investors are looking for new platforms for trading and prefer FTX. Most likely, half of all withdrawn reserves were transferred to this crypto-derivative platform.