The Defi Boom: These 5 Coins Could Be the Best Investment of 2023
Decentralized finance (Defi) has been one of the fastest-growing sectors in the crypto industry, with the total value locked (TVL) in Defi protocols surging to new heights. As more investors flock to Defi, there has been a surge in the number of Defi coins, making it challenging to determine which ones to invest in. In this article, we will explore the top 5 Defi coins that have the potential to be the best investment of 2023.
KEY TAKEAWAYS:
Top Defi coins to invest in 2023
Best investment opportunities in the Defi sector
5 Defi coins with potential for high returns
Expert picks for top Defi investments in 2023
Don't Miss Out on These Defi Gems
DeFi is a hot trend in the crypto world. If you're looking to increase your cryptocurrency investments, it's worth paying attention to these five Defi coins with medium market capitalization that have great potential for growth in 2023.
1. Aave (AAVE)
Aave (AAVE) is a protocol that enables users to borrow and lend cryptocurrencies secured by collateral. As one of the leading protocols in the DeFi market, AAVE has great potential for growth. Currently, its market capitalization is approximately $5 billion. 
AAVE allows users to earn interest on their crypto assets by depositing them into a liquidity pool. Additionally, it allows users to borrow crypto assets by depositing collateral into the pool. The protocol uses an algorithmic system to determine interest rates, which helps to maintain a stable and secure environment. 
AAVE has gained significant attention in the DeFi space due to its innovative features, high liquidity, and strong community support. Its potential for growth in the coming years is considerable, making it a promising investment opportunity for those looking to diversify their crypto portfolio.

2. Uniswap
Uniswap is a decentralized platform for exchanging cryptocurrencies that operates using an automated market maker mechanism, allowing users to exchange cryptocurrencies without intermediaries. Uniswap has a market capitalization of approximately $4 billion and provides a free and open platform for exchanging cryptocurrencies using blockchain technology.   
The protocol is one of the most successful in the DeFi industry, providing a high level of security and efficiency. In addition, Uniswap users can earn income from their assets through liquidity and staking. Overall, Uniswap has great potential for growth and can be a promising investment opportunity in the cryptocurrency space.

3. Compound (COMP)
Compound (COMP) is a decentralized protocol that allows users to lend and borrow cryptocurrencies secured by collateral. The protocol uses a market maker mechanism to determine interest rates for loans, ensuring stable and attractive conditions for both parties. 
Compound has become one of the most successful protocols in the DeFi space, thanks to its innovative model and high liquidity. Users can earn rewards for providing liquidity and participate in voting for the protocol's development. Additionally, Compound has a powerful ecosystem of tokens and applications, providing additional opportunities for users. 
Overall, Compound has great potential for growth and can be a promising option for investors looking to increase their cryptocurrency investments. The protocol provides a stable and secure space for lending and borrowing cryptocurrencies, which can be an attractive option for investors seeking additional income.

4. MakerDAO (MKR)
MakerDAO (MKR) is a protocol for creating stable cryptocurrencies pegged to real-world assets like the US dollar. One of the biggest challenges in the crypto world is the high volatility of cryptocurrencies, which limits their use in real-life applications. MakerDAO solves this problem by creating stablecoins backed by real-world assets. The MKR token is used for governance of the MakerDAO protocol, including determining interest rates on credit lines and making decisions about issuing new stablecoins. 
MakerDAO has significant potential for growth in the future, as stablecoins become increasingly popular among cryptocurrency users and may become a key tool for mass adoption of cryptocurrencies in real life. Additionally, MakerDAO has a powerful ecosystem of applications and tokens that provides additional opportunities for users. Investors seeking promising cryptocurrency projects may consider MakerDAO as a potential investment with significant growth potential.

5. SushiSwap (SUSHI)
SushiSwap is a decentralized exchange protocol that was created as a fork of Uniswap. The protocol allows users to trade cryptocurrencies without relying on centralized exchanges, enabling greater privacy and security. SUSHI is the native token of the SushiSwap platform, which is used for governance and rewards. Holders of SUSHI can participate in the decision-making process for the protocol and receive rewards for providing liquidity to the platform. 
SushiSwap has gained significant attention in the DeFi space due to its innovative approach to decentralized exchanges and its strong community of users. The protocol has seen significant growth since its launch, and its potential for continued growth is high. As the use of decentralized exchanges and DeFi continues to increase, SushiSwap has the potential to become a leading player in the space. Additionally, the platform's unique features and strong community make it an attractive option for investors seeking to diversify their crypto portfolio. Overall, SushiSwap offers a promising opportunity for those interested in the future of decentralized finance.

How to make 150-400% in a month investing in altcoins?
I want to show you our results so that you can see how profitable buying altcoins with great potential and low capitalization can be.
APT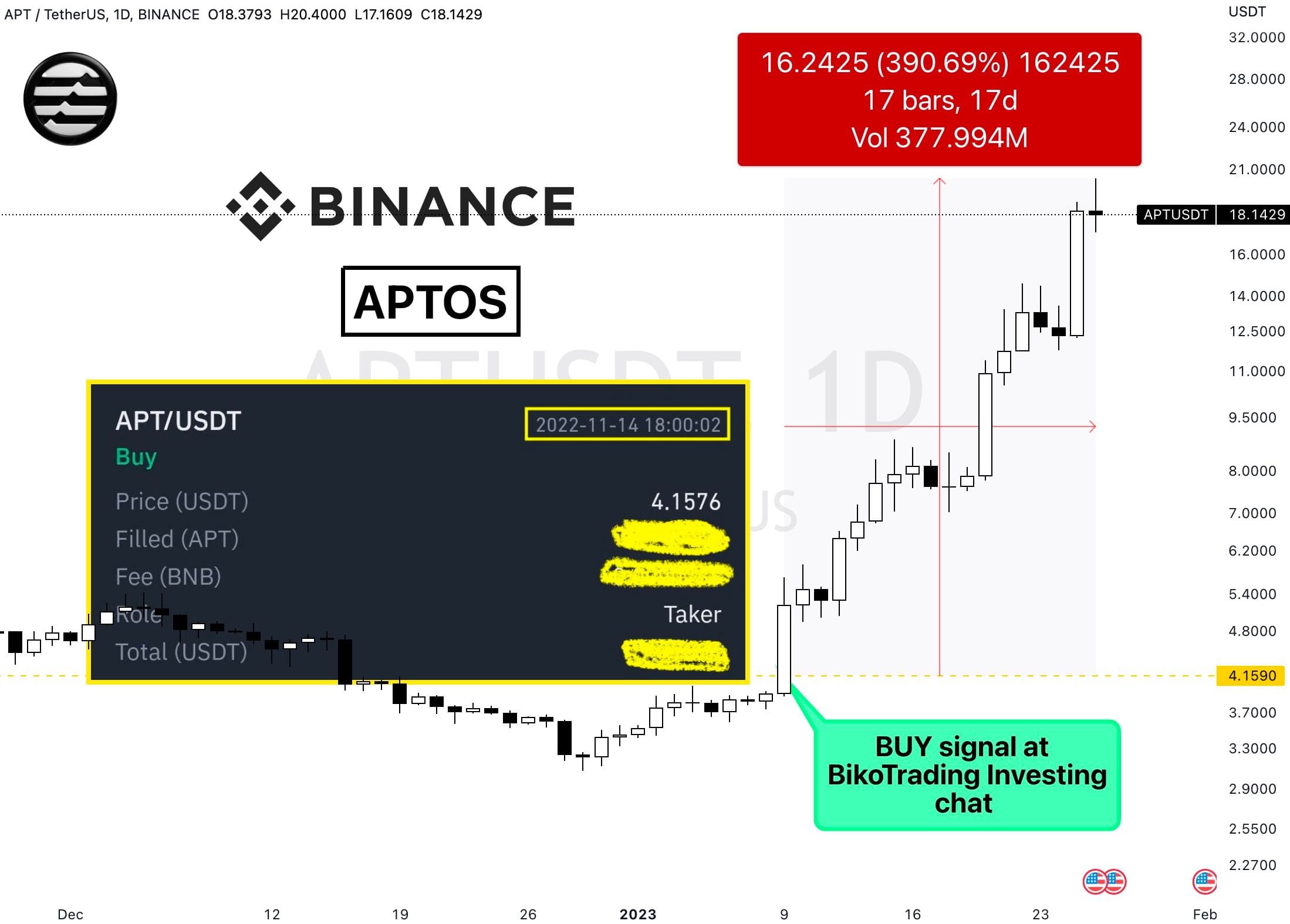 Aptos (APT) brings us +400% in just 17 days of growth. How is this possible? Because of its low initial value (capitalization). Before the growth, its capitalization was only $0.6 billion. For example, it takes years for Bitcoin (BTC) or Ethereum (ETH) to grow by 400%, while such unique altcoins can grow 4 times in just 2 weeks.
On the chart, you can see the price of our purchase and the results we got from this APT growth.
RNDR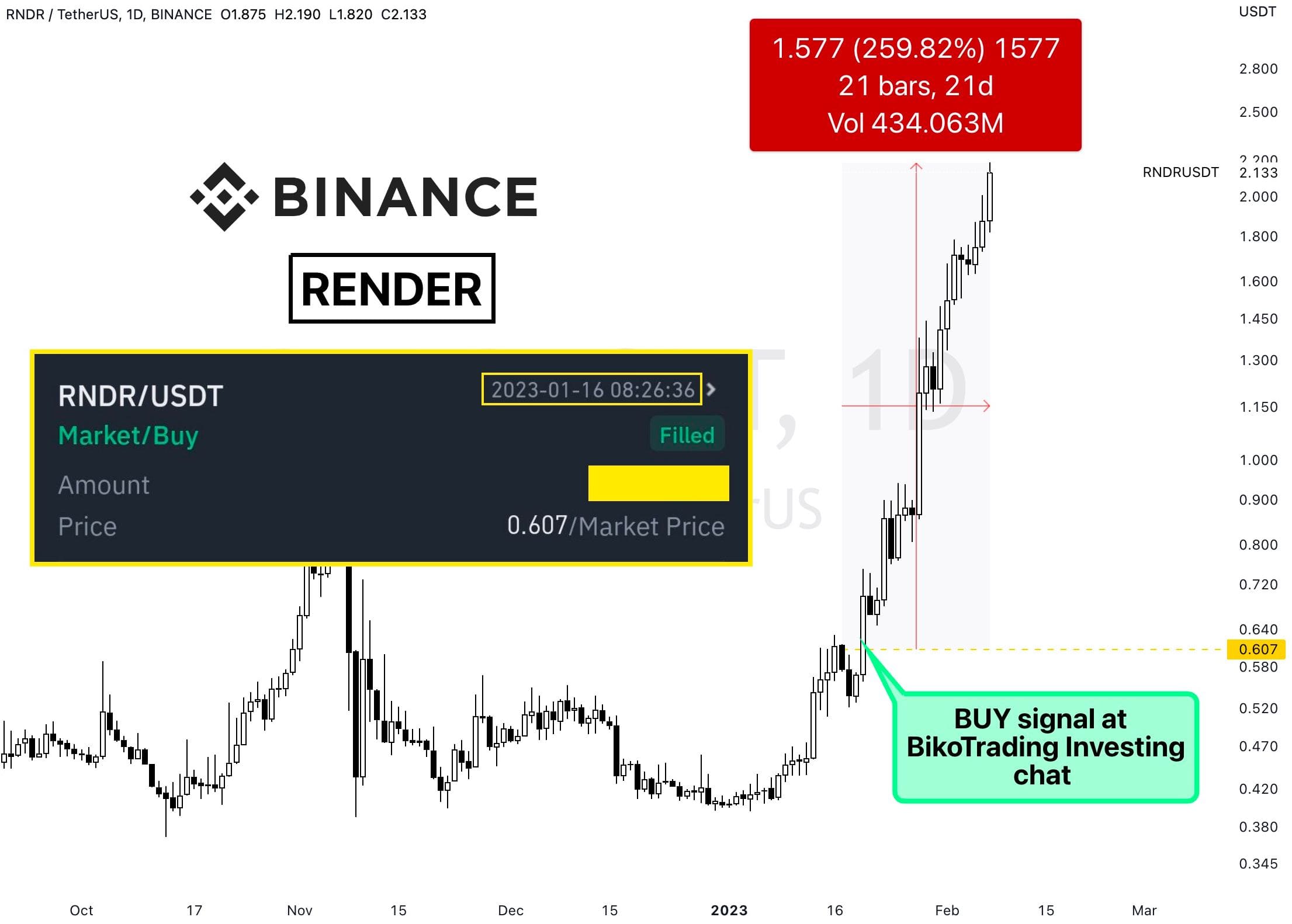 The next example is Render (RNDR), which has grown by +260%. The coin, with a total value of $350 million, almost tripled our deposit and reached $900 million in just 3 weeks!
Such growth is possible only on altcoins with great potential and low capitalization, which we select for members of the Altcoin Gems community. Don't miss out! Use the links below and unlock the secrets to earning on altcoin growth with our community! 
GET IT TODAY: