Hidden crypto gems with low capitalization
By Yuriy Bishko Updated November 14, 2022
BikoTrading Academy
Well-known coins, which are in the top of the Coinmarketcap and are constantly heard, have a large capitalization. And in order for these projects to bring +50 - 100% profit, a lot of money and new investors are needed. At the same time, low-capitalized coins are much easier to make 2-5x. Most people understand this very well, and we often get similar questions:
KEY ISSUES:
which small cryptocurrency to buy
what are the best crypto with low market cap
what are crypto low cap gems
should you buy crypto with low market cap
In this article we will answer all these questions, present you the top coins with low capitalization and great growth potential.
Velas(VLX)
Velas is a Solana fork, which uses Artificial Intuition to maximize the speed and minimize the cost of transactions. Some people consider Velas to be the fastest blockchain in the world. What's really crazy about Velas is not just the efficiency of the blockchain, but also the infrastructure around it.

Velas has a $100 million grant program for projects that are built on the Velas blockchain. This means that any developer that wants to build a project on Velas can get up to $100,000 in grant money for development. No other coin has anything similar, and it's the reason why so many high quality projects are appearing on Velas, like decentralized social networks, exchanges, streaming services, metaverses and more… It becomes the perfect combination of being an extremely efficient blockchain, and giving money and opportunities to developers so they can build on this blockchain. Velas grant program is nowhere near done - the majority of the $100 million remain locked, waiting for people with great ideas and skills to come… I saw Velas grow from #300 in market cap to #100, but this is only the start - this coin has insane potential.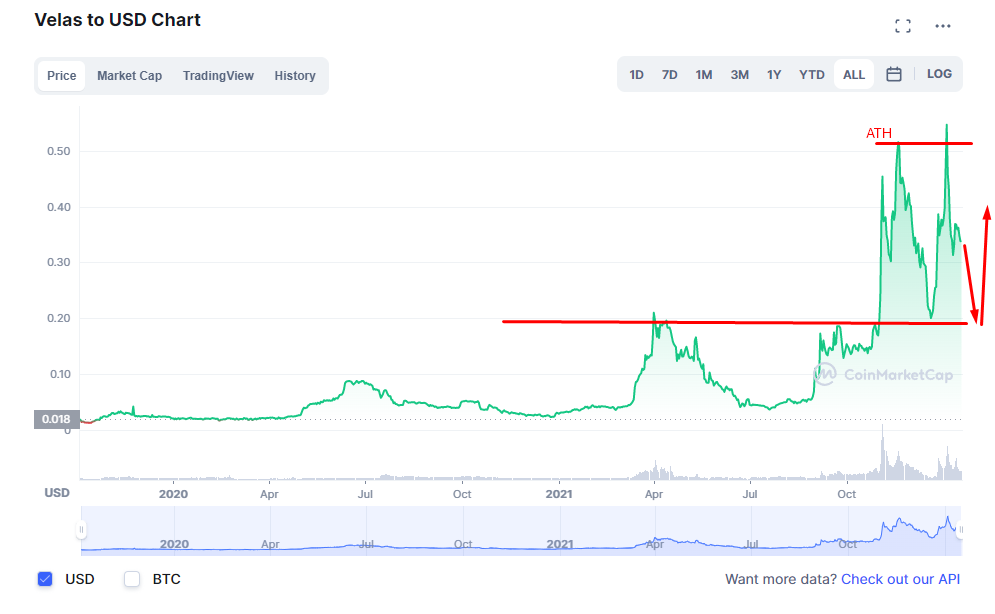 If we analyze the chart, we can say that the price has updated its historical highs, collected liquidity and is now in correction. If the price continues to fall, the level of $ 0.2 will act as a support and a good opportunity to buy.
Sienna

Sienna (SiennaSwap) is a decentralized exchange on the Secret Network. Secret is one of the hottest and most-followed privacy blockchains right now, as it grew 6x in the last 5 months. Sienna, upon launch, grew from $16 to the ATH of $52, but now the price is only $10. This is in part because of the bear market, but also because they had some big problems with their staking/reward system, and liquidity provider system. It's a completely new innovative project, and it's never possible to get it right the first time. However, their V3 rewards and huge updates are launching soon, and if you also consider that all the projects built on the fast-growing Secret blockchain will be traded on SiennaSwap, the current $13 price seems like a joke.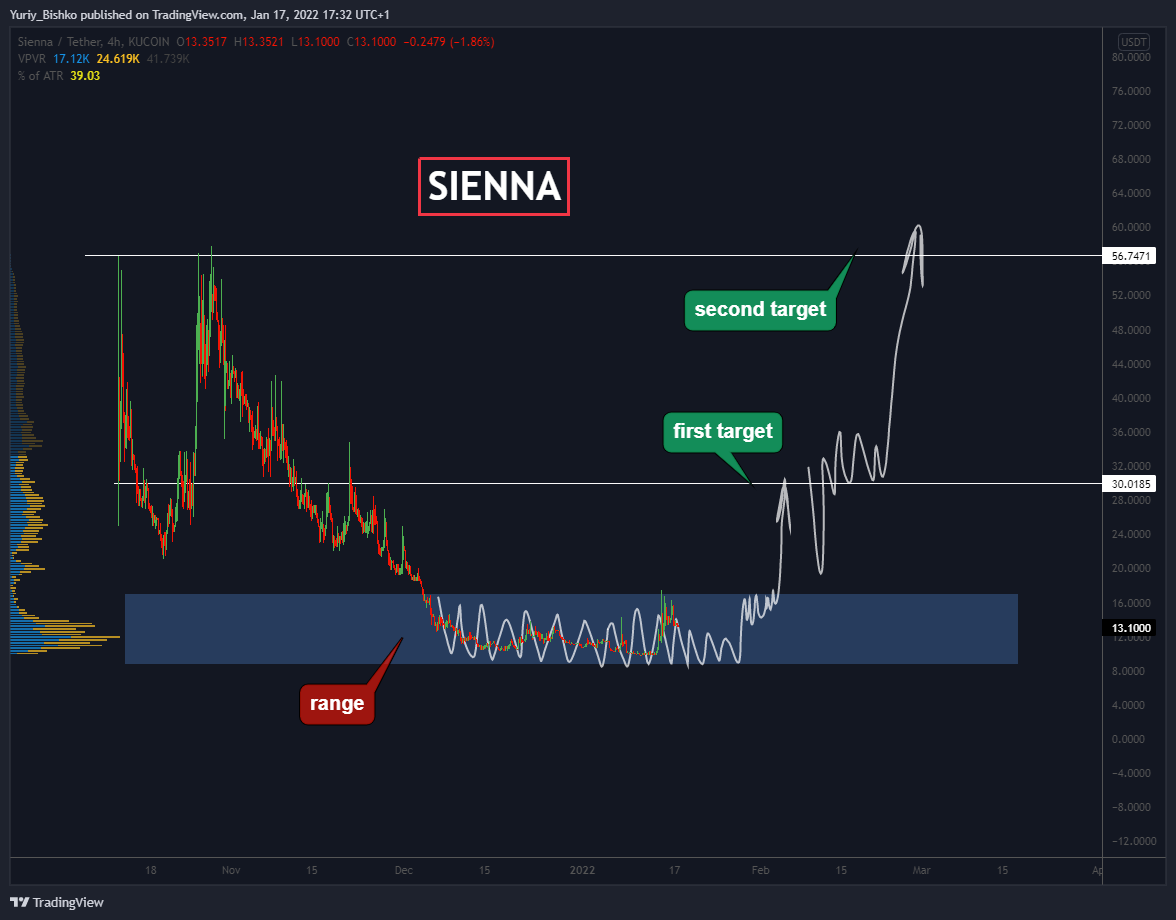 Analyzing the chart, we can say that the price has long been in the trading range. If consolidation continues and there is breakout of the upper limit, the price is likely to rise to the target.
ADAPAD
ADAPAD is a Cardano-based launchpad that does IDOs for projects releasing on the ADA blockchain. It has recently bottomed out really well, and the reason is not just the bull market, but also the fact that there aren't any new upcoming projects listed (the way launchpads work is that you stake the launchpad tokens to get a part of the allocation for the project sale), so the demand is low.

Price is currently at an all-time low. What many people don't know though, is that Cardano is going through some serious changes and updates. We won't cover it in the video, what you need to know is that there will be many new in-demand projects built on Cardano soon, and listed for IDO sale on ADAPAD. Anyone who wants to be a part of the sale needs to stake ADAPAD tokens - demand will spike.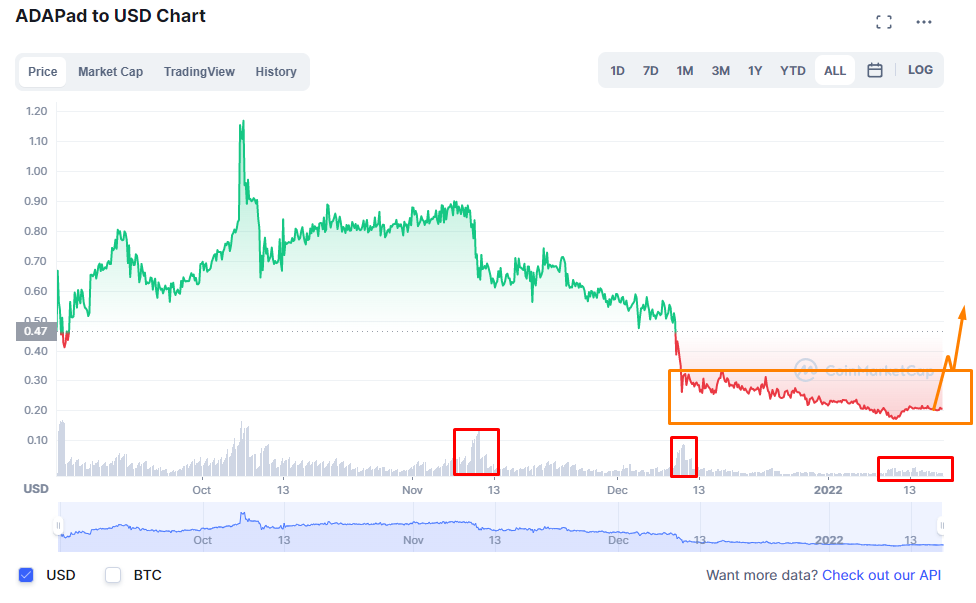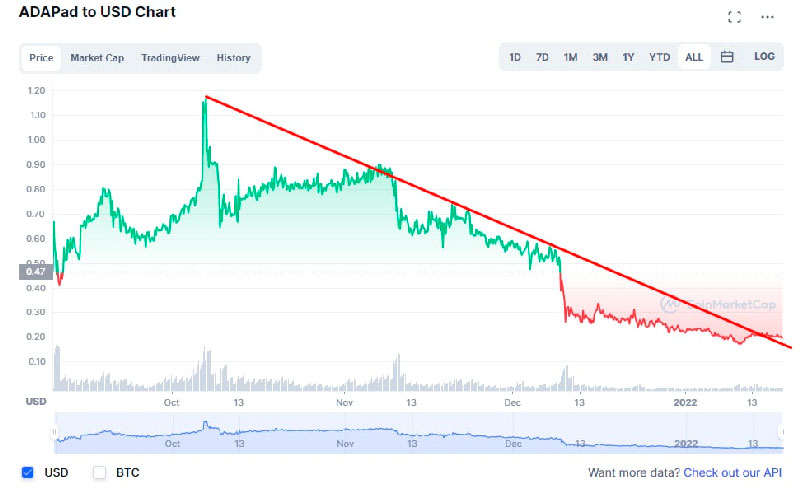 ADAPAD is in a downtrend. But at the same time, volume appeared on each fall. And this is a good signal, a signal that the big players are accumulating positions. It is worth additionally highlighting that the price broke through the trend line, which acted as resistance.
KIN
KIN is a cryptocurrency that aims to integrate itself into mobile apps, social platforms and digital communities around the world. Development has been going slow for a long time, but now it's finally turning around and many exciting things are on the way. When just even one app integrated with KIN finally takes off, it will open the gates for KIN into the mainstream community.

Just like with these other coins, this one was also chosen based on the fact that it has recently bottomed out, and started slowly moving into an uptrend. When you also consider the upcoming exchange listing, project integrations, and marketing campaigns, it seems that KIN is getting ready for some price action in the future.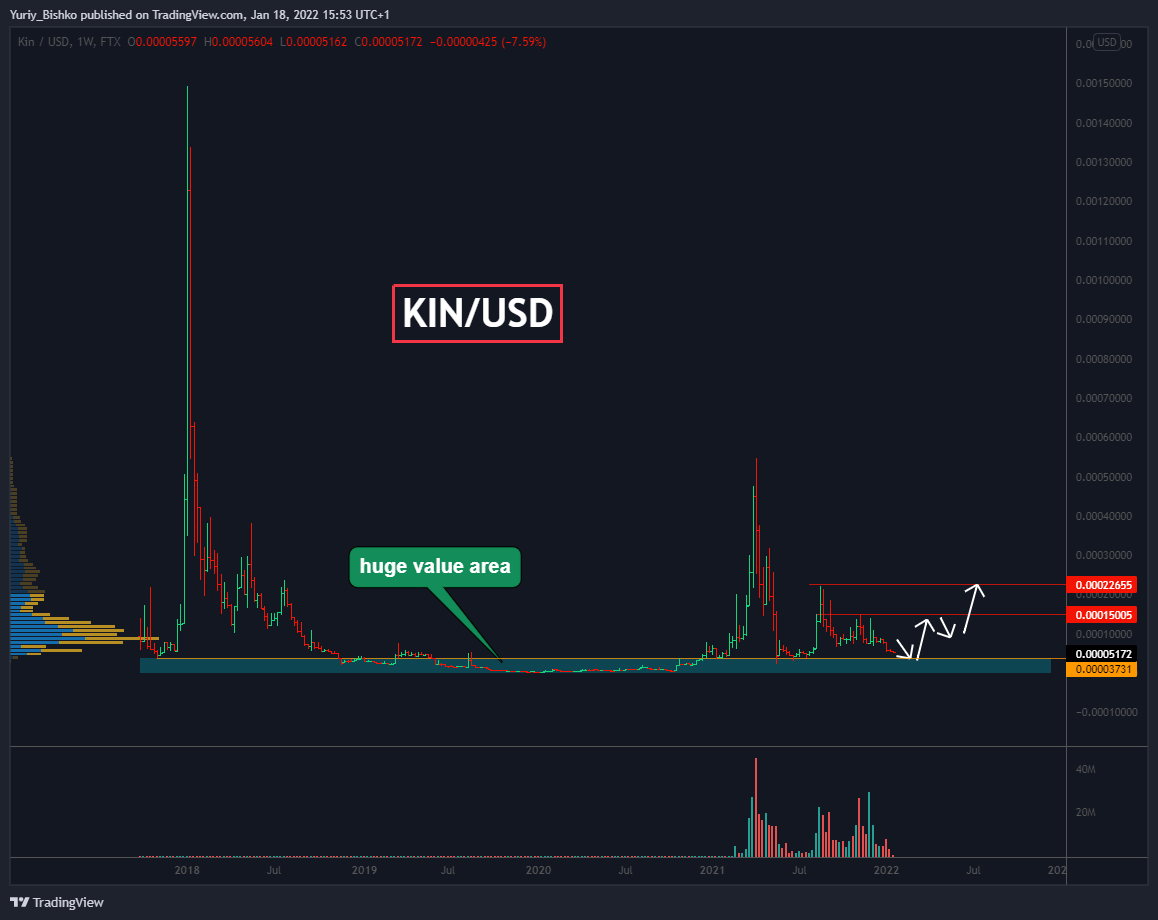 On the KIN chart we can highlight the big value area. At the moment, the price is moving in a downward trend. In the case of a big value area test, it may be a good opportunity to buy.
Pacific DeFi
Pacific DeFi is a project that aims to maximize user rewards for staking and providing liquidity pairs to any swap exchanges. In this quarter, Q1 2022 they are aiming to deliver most of the promised functionality, such as: Swap and Trade, staking, high % yield vaults, and time-locked deposit vaults. There's quite a bit of demand for so-called "Yield Farming" in crypto, and a service that automates all that and brings high rates of return should be very popular.

The current market-cap is less than $300k…And it's only up 20% from the all-time low price, forming a nice uptrend now. If these guys can deliver on these promises, and present a functional swap, trade, stake and yield platform in the near future, it's not even possible to predict how high it can go…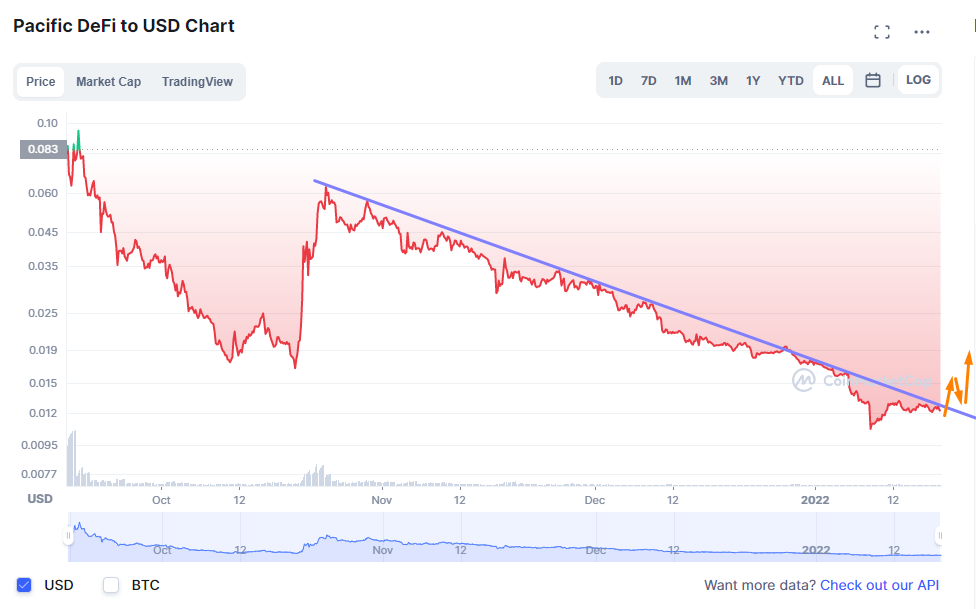 PACIFIC DeFi as well as ADAPAD is in a downward trend. You can highlight the trend line on the chart. The price has tested this trend line many times, with each test the resistance decreases and will most likely be broken soon.