BingX exchange: how to trade on it. Step-by-step registration guide
The cryptocurrency social exchange BingX is gradually attracting more and more crypto traders around the world and is becoming one of the leaders in its segment, so in this article, we will learn more about what BingX is, how to register and verify, as well as consider its unique features.
KEY ISSUES:
What is BingX?
What is BingX Token?
How to register on the BingX exchange with the app and web
Why do beginner and professional traders choose BingX?
A brief overview of the exchange
BingX Exchange is a social crypto exchange (a trading platform for cryptocurrency traders) that was founded in 2018 and has since become one of the most reliable and largest cryptocurrency exchanges officially operating worldwide. 
We choose the BingX crypto exchange because of its cool features such as a modern and user-friendly trading platform, various types of trading (spot, derivatives, copy trading, BingX forex trading), low trading fees, high-quality customer support, high-quality service, and official work around the world (there is also confirmation of the availability of all funds on the exchange). Register on the BingX exchange through our referral program and boost your trading with amazing bonuses. 
Advantages of the BingX exchange 
Security is a paramount concern in the cryptocurrency space, and BingX takes it seriously. The exchange employs great security measures, including cold storage wallets, two-factor authentication (2FA), and regular security audits to ensure the safety of users' funds.
BingX is designed with a user-centric approach, focusing on simplicity and ease of use. The intuitive interface makes it accessible to both beginners and experienced traders, enabling seamless navigation and efficient trading.
BingX offers an extensive selection of cryptocurrencies for trading, including major cryptocurrencies like Bitcoin (BTC), Ethereum (ETH), as well as a range of altcoins. This variety enables users to diversify their portfolios and explore different investment opportunities.
High liquidity is crucial for any trading platform, and BingX delivers on this front. The exchange has established partnerships with multiple liquidity providers, ensuring smooth execution of trades even during periods of high demand.
For more experienced traders, BingX provides advanced trading tools such as technical analysis charts, real-time market data, and customizable trading indicators. For grid trading BingX offers a unique approach to managing positions and optimizing trading outcomes.
If interested in learning from successful traders, beginners can explore the copytrade BingX feature on the platform, which allows you to replicate their trading strategies.
BingX offers a user-friendly mobile app that enables traders to manage their portfolios and execute trades on the go. This mobile app is available for both iOS and Android devices.
Why do traders choose BingX?Check its special features! 
BingX Token (BXT)
BingX has introduced its native utility token, BXT, which can be used to pay for trading fees on the platform. Traders can also earn rewards and discounts by holding and using BXT within the exchange ecosystem. 
Loyalty program
To incentivize and reward active traders, BingX offers a loyalty program that provides various benefits, including reduced trading fees, exclusive access to new features, and priority customer support.  The BingX copy trading fees are low, making it an attractive option for traders looking to leverage the benefits of social trading. 
Social trading with educational resources
BingX has integrated a social trading feature that allows users to follow and replicate the trades of successful traders. This feature is particularly beneficial for newcomers who can learn from experienced traders and gradually improve their trading skills. For example, traders can improve their strategies by participating in BingX copytrading, which allows them to mirror the trades of experienced investors. The exchange offers a range of educational resources, including articles, tutorials, and webinars, to help users make informed decisions and improve their trading strategies. 
Our cool referral program
We partner with BingX Exchange to bring you a cool referral program. Click the link to join and start trading on the BingX exchange with us and get a unique trading experience with our team.
Advanced features for traders
Using the innovative BingX copy trading feature, users can effortlessly replicate the trades of seasoned traders to improve their investment strategies. If you want to copy trade BingX offers necessary guides and informational resources.
Advanced traders can earn more thanks to the copytrading BingX feature. By offering these services to a BingX copy trader, you can accelerate the growth of your account while also providing support and guidance to beginner traders.
Traders on BingX can also take advantage of the BingX grid trading.
If you're looking to diversify your trading strategies, try the spot grid BingX trading features on the exchange.
How to register on BingX with the application 
Step 1. Go to the Registration Page 
Start by launching the BingX app on your mobile device. Once the app is open, locate and click on the avatar icon situated in the top left corner of the screen.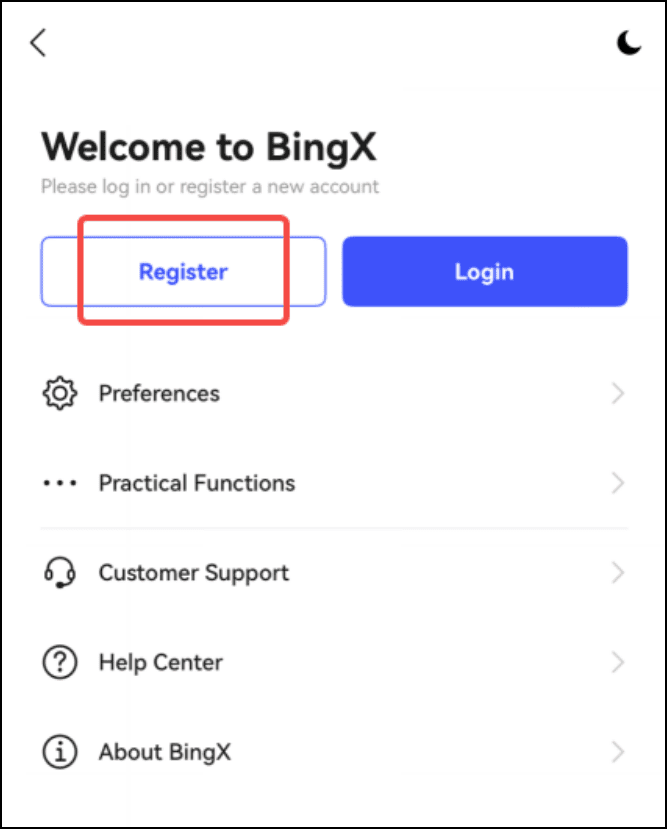 Within the menu that appears, click on the "Register" option to initiate the registration process.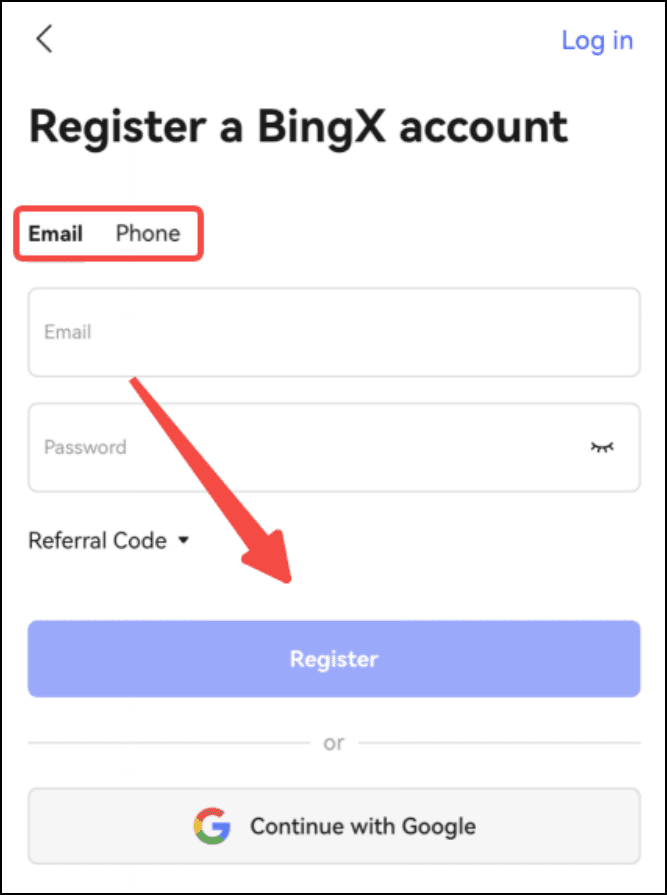 Step 2. Provide details 
Choose your preferred method of registration: phone number or email address. Enter the relevant information as per your chosen method. Create a secure password for your account. Your password should be between 8 and 20 characters long and must include a combination of both numbers and letters. After entering your details, click the "Register" button. 
Step 3. Complete Security Verification 
For added security, you will be prompted to complete a security verification puzzle. Slide the pieces of the puzzle to the right to form a complete image.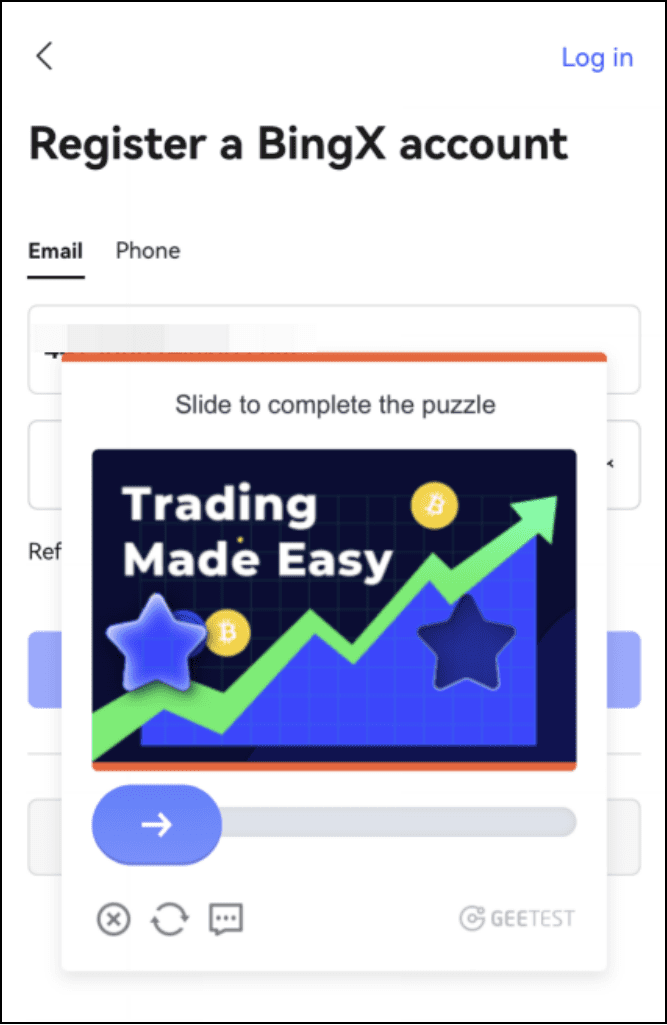 A verification code will be sent to the email address or phone number you provided during registration. Check your registered email or phone for the verification code. 
Step 4. Finalize registration 
Enter the verification code you received into the designated field on the registration page. Once the code is successfully entered, your registration will be completed.
How to register on BingX with the web 
Step 1. Go to the official website 
Open your web browser and visit the BingX official website at https://bingx.com. On the homepage of the website, look for the "Register" button located in the top right corner of the screen. Click on the "Register" button to start the registration process.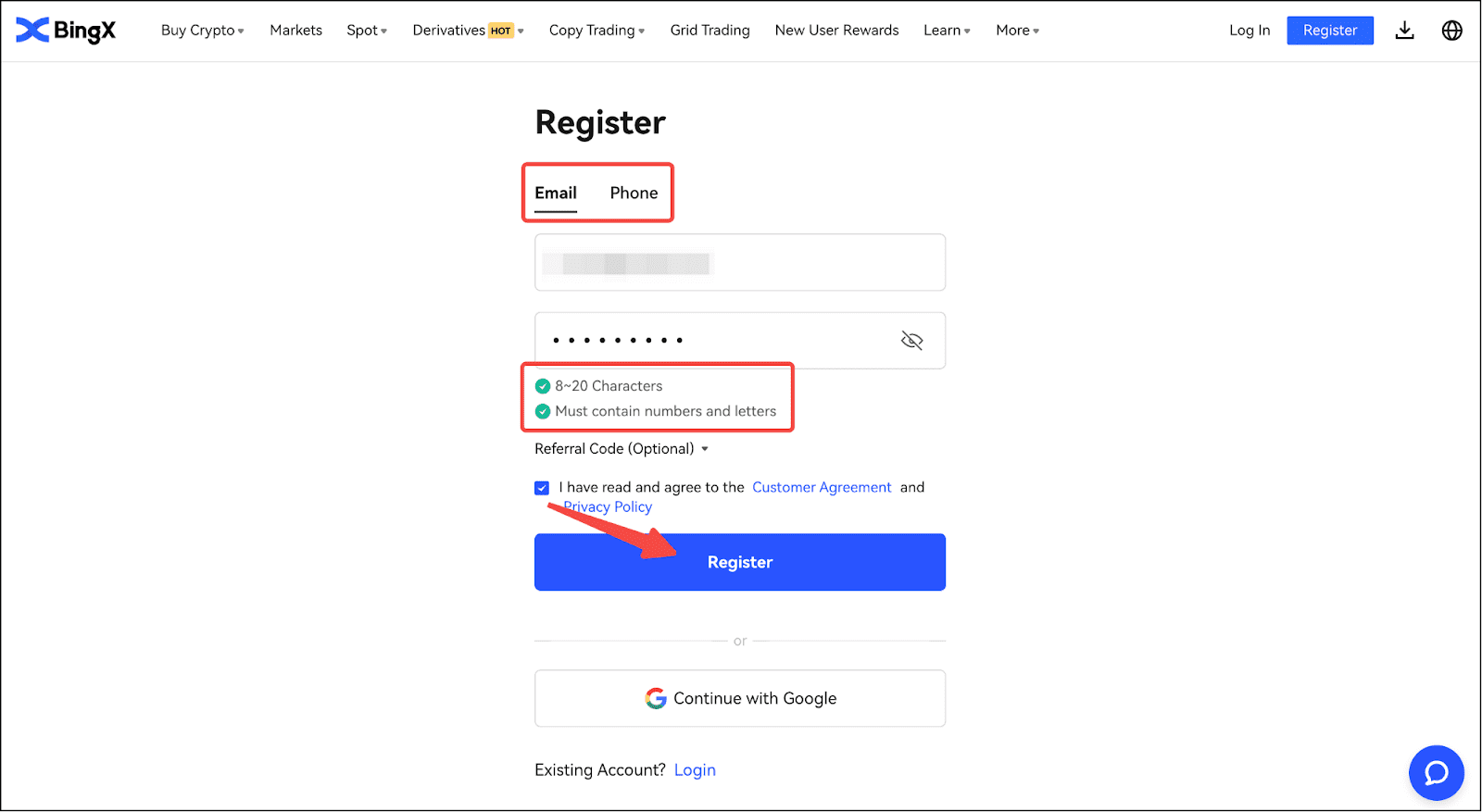 Similar to the app registration, choose your preferred method of registration: phone number or email address. Input the necessary information as required by your chosen method. Create a strong password for your account, adhering to the password guidelines provided (8-20 characters with a combination of numbers and letters). Tick the box indicating that you have read and agreed to the Customer Agreement and Privacy Policy. Click the "Register" button to proceed. 
Step 2. Complete Security Verification 
Complete the security verification puzzle by sliding the pieces to the right to form the image. 
Step 3. Verification Code 
Look for the verification code sent to the email address or phone number you provided during registration.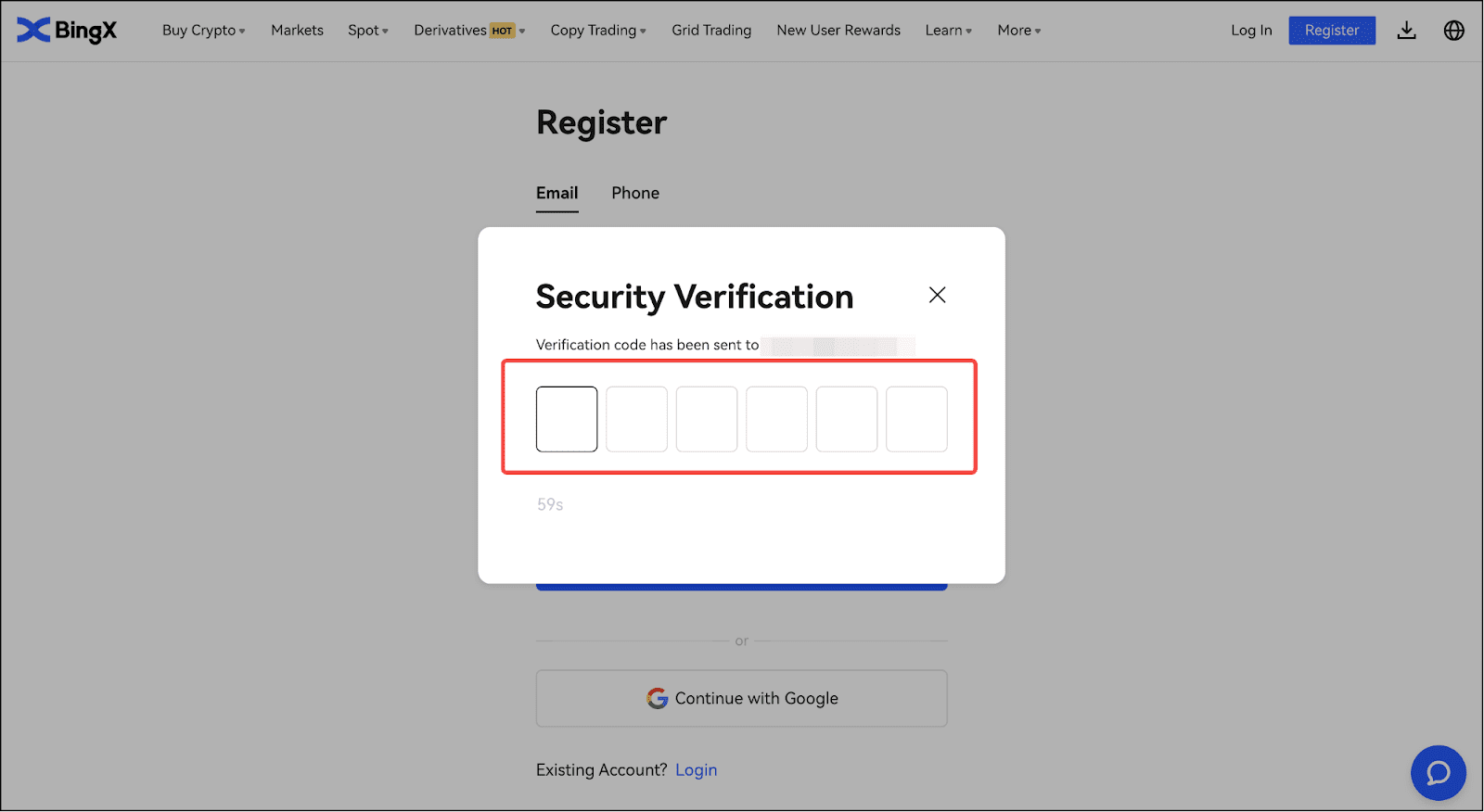 Step 4. Finalize registration 
Enter the verification code into the appropriate field on the registration page. Your registration process will be completed once the code is entered correctly. 
Congratulations! You've successfully registered on BingX Exchange and are now ready to explore the exciting world of cryptocurrency trading on this innovative platform. Remember to keep your login credentials and verification code secure for the safety of your account.
Conclusion
BingX Exchange stands out as a reliable and easy-to-use platform. It keeps your investments safe with strong security measures and offers a variety of cryptocurrencies to trade. Whether you're new to trading or an expert, BingX has tools to help you make smart decisions. If you are a beginner, consider exploring the BingX copy trade feature, allowing you to mirror the trades of experienced traders for potential gains. Plus, its special features like the BXT token, loyalty rewards, and social trading make it even more interesting. Register through our referral program and get unbeatable bonuses and reliable support.