Bitcoin Forecast for 2024-2025. Learn how to achieve 30x in this cycle
Hey folks. Today, I'll unveil my secret trading roadmap for 2024-2025. This roadmap will be your trustworthy guide, helping you multiply your initial investments by tens of times throughout this crypto cycle. 
Many traders and investors understand that financial markets are cyclical, and the cryptocurrency market is no exception. This cyclicality implies that price patterns tend to repeat, allowing us to anticipate future price behaviors.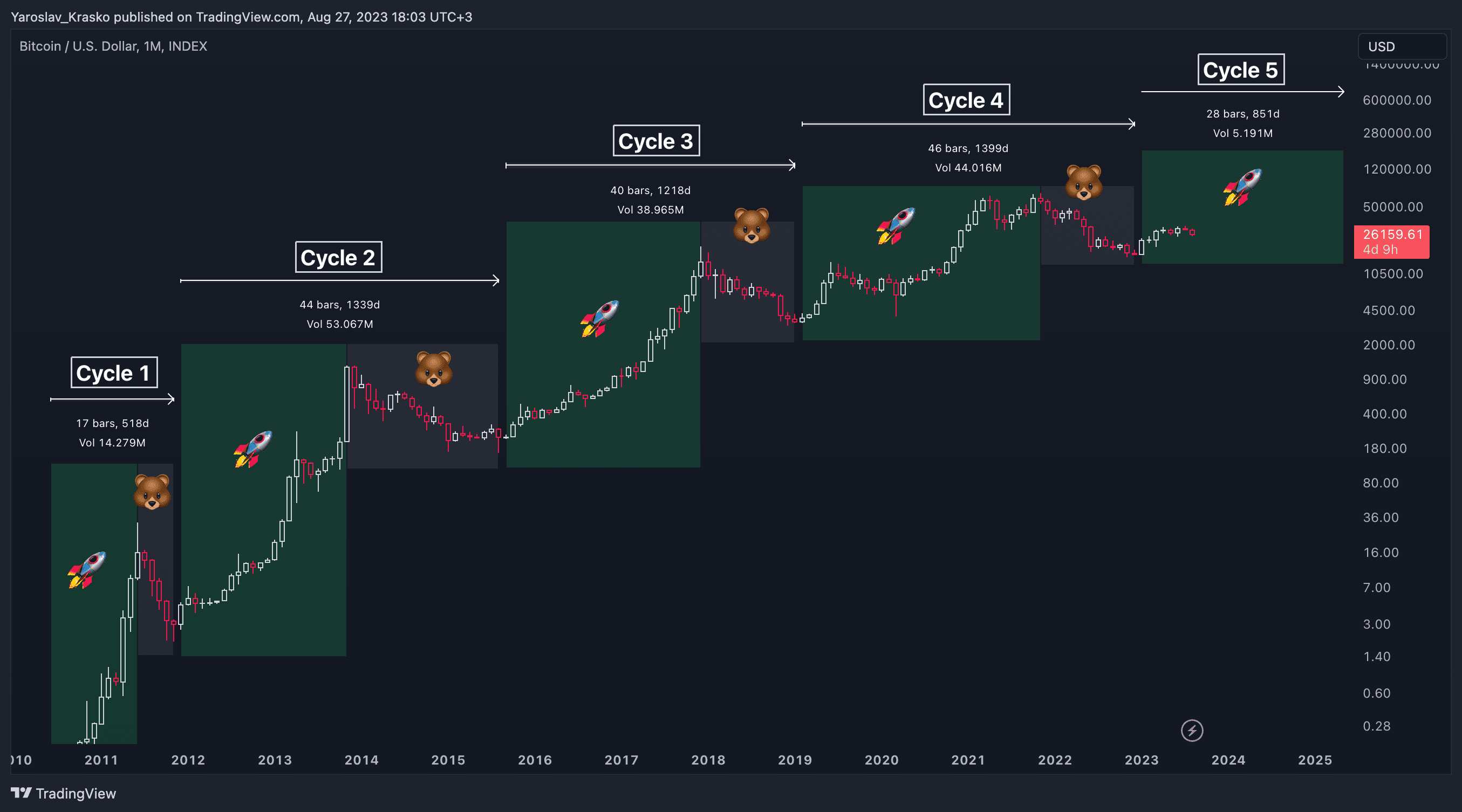 I know many analysts analyze and compare cryptocurrency cycles, but I haven't encountered such a comparison before. Before delving into the chart and predicting the future of Bitcoin and Altcoins, I want to note that I've been refining and testing this plan for the past 6 months. So far, the accuracy results are truly impressive. More on that later.
Global Bitcoin Forecast for 2024-2025 
Now, let's move on to analyzing the chart and predicting the future price of the cryptocurrency market. In the chart below, I've compared the current Bitcoin cycle, the 2015-2017 cycle, and the 2019-2021 cycle. Did you notice the similarities between each cycle? Yes, the price diverges at times, but there's over a 70% correlation, which is quite significant.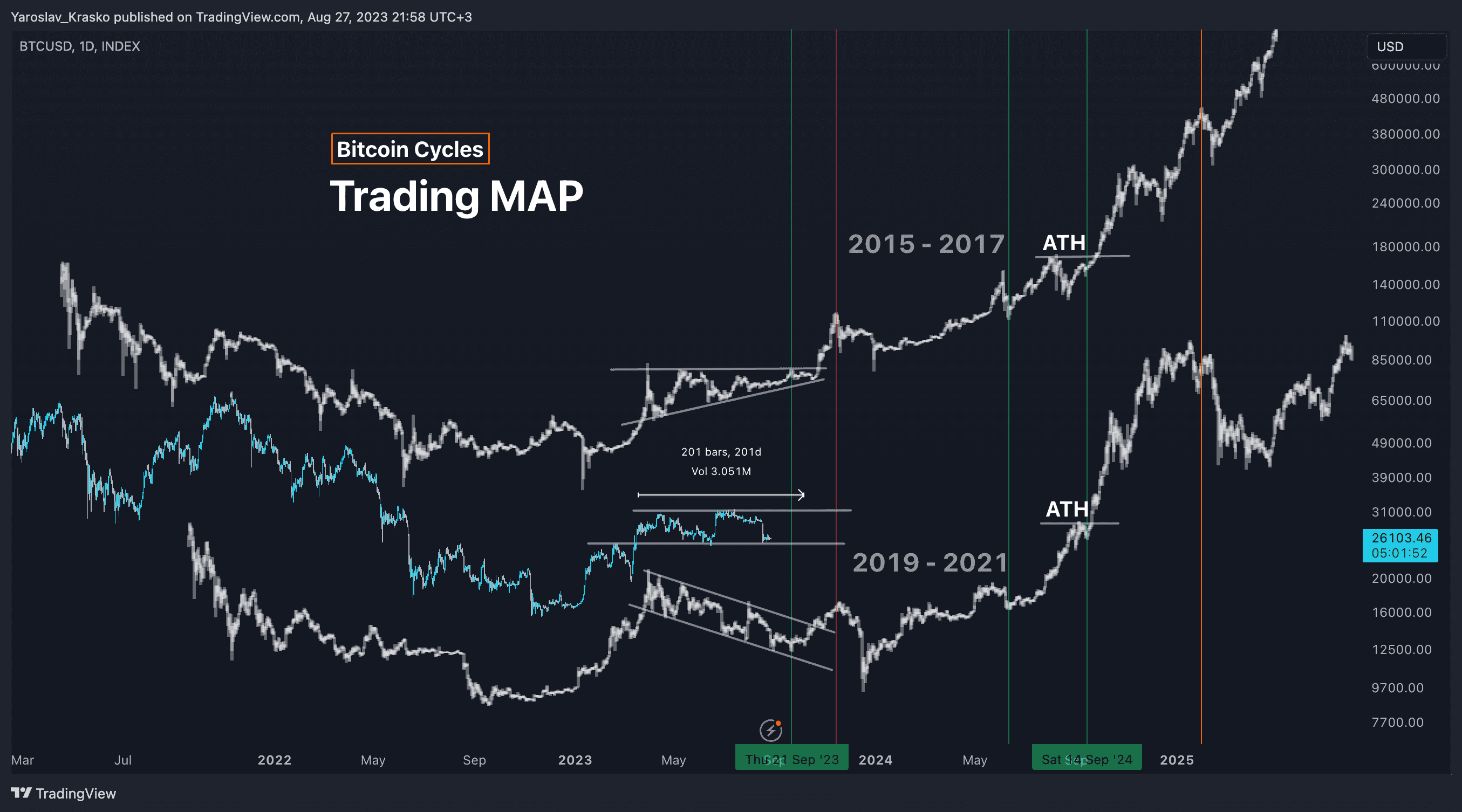 It's worth noting that the bearish phase (downtrend phase) has ended. The accumulation phase is also nearing its conclusion. And soon, with high probability, the entire year of 2024 and the beginning of 2025 will see the cryptocurrency market in a bullish trend (growth phase). 
Pay attention to the current situation. During this period, in relation to the cryptocurrency market cycles, Bitcoin has always been in the accumulation phase (sideways trend).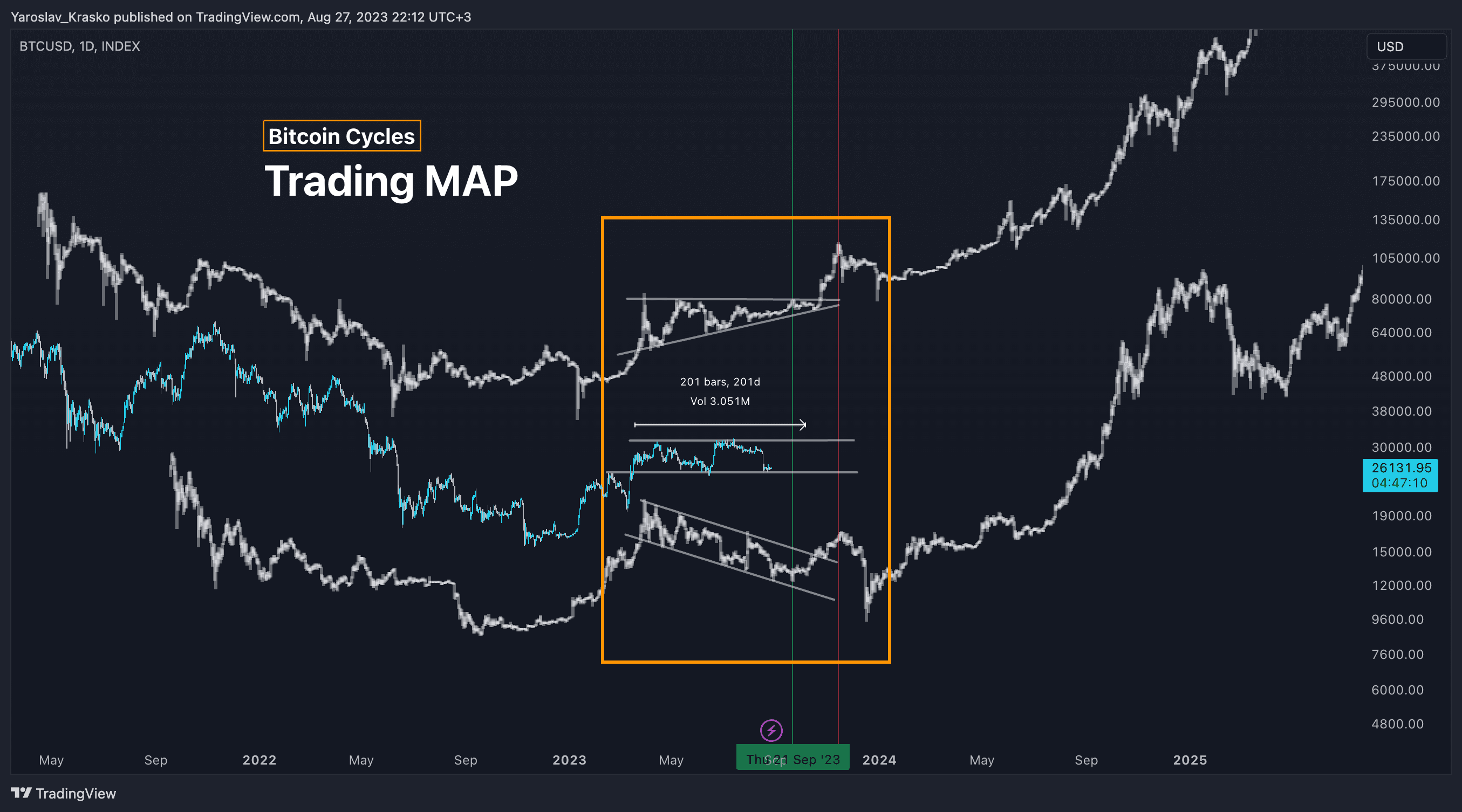 Bitcoin Forecast: September - November 2023
In both previous accumulation cycles, it lasted about 200 days, after which there was a breakout upward and growth. Currently, the price has been in a sideways trend for approximately 170 days. If we go by the past, there's 1 month left before growth begins. By the way, this scenario aligns very well with the months. September has always been a consolidation period, and October a month of growth.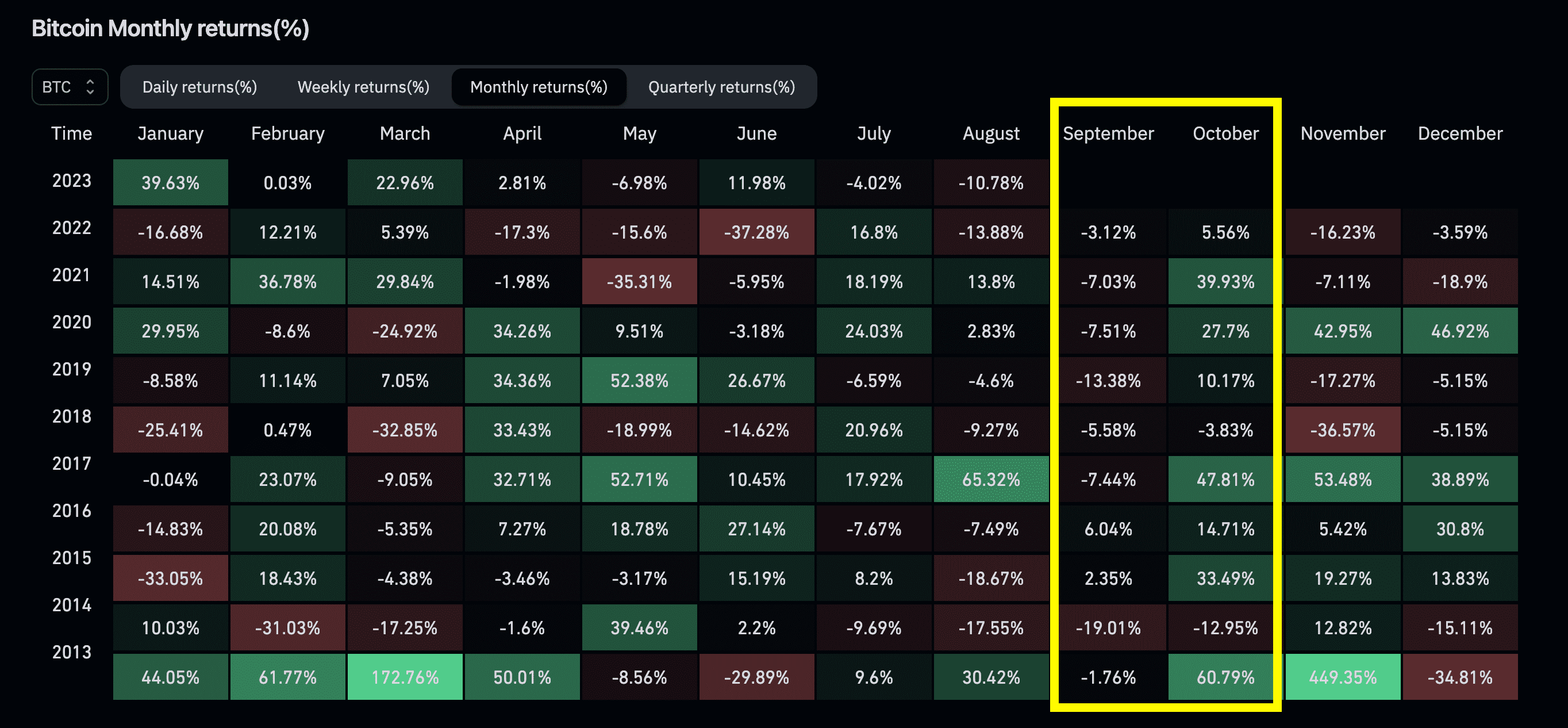 Currently, many people are expecting the price to fall, and it's no surprise, as this always happens after downturns. The market sentiment changes with the price movement. A week ago, I conducted a poll on my Twitter account and asked my audience: "In your opinion, which will Bitcoin reach first, $20k or $30k?" 61% of respondents believe the market will hit $20k first.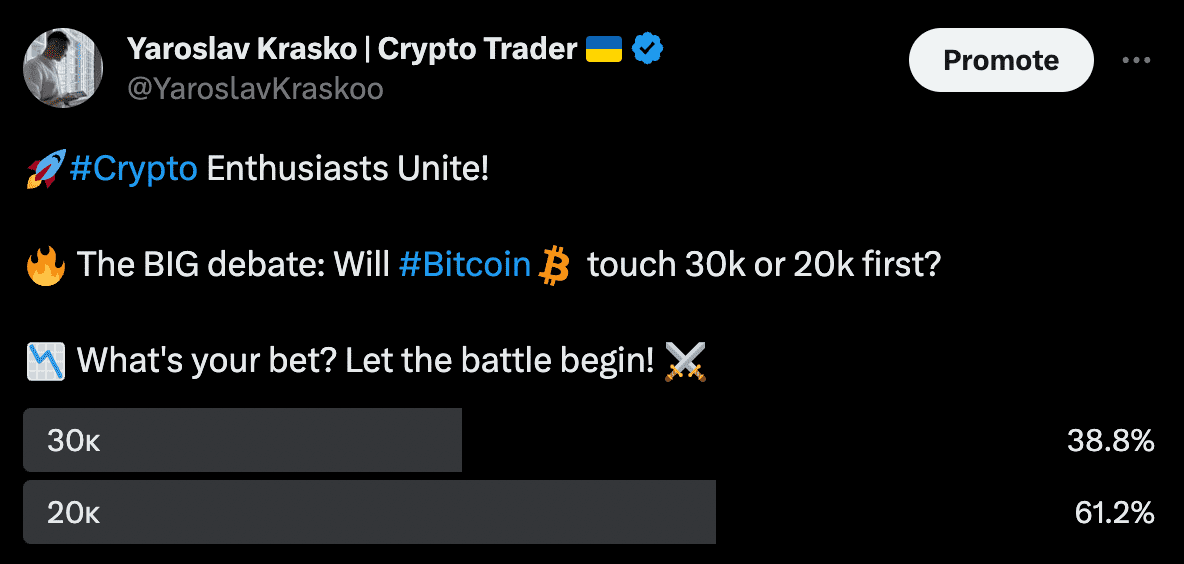 Usually, as a rule, the market moves against the majority's opinion. Indeed, at the $19k - $20k level, there's a lot of liquidity, strong levels, and if the price drops to $19k, it would be a great opportunity to start investing in the cryptocurrency market. However, it's more likely the price won't drop below $22k - $23k. 
I'll give a 20% chance that Bitcoin will indeed decline. If it does, prices below $23k - $22k are very attractive for buying (in case of a drop, buy incrementally; this allows for a good average purchase price). 
The question arises: "If there's growth, where to?" It all depends on how the price behaves throughout September 2023. If, during September, the price approaches the $30k mark and begins to consolidate, there's a good chance to reach $40k - $42k. If the price stays around the same levels throughout September, then the targets might be around $35k.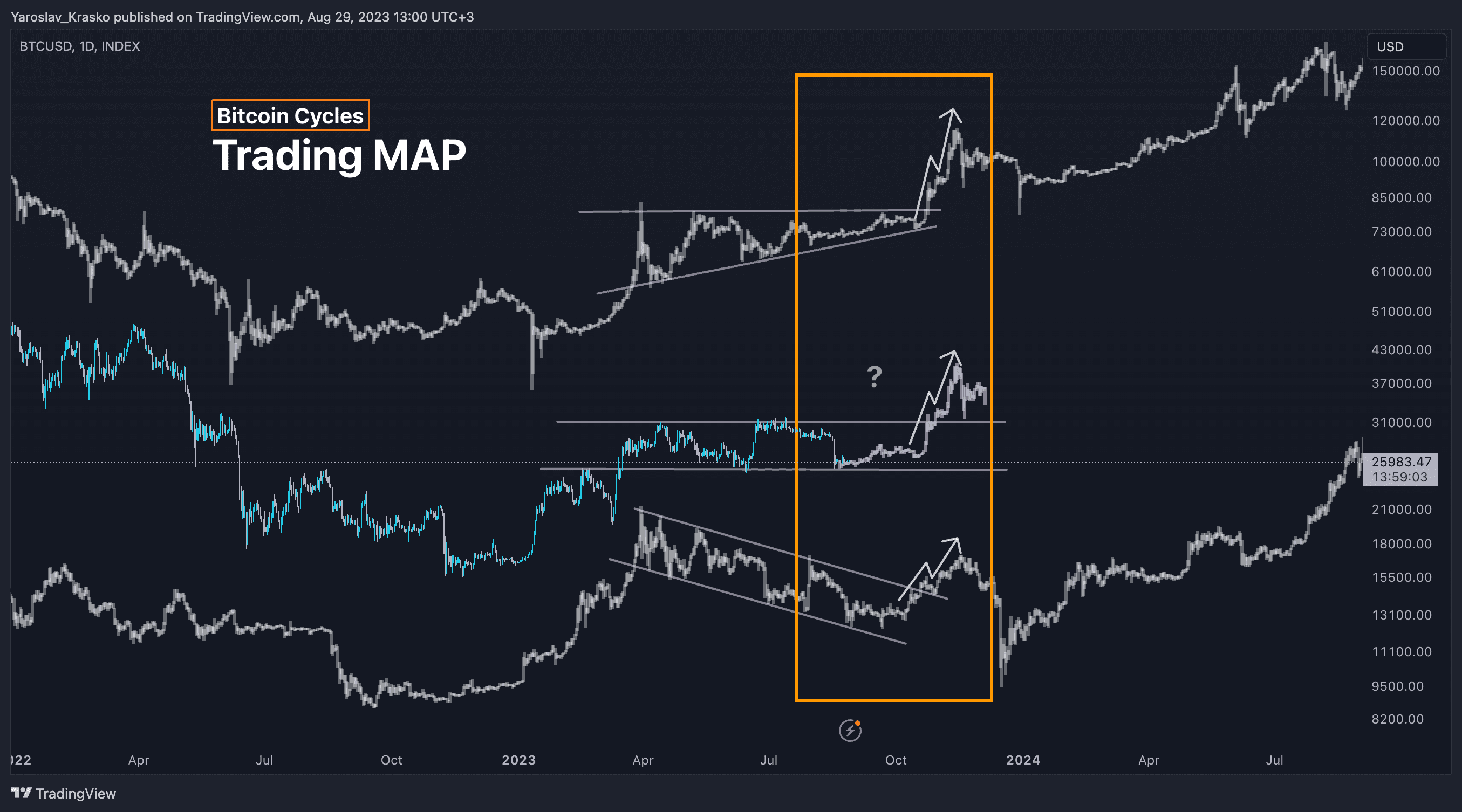 Additionally, I want to highlight a few patterns. In past cycles, the growth occurred in two waves and lasted about 1.5 months. I anticipate these patterns will repeat, and the cryptocurrency market will be in a growth phase until mid-November. Exact price prediction is impossible, so I set various targets. Everything is relative and will be adjusted in real-time.
Bitcoin Forecast: November - December 2023 
If we look at past cycles, from the beginning of October until mid-November, we should expect growth, followed by a reversal and a sharp decline, likely in December 2023. Again, it's almost impossible to predict the exact fall targets; it could be $19k - $20k, $25k, or the upper accumulation boundary, $30k. Everything will depend on the price growth in October - November 2023. In the 2015 - 2017 cycle, the drop was 40%, while in the 2019 - 2021 cycle, the price declined by 60%.   
Bitcoin's drop in December 2023 will be a holiday gift; keep an eye on the price and don't miss the opportunity to buy cryptocurrency at a discount before the start of the bull trend.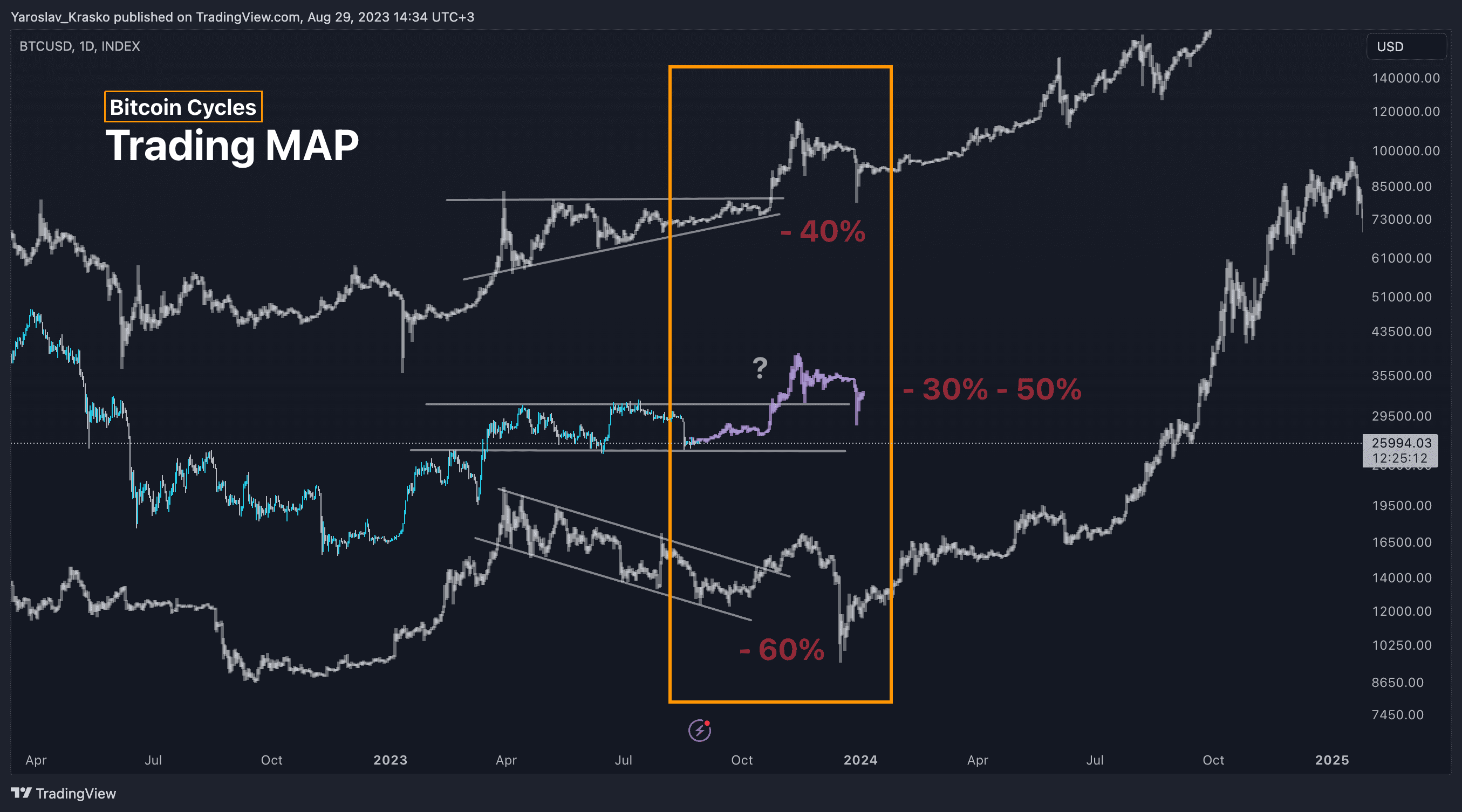 Bitcoin Forecast: January - May 2024
From the beginning of 2024 until mid-spring, the cryptocurrency market will likely be in a slow upward trend, just as it was in past cycles. In March - April 2024, the Bitcoin halving will take place, which will certainly awaken the market and lead to increased volatility (sharp price jumps). 
Past cycles also suggest that during this period, we should anticipate a local price increase. Potential uplift levels: $48k - $50k. Also, note that in both the first and second scenarios, the price returned to the initial growth values.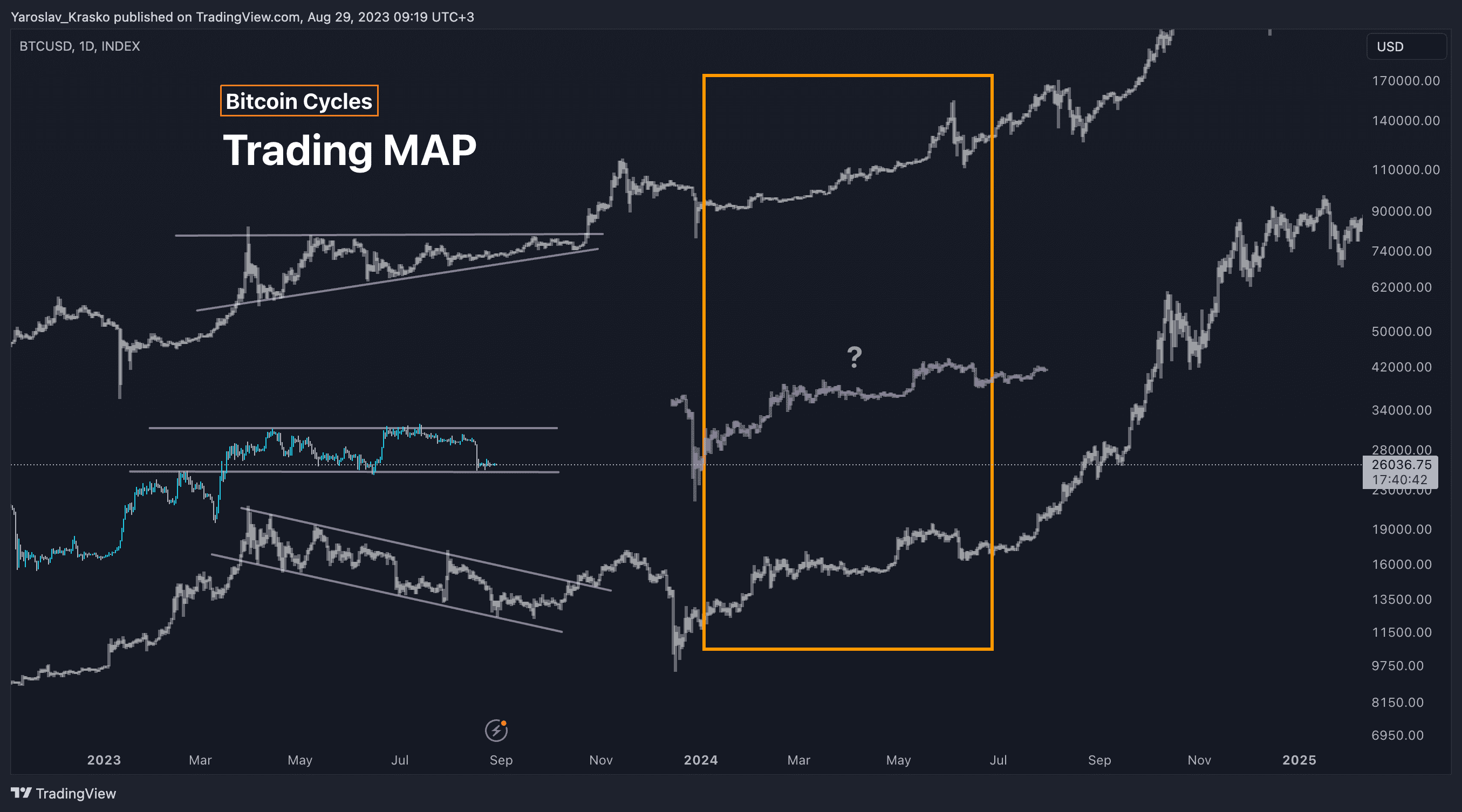 Bitcoin Forecast: June - September 2024
According to our map, during this market period, we can forecast growth and an assault on Bitcoin's all-time highs: $69,000. During this time, it's also worth anticipating a surge in news-related momentum. Lately, most global investment funds have been applying for a Bitcoin ETF. Perhaps during this period, we should expect positive news related to this event.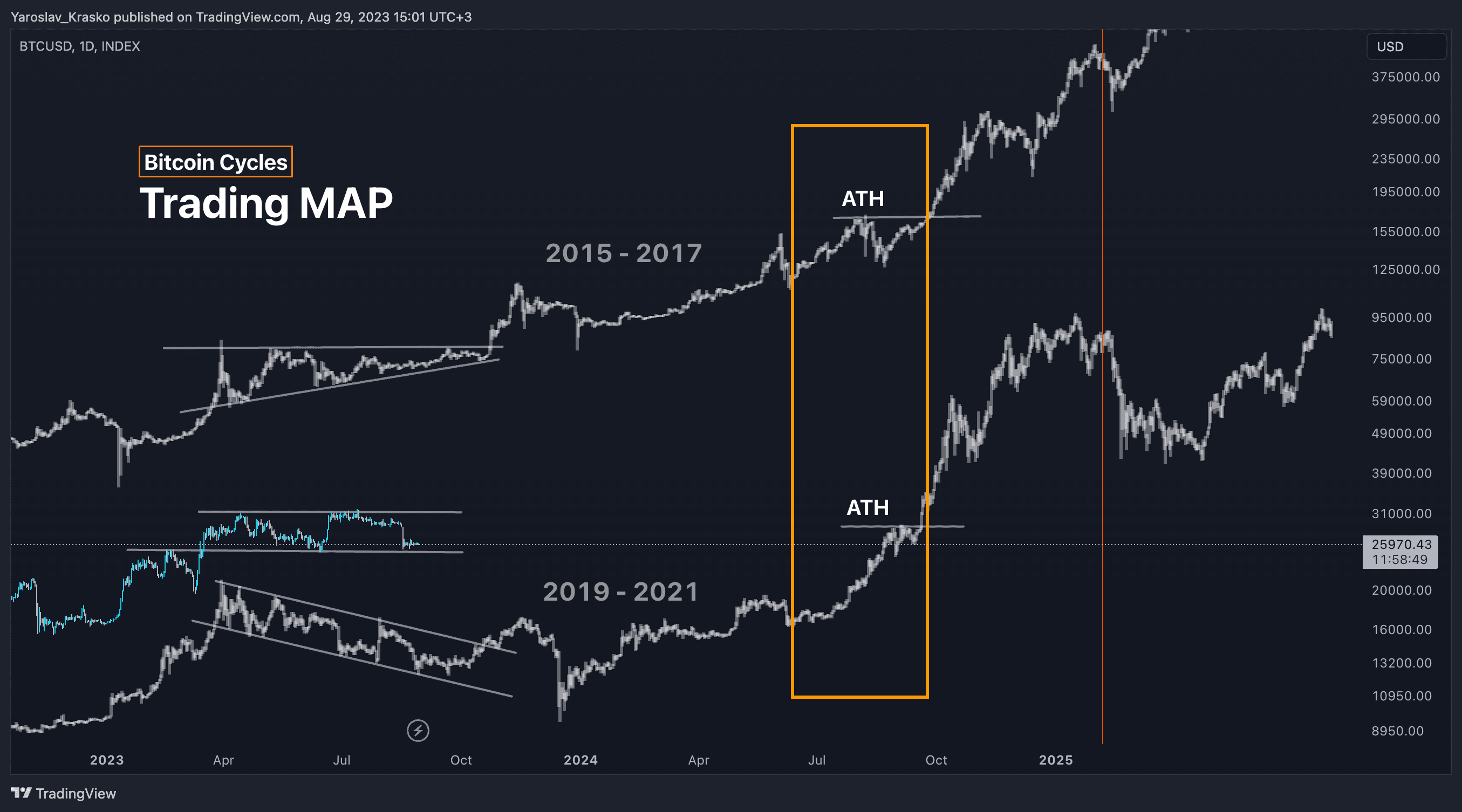 Bitcoin Forecast: September 2024 - January 2025
After Bitcoin updates its ATH (all-time highs), the price will start to skyrocket. During this period, you can begin to purchase altcoins, as a significant amount of liquidity will shift from Bitcoin to altcoins, marking the start of the much-anticipated altcoin season. 
By the end of 2024, Bitcoin might reach the $100,000 mark (a key psychological level). This, in turn, will lead to uncontrollable market mania. You will notice the media extensively discussing Bitcoin and the cryptocurrency market. A vast influx of newcomers, who have little to no experience in trading or investing, will rush into the market and invest their savings. Big players ("whales") during this time will be massively selling their cryptocurrency to retail investors. Be cautious, the end is near.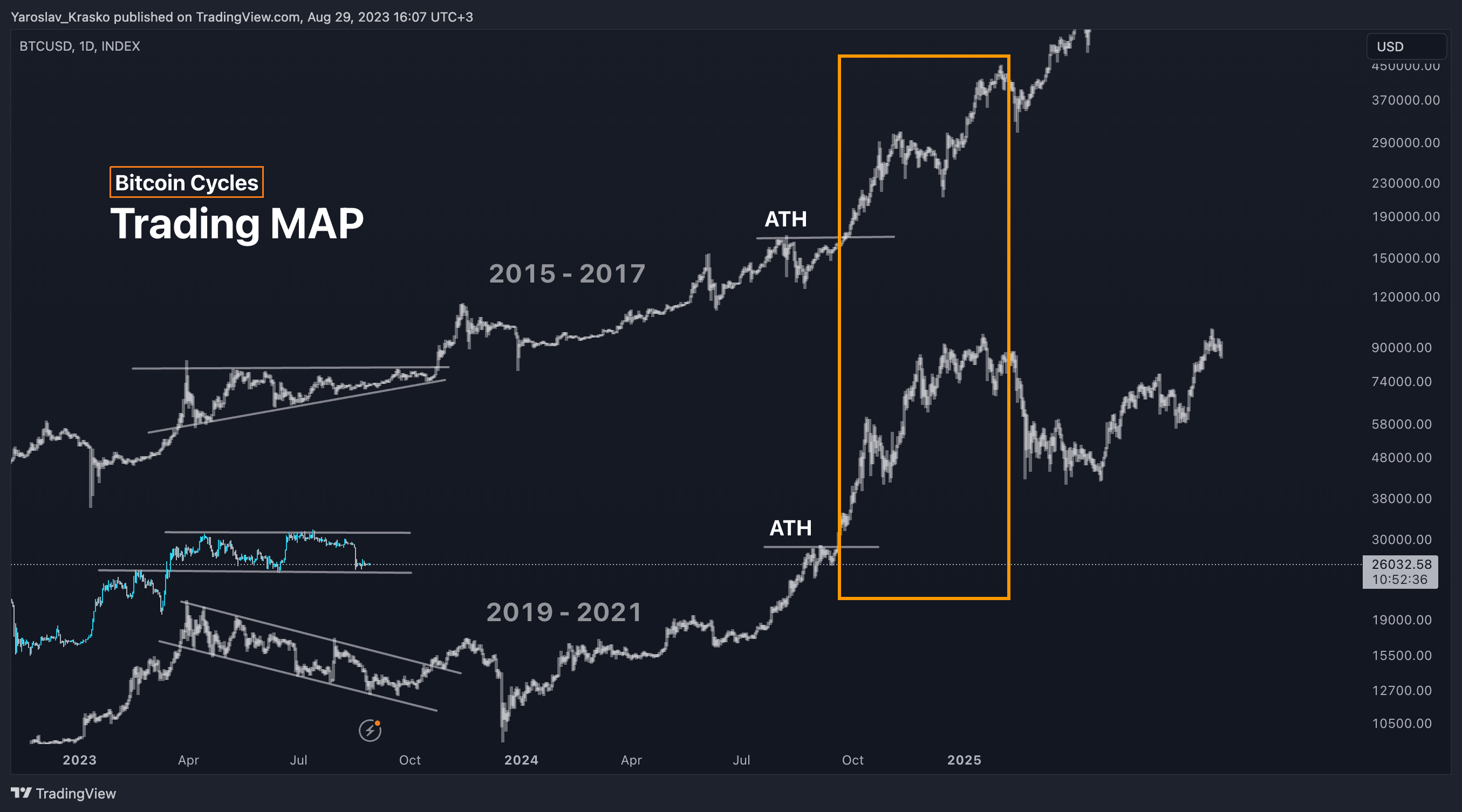 Bitcoin Forecast: February - May 2025
The final months of the bull market. At this stage, you've noticed that the cycles have started to differ. However, the dynamics remain similar. A correction followed by the last growth wave. Systems, models, and indicators point to different targets for this cryptocurrency cycle. I lean towards the new all-time highs (ATH) for Bitcoin being in the range of $130k - $170k.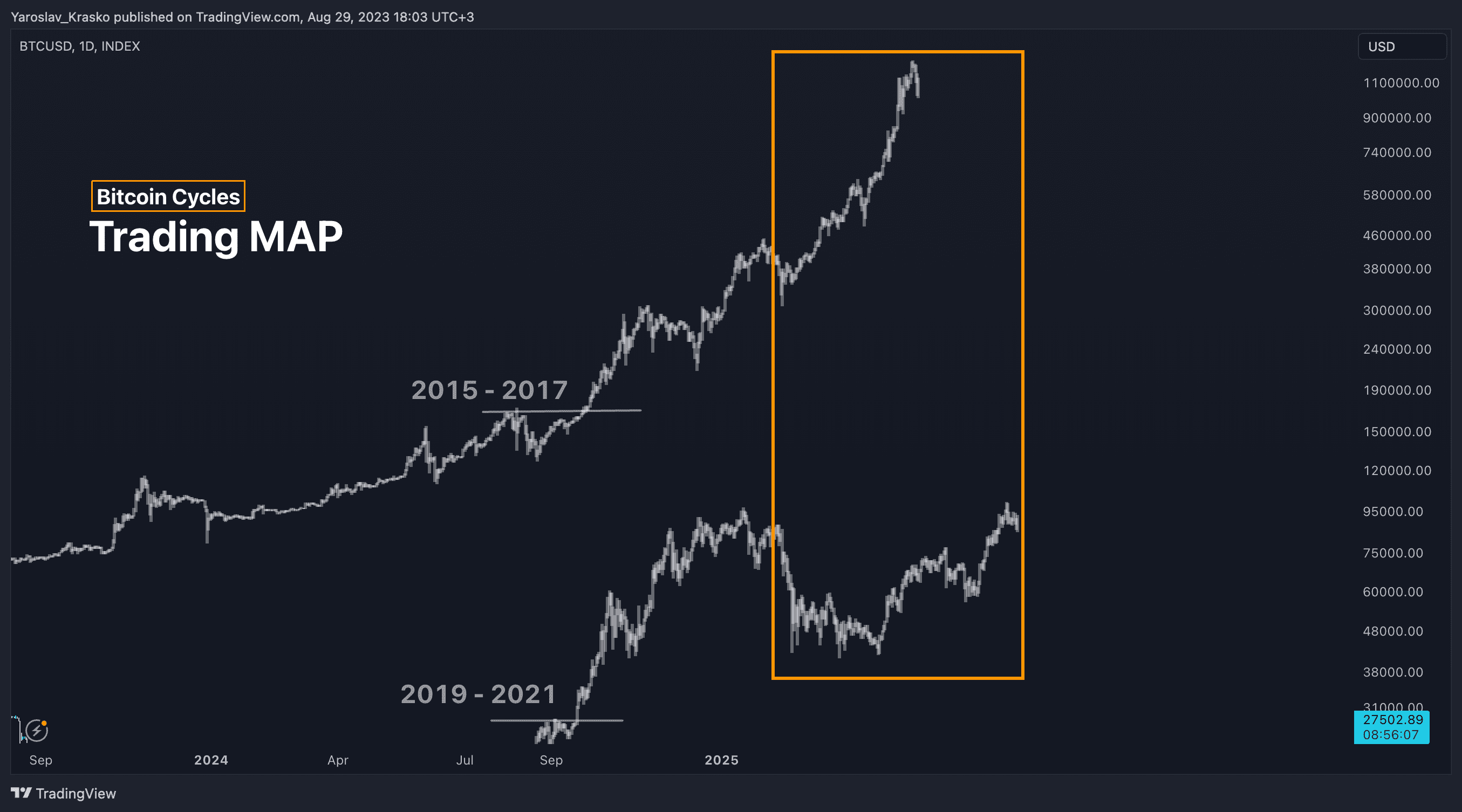 Important 
All the information provided above is presented strictly for informational purposes and is not a recommendation to buy or sell financial instruments or currencies.   
I want to note that this map serves as a reference for me, but it is by no means my strategy or system. It helps me regulate my risk level. My primary system and strategy, which I rely upon and am willing to invest my own money in, is a complex of my own Buy/Sell indicators, guided by their signals. (screenshot)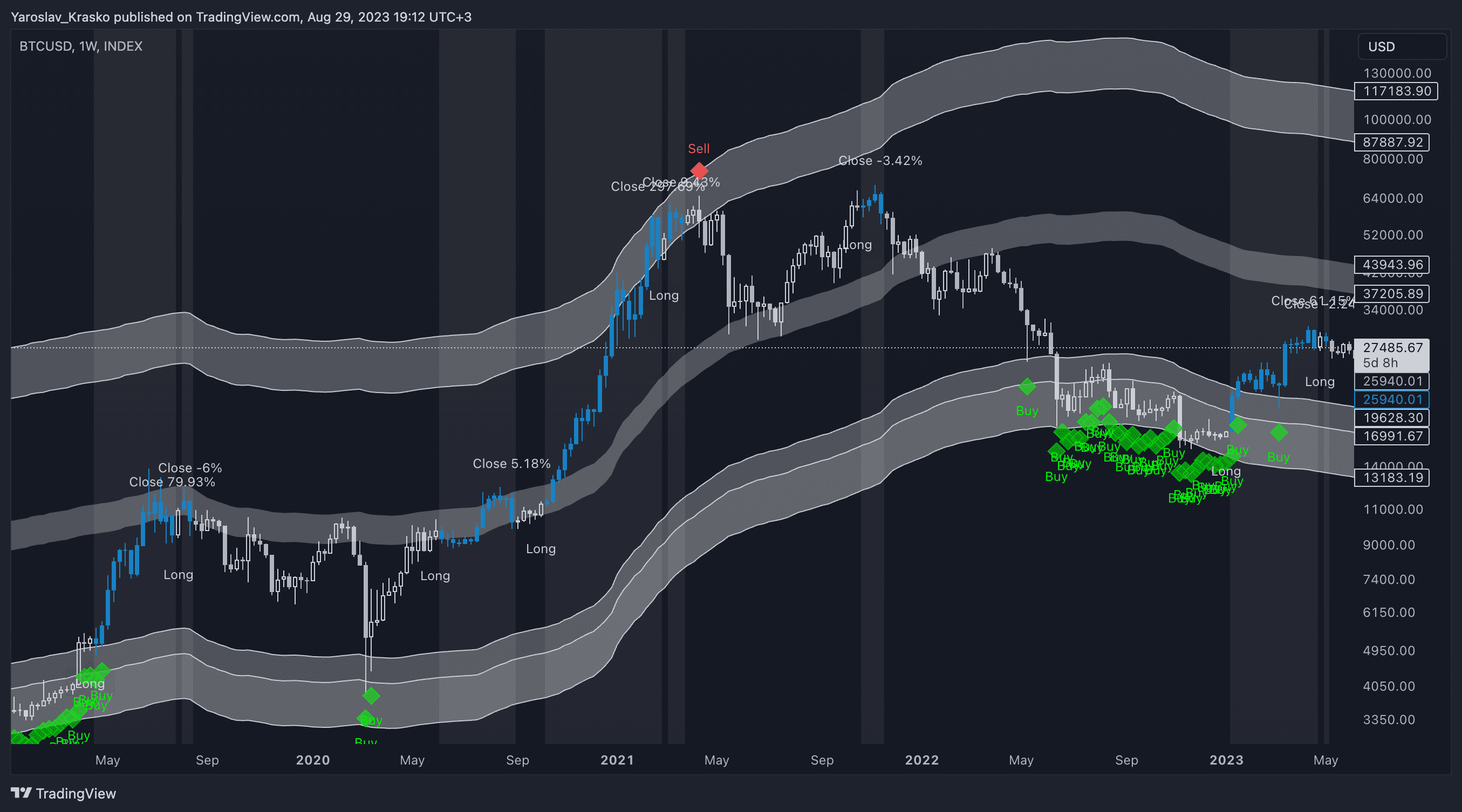 Research independently and manage risk accordingly. In the world of cryptocurrencies, nothing is impossible.