Top 5 Decentralized Cryptocurrencies: Market Leaders in 2023
By Alex Dehtiarov 
BikoTrading Academy
In the world of cryptocurrencies, decentralization plays a crucial role as it ensures security, transparency, and democratization of financial transactions. In 2023, decentralized cryptocurrencies continue to gain popularity, sparking the interest of investors and users worldwide. In this article, we will delve into the top 5 decentralized cryptocurrencies recognized as market leaders in 2023. We will discuss their features, technologies, and advantages that make them attractive for investments and contribute to the stable development of the cryptocurrency market.
KEY QUESTIONS:
Decentralized cryptocurrencies 2023
Investing in decentralized cryptocurrencies
Promising decentralized coins
Best decentralized cryptocurrencies for investments
Top 5 Decentralized Cryptocurrencies
Our list features the top 5 best decentralized cryptocurrencies promising impressive returns for investors over the next 1-2 years. Keep an eye on these coins!
1. DYDX
DYDX is the native token of the decentralized platform and exchange dYdX, which is built on the Ethereum blockchain. This platform is revolutionizing the world of cryptocurrency investments by allowing users to trade, borrow, and utilize various financial instruments directly from their wallets. With dYdX, you can gain decentralized access to margin trading, derivatives, and other financial products.
By investing in DYDX, you not only participate in the growth of this promising platform but also have the opportunity to earn passive income from staking and providing liquidity. Interested in decentralized financial solutions and innovative technologies? DYDX could be a great addition to your investment portfolio!

2. Balancer (BAL)
Balancer (BAL) is the native token of the decentralized financial platform Balancer Protocol, distinguished by its unique approach to managing crypto assets. This platform offers automatic liquidity pools, asset exchange, and staking earnings, thanks to smart algorithms for balanced portfolio management and liquidity handling. 
Balancer Protocol creates optimal conditions for various assets, providing users with flexibility and efficiency in investment and financial management. In the world of decentralized finance, Balancer plays a significant role, developing new opportunities for crypto investors and traders.

3. Uniswap (UNI)
Uniswap (UNI) is the native token of the popular decentralized exchange Uniswap, which is based on the Ethereum protocol. With its automated exchange system built on constant product pools, Uniswap opens up a wide range of possibilities for users, allowing them to perform fast and efficient crypto transactions without intermediaries. 
Uniswap has become a true breakthrough in the decentralized finance market, providing users with maximum freedom of action and transparent management of their assets. By investing in UNI, you automatically secure your place in the next stage of cryptocurrency evolution.

4. Curve (CRV)
Curve (CRV) is the native token of the decentralized crypto exchange Curve Finance, which specializes in transactions with stablecoins such as USDT, USDC, and their exchange between one another. Thanks to its low fees and high efficiency, Curve becomes the number one choice for users looking for a reliable and secure platform for their stable assets. 
By investing in CRV, you gain access to an innovative ecosystem that enhances the operation of stablecoins and contributes to the stability of the cryptocurrency market. Curve Finance opens up new horizons for decentralized finance, offering optimal conditions for asset management and ensuring maximum liquidity.

5. PancakeSwap (CAKE)
PancakeSwap (CAKE) is the native token for one of the most popular decentralized exchanges built on the Binance Smart Chain. PancakeSwap offers a wide range of financial instruments, including cryptocurrency exchange, staking, and farming, as well as unique features such as lotteries and NFT markets. 
By investing in CAKE, you become a part of the PancakeSwap ecosystem, which is characterized by its speed, low fees, and numerous earning opportunities. This platform is an important player in the decentralized finance market, developing new technologies and helping crypto investors achieve significant profits in the coming years.

In conclusion
Choosing the right decentralized cryptocurrencies can be the key to your success in the world of investments. The top 5 cryptocurrencies we've discussed in this article open up new opportunities for growing your crypto portfolio. By investing in decentralized cryptocurrencies such as dYdX, Balancer, Uniswap, Curve, and PancakeSwap, you can take advantage of technological progress and innovations in the financial world. 
Don't miss your chance to become a part of this revolutionary movement. By investing in these promising tokens today, you could potentially grow your crypto portfolio by 10 to 30 times within the next 1-2 years. With the rapid development of decentralized finance, your success in the world of cryptocurrencies depends only on your readiness to embrace new opportunities and determination to invest in the future. 
If you decide to start investing in these projects on your own, without existing knowledge, skills, or expert recommendations, we strongly recommend using the DCA strategy for this purpose. Alternatively, you can do this in collaboration with our experts and the Altcoin Gems program.
How to make 150-400% in a month investing in altcoins?
I want to show you our results so that you can see how profitable buying altcoins with great potential and low capitalization can be.
APT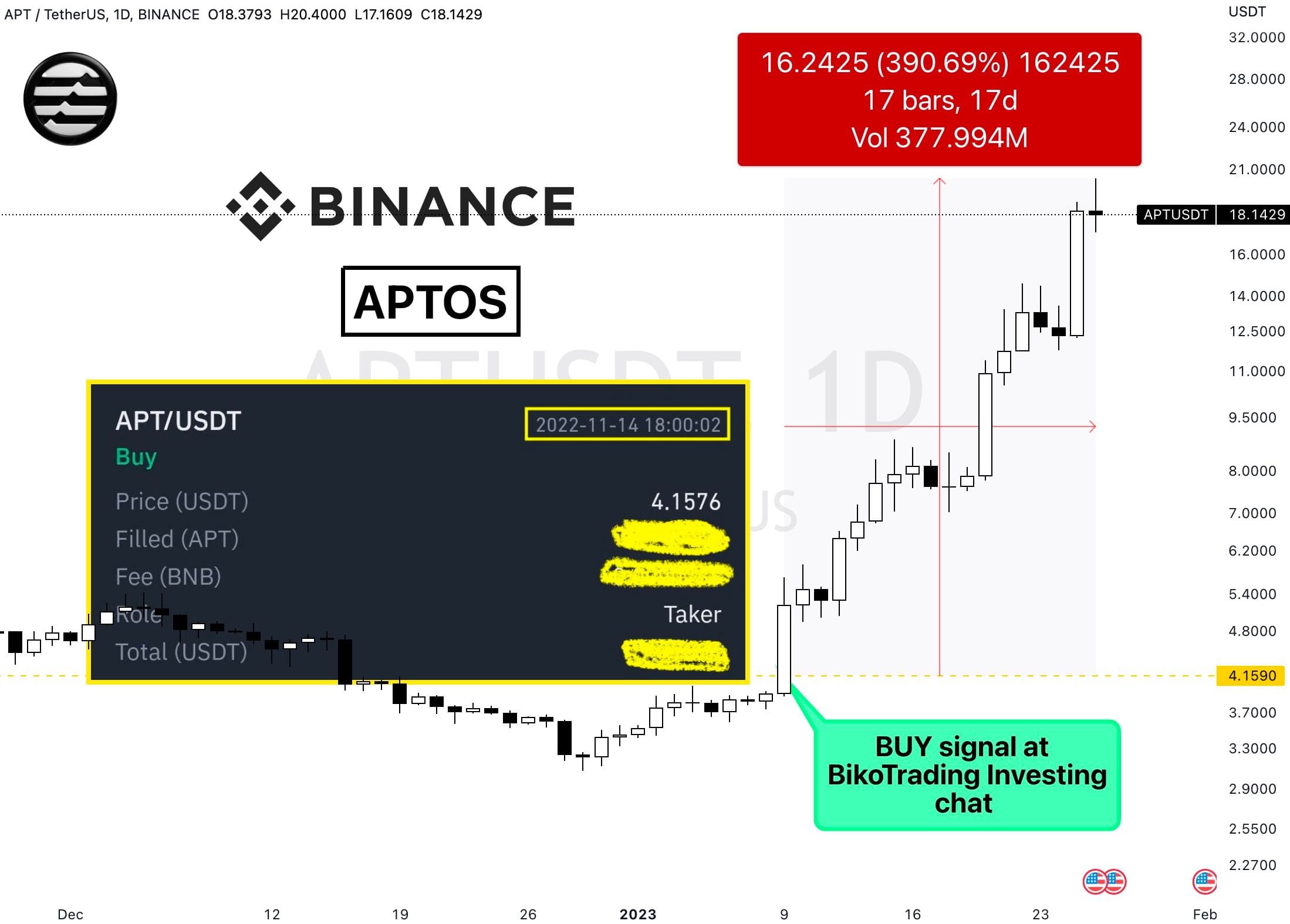 Aptos (APT) brings us +400% in just 17 days of growth. How is this possible? Because of its low initial value (capitalization). Before the growth, its capitalization was only $0.6 billion. For example, it takes years for Bitcoin (BTC) or Ethereum (ETH) to grow by 400%, while such unique altcoins can grow 4 times in just 2 weeks.
On the chart, you can see the price of our purchase and the results we got from this APT growth.
RNDR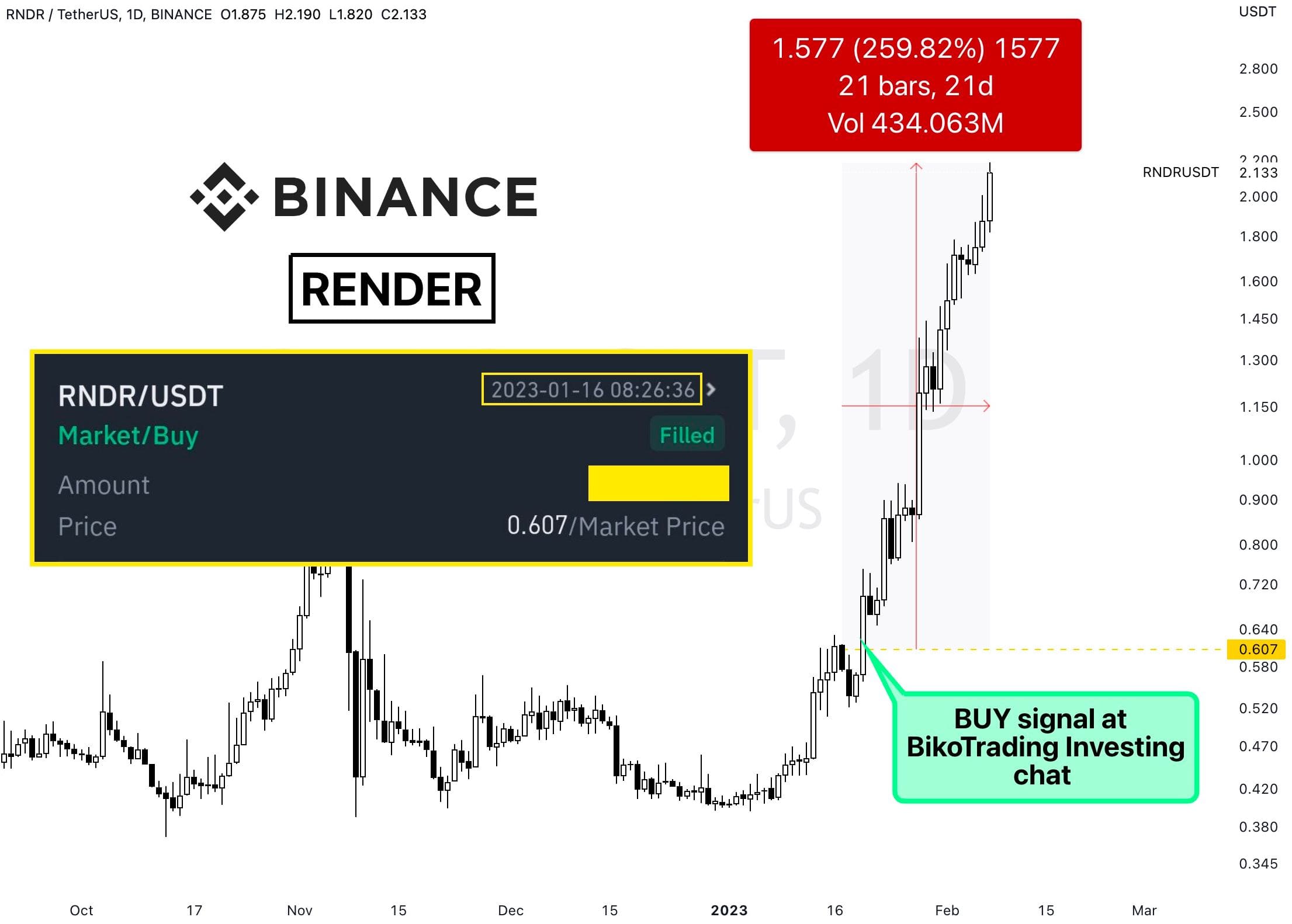 The next example is Render (RNDR), which has grown by +260%. The coin, with a total value of $350 million, almost tripled our deposit and reached $900 million in just 3 weeks!
Such growth is possible only on altcoins with great potential and low capitalization, which we select for members of the Altcoin Gems community. Don't miss out! Use the links below and unlock the secrets to earning on altcoin growth with our community! 
GET IT TODAY: