Programs for scalping: Tiger.Trade vs CScalp on Apple (macOS)
By Yuriy Bishko Updated November 21, 2022
BikoTrading Academy 
KEY TAKEAWAYS:

What is a scalping platform?
Tiger.Trade scalping platform review
CScalp scalping platform review
A scalping platform is a convenient cryptocurrency trading program that allows you to quickly open and close trades.
If you've tried trading through an exchange, you've sometimes encountered these problems:
1. you can't open a trade quickly;
2. a lot of unnecessary buttons;
3. lack of tools for technical analysis.
Programs (platforms) for scalping combine an exchange and trading charting, closing two problematic points for traders at once.
It is scalpers who need to open and close trades frequently, profiting from the rapid movement of the price up or down. These drives have additional functions, for example, DOM and Footprint, which allow you to see other traders' orders to buy or sell crypto in real time. You can use this advantage for your trading using the platforms.
Watch now on YouTube: CScalp and TigerTrade Review
I will tell you about the main advantages and disadvantages in the following sections, where we will consider the most popular platforms for scalping: Tiger.Trade і CScalp.
Tiger.Trade scalping platform review
Tiger.Trade is the leader among other platforms and it is the one I use for scalping cryptocurrencies. But like any program, it has its advantages and disadvantages, otherwise it would have no competition.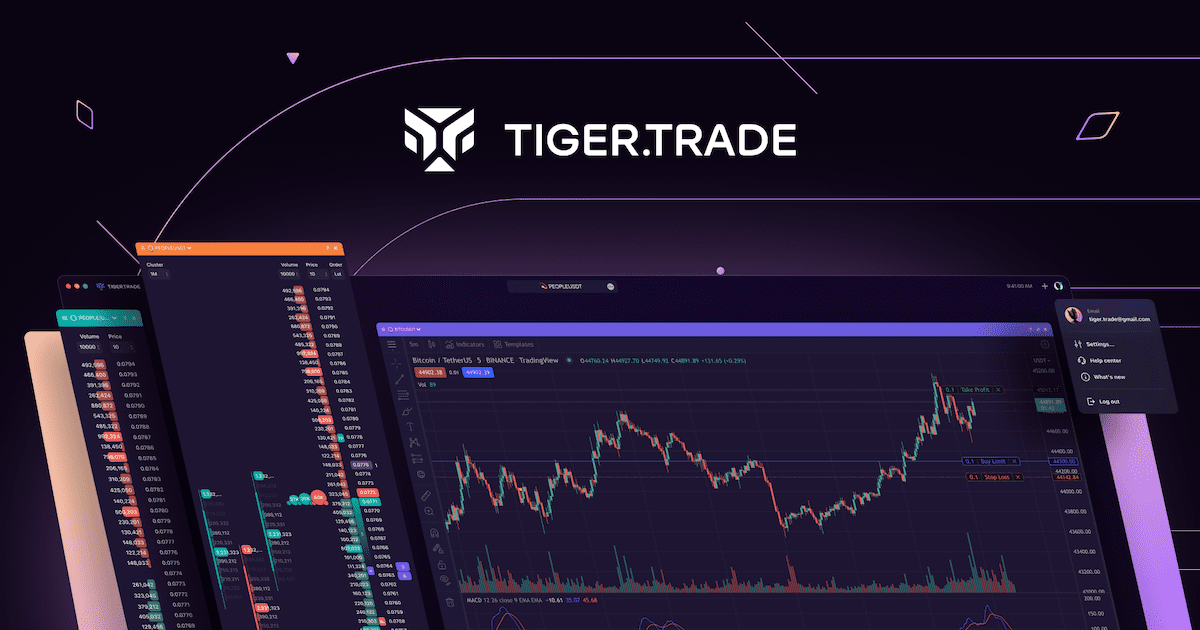 Advantages of Tiger.Trade:
1. A large number of tools for technical analysis: trend lines, channels, Fibonacci levels, etc.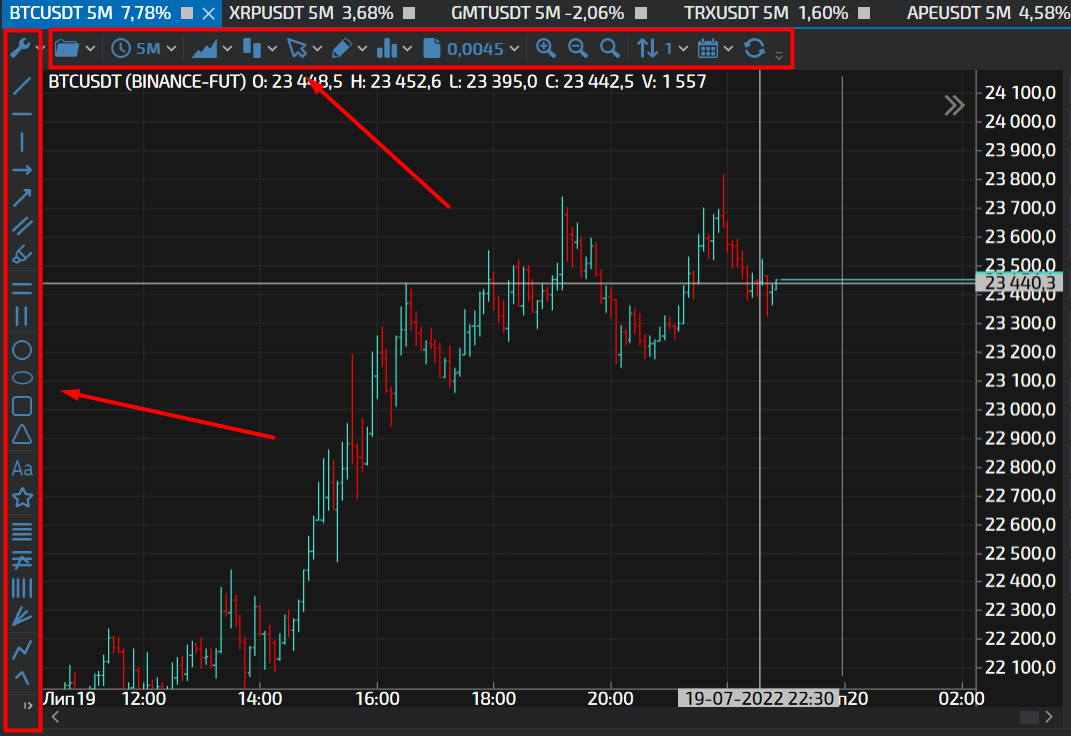 2. Ability to add any indicators to the chart: VWAP, Cumulative Delta, Volume Indicator, etc.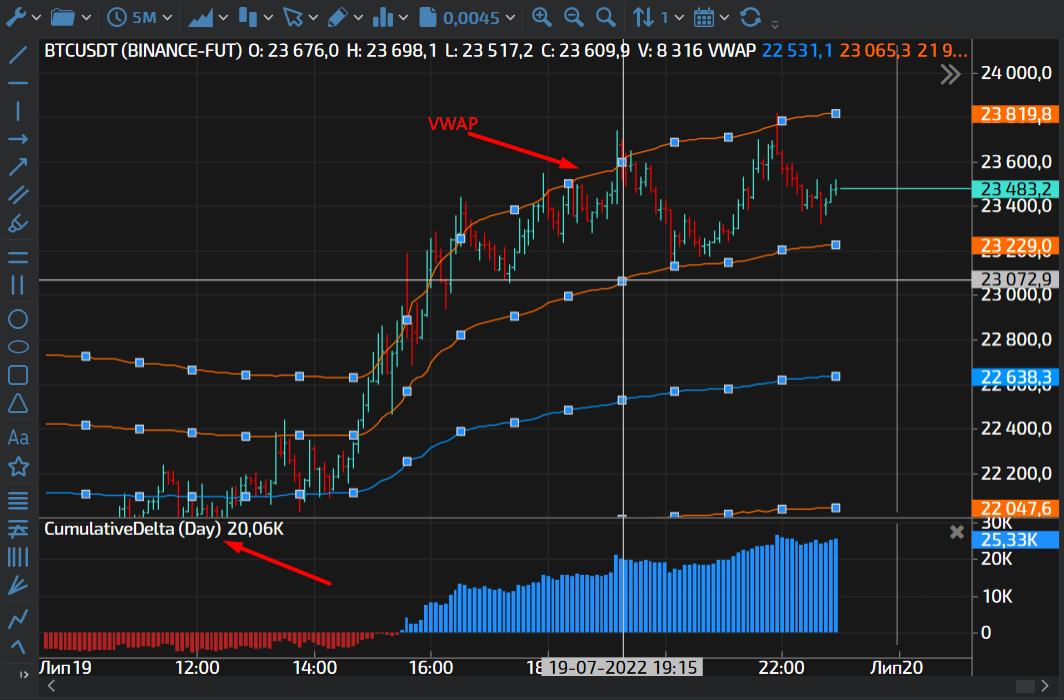 3. Free trading simulator (demo account) for beginners. In order to turn on the simulator mode, click: "File" - "Trade Mode" - "Simulator". Now you can scalp using virtual money.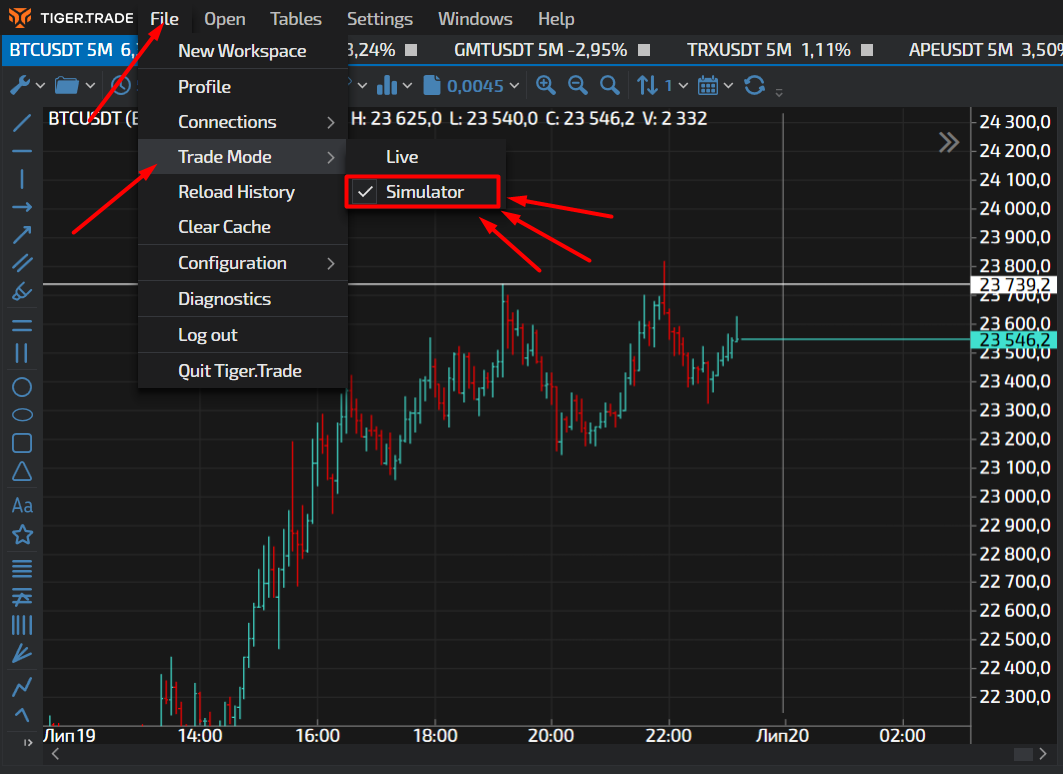 4. Access to trading on crypto exchanges. We recommend using the following exchanges: Binance, ByBit.

5. The "range" of the DOM. In the DOM you can see all limit orders regardless of whether they are lower or higher by 20% and >% of the current price. Of course, this gives a complete picture for the trader and you can know in advance where the price will stop and bounce off the limit density (support or resistance level).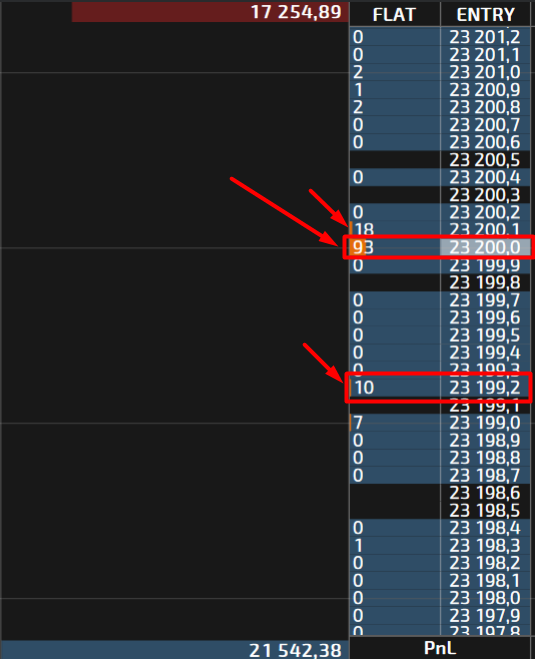 6. Available for Apple (macOS). Unlike other platforms, it is available for macOS, so it is the best choice for Apple users.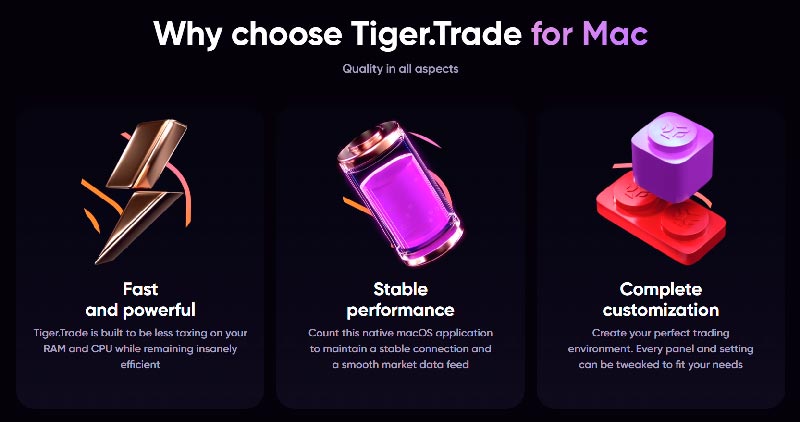 Disadvantages of Tiger.Trade:
1. Requires a powerful computer due to the large number of functions for traders.
2. Paid, but has a 14-day trial period. The cost for 3 months is $124 ($41/month). Of course, with proper use of the platform, even the annual package pays off quickly.

With 8 years in trading, I chose Tiger.Trade for scalping because of its obvious advantages. By the way, if you haven't downloaded and registered on Tiger.Trade yet, you can register using this link.
Friends, we have a special offer for you. If you buy access to Tiger.Trade for 1 year using this link, you will get a FREE mini-course on scalping. After registering you need to leave your details here and our manager will give you access to the course.
CScalp scalping platform review
If I use Tiger.Trade, then why would you want to know about CScalp? The biggest disadvantage of Tiger.Trade, as I said in the previous section, is a rather strong load on the computer, and if you do not have enough RAM, CScalp is more suitable for you.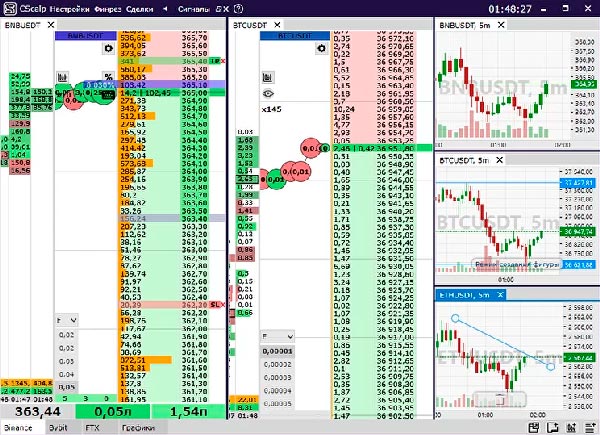 CScalp is simpler than Tiger.Trade and allows you to scalp even on a weak computer without overloading it and open trades on time. As you could already understand, its disadvantage is limited functionality, which can help you earn more. Next, let's talk in more detail about its main advantages and disadvantages.
Advantages of CScalp:
1. Fast and easy to use.
2. Suitable for scalpers who trade by the DOM and do not use technical analysis tools.
3. Does not overload the computer so that you manage to open the deal on time, and not after +-1% of the price. Those who have already tried scalping understand what we are talking about.
4. Free to use. Probably the best option if you want to familiarize yourself with scalping.
Disadvantages of CScalp:
1. Lack of interactive charts with technical analysis tools. If in Tiger.Trade you can draw on the chart, add indicators, then on the CScalp platform it is convenient only to open and close deals and use a faster and simpler DOM.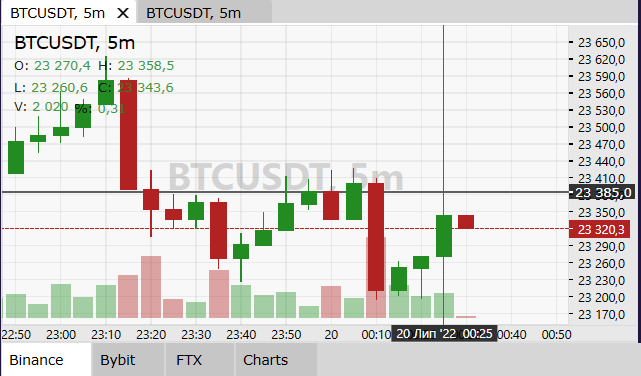 2. This platform does not show limit orders below or above 1% of the price. Unlike Tiger.Trade, this account has limited information about other traders' orders.
3. Shows the Footprint since CScalp was launched. The launch time of Footprint and the number of Bitcoins purchased are highlighted in red rectangles.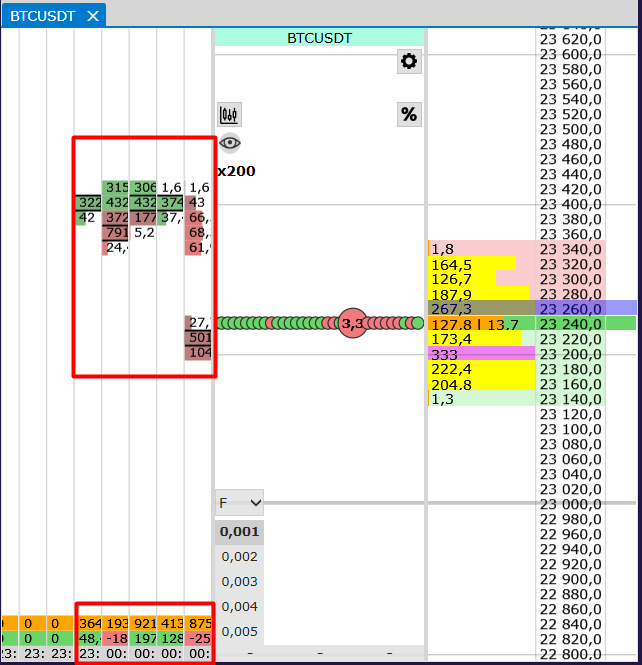 Footprint is used to determine where large players opened or closed their positions. This information helps in trading by understanding whether the price will fall or rise. Usually, big players on the crypto market make the most correct decisions and if they sell, the price will fall, and vice versa, if they buy, it will rise.
Since CScalp displays the Footprint only from the moment of launch, you have 2 options: launch this platform early or use Tiger.Trade.
You can download CScalp using this link directly from the developer's website. To download it, enter your email and follow the instructions.
4. A small number of connections to exchanges and trading platforms.
5. Lack of a risk manager. The risk manager allows you to set a daily deposit loss limit. That is, the risk manager will not allow you to open a deal if you lost more money than the previously set limit during the day. For example, more than the $50 limit.
This function is especially necessary for beginners, who can "play" and lose more than their trading strategy allows. But, using the risk manager on Tiger.Trade, you will be able to control your trades and risks.
Summary
Choosing a drive for scalping, like choosing a car – you need to drive it, get used to it, press the gas pedal. I recommend that you install both platforms and try trading first on CScalp and then on Tiger.Trade. So you will compare them with each other and you will be able to choose the reason that is more suitable for you and your hardware.