What are Altcoin Gems?
By Alex Dehtiarov 
BikoTrading Academy
The cryptocurrency market is becoming increasingly saturated with new altcoins every day, offering their unique possibilities and advantages. However, among the numerous cryptocurrency assets, finding genuine "diamonds" - promising projects with high growth potential - is becoming more and more challenging. This is where the Altcoin Gems program comes to the rescue, specifically designed to search and analyze the most promising cryptocurrency investments.
KEY TAKEAWAYS:
What are Altcoin Gems?
About the Altcoin Gems program.
Our results, or how to achieve 150-400% profit per month by investing in altcoins?
What are Altcoin Gems?
Altcoin Gems is a slang term in the crypto world that refers to "hidden treasures" in the realm of cryptocurrencies. These lesser-known and undervalued alternative cryptocurrencies (altcoins) have impressive potential for massive price growth and development. These altcoins combine unique features and strong fundamental indicators but have not yet captured the attention of a broader audience.
Investors and traders hunting for these "treasures" dream of discovering cryptocurrencies that can provide substantial returns as they gain widespread recognition and adoption. It's worth noting that investing in altcoins is a high-risk and speculative endeavor since the future value of these cryptocurrencies is unpredictable, and the crypto market is known for its volatility. As with any investment, it's crucial to conduct thorough research and identify all potential risks before committing funds. Our investment program "Altcoin Gems" has been professionally addressing this for over four years.

What is the Altcoin Gems program?
The Altcoin Gems program is a service for investors, where participants gain access to a group with recommendations for promising cryptocurrency projects. We offer a comprehensive approach to selecting altcoins, based on market trend research, analysis of technical project characteristics, and evaluation of developer teams.
Our team of professionals keeps an eye on the latest changes in the cryptocurrency world, attends conferences, and communicates with industry experts to have in-depth knowledge about potential "diamonds" in the realm of cryptocurrencies. As a result, we can confidently assert that our clients receive the best investment recommendations for promising altcoins.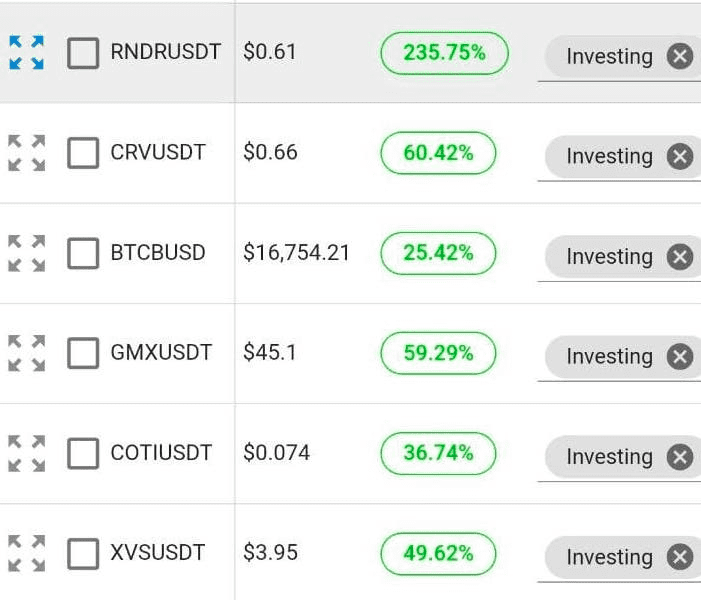 Features of the Altcoin Gems program:
In-depth market analysis: We study macroeconomic indicators, technical analysis, and new market opportunities to find altcoins that can deliver substantial results.
Developer team evaluation: We conduct research on developer teams and their experience to assess the potential and credibility of projects.
Information support: We provide regular updates, market analysis, news, and recommendations to our clients so they can track their investments' performance in real-time.
Accessibility: The Altcoin Gems program is available for both beginners and experienced investors, offering a convenient and straightforward service for investing in promising cryptocurrencies.
Continuous improvement: We constantly work on refining our analysis methods and algorithms to enhance the quality of our services and the results of our clients.
Thanks to our Altcoin Gems program, investors can be confident that they are receiving reliable and effective recommendations for investing in cryptocurrency projects with high growth and profit potential. Our goal is to help our clients grow their capital while maintaining an appropriate level of risk and portfolio diversification. 
It's important to note that one of the most significant guarantees our clients appreciate is that we don't just provide recommendations - we invest our own money in each recommendation and are highly motivated to achieve outstanding results.
What will you get with Altcoin Gems?
1. Investment recommendations for cryptocurrency projects that match your investment profile and strategy.

2. Continuous information support: Stay updated with news and developments on recommended projects and our insights on market conditions.

3. Education and support: Access a wealth of educational materials and benefit from unique knowledge to enhance your understanding of cryptocurrencies and investments.

4. Community: Become part of an active community of investors and experts with whom you can discuss strategies, seek advice, or simply share thoughts.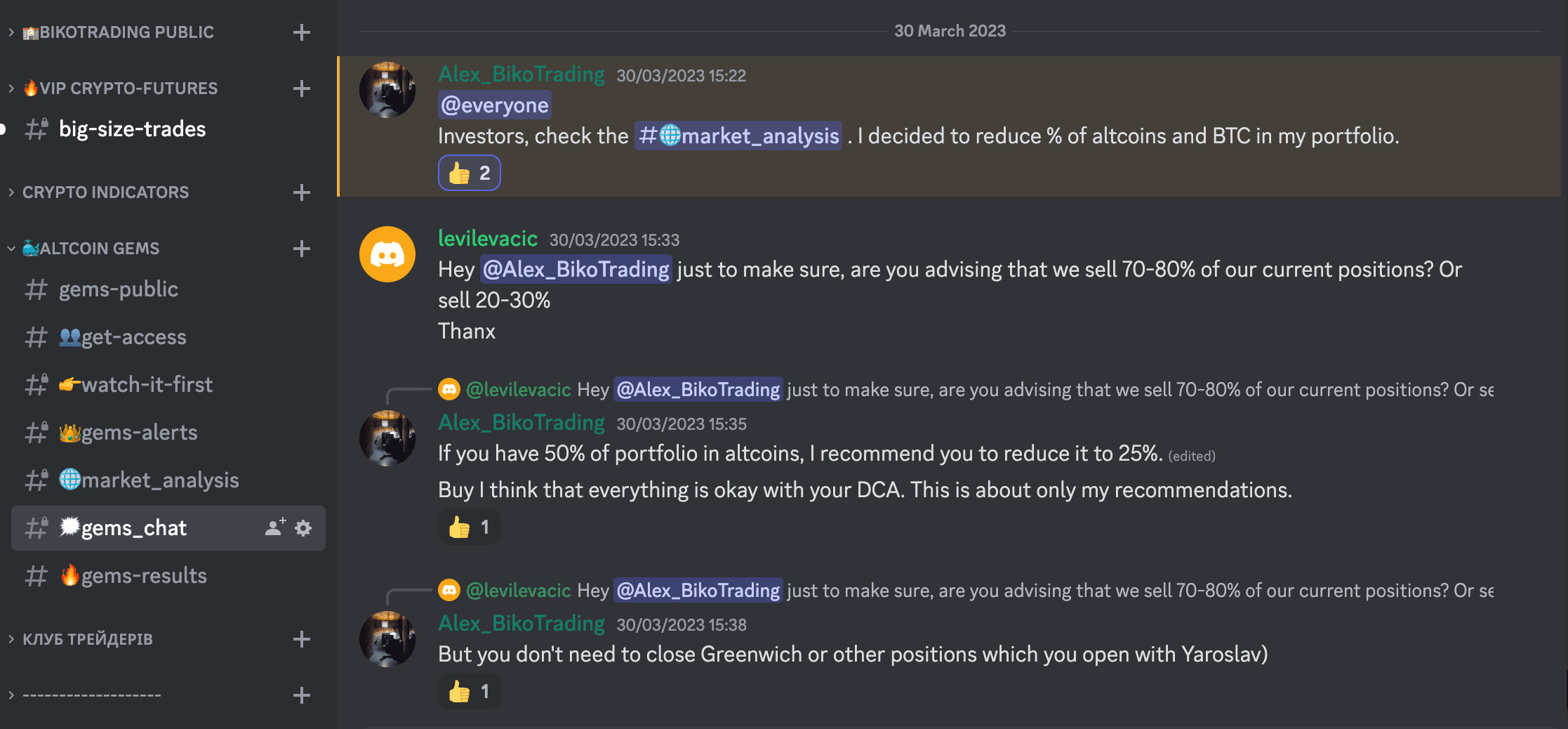 How to make 150-400% in a month investing in altcoins?
I want to show you our results so that you can see how profitable buying altcoins with great potential and low capitalization can be.
APT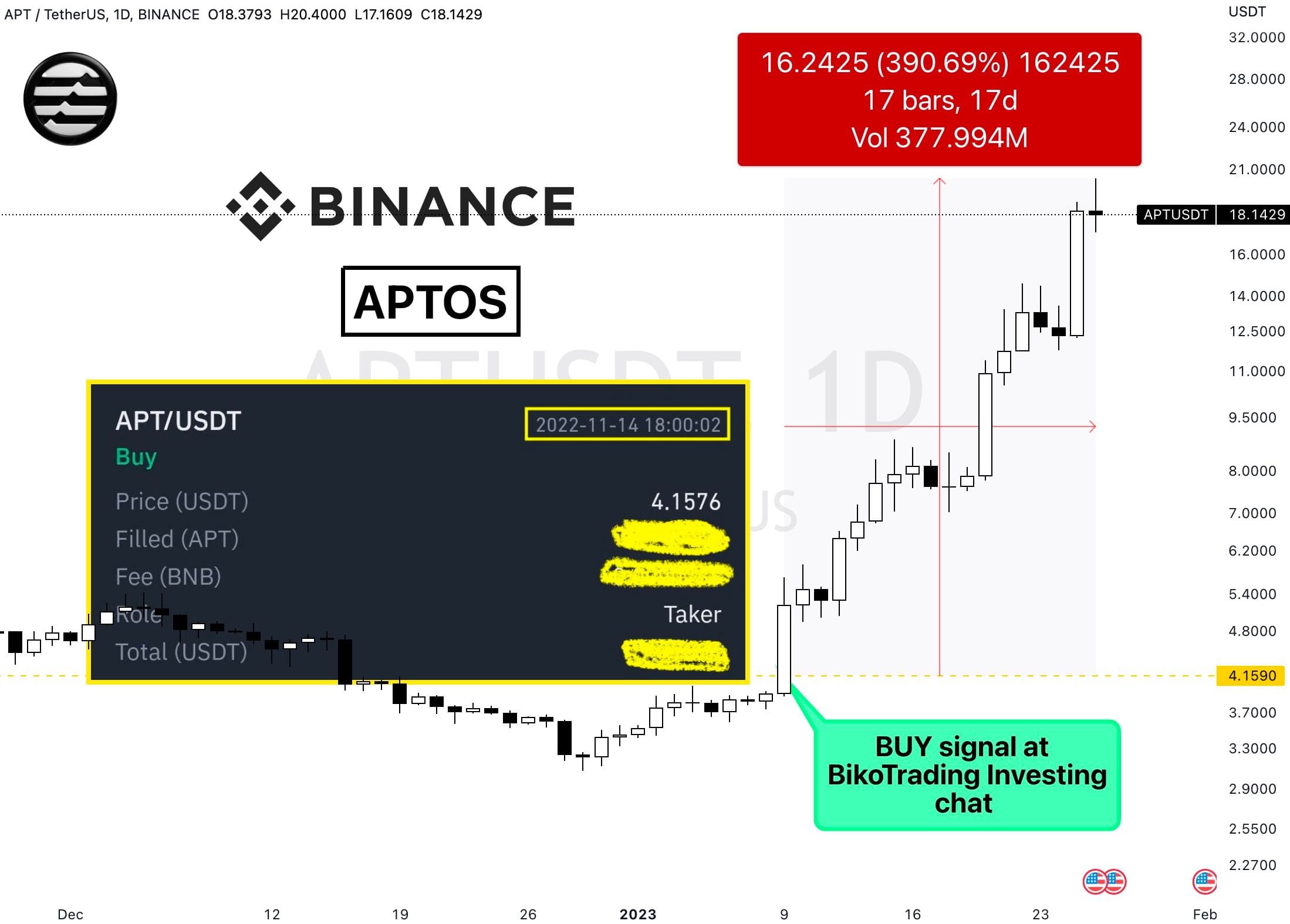 Aptos (APT) brings us +400% in just 17 days of growth. How is this possible? Because of its low initial value (capitalization). Before the growth, its capitalization was only $0.6 billion. For example, it takes years for Bitcoin (BTC) or Ethereum (ETH) to grow by 400%, while such unique altcoins can grow 4 times in just 2 weeks.
On the chart, you can see the price of our purchase and the results we got from this APT growth.
RNDR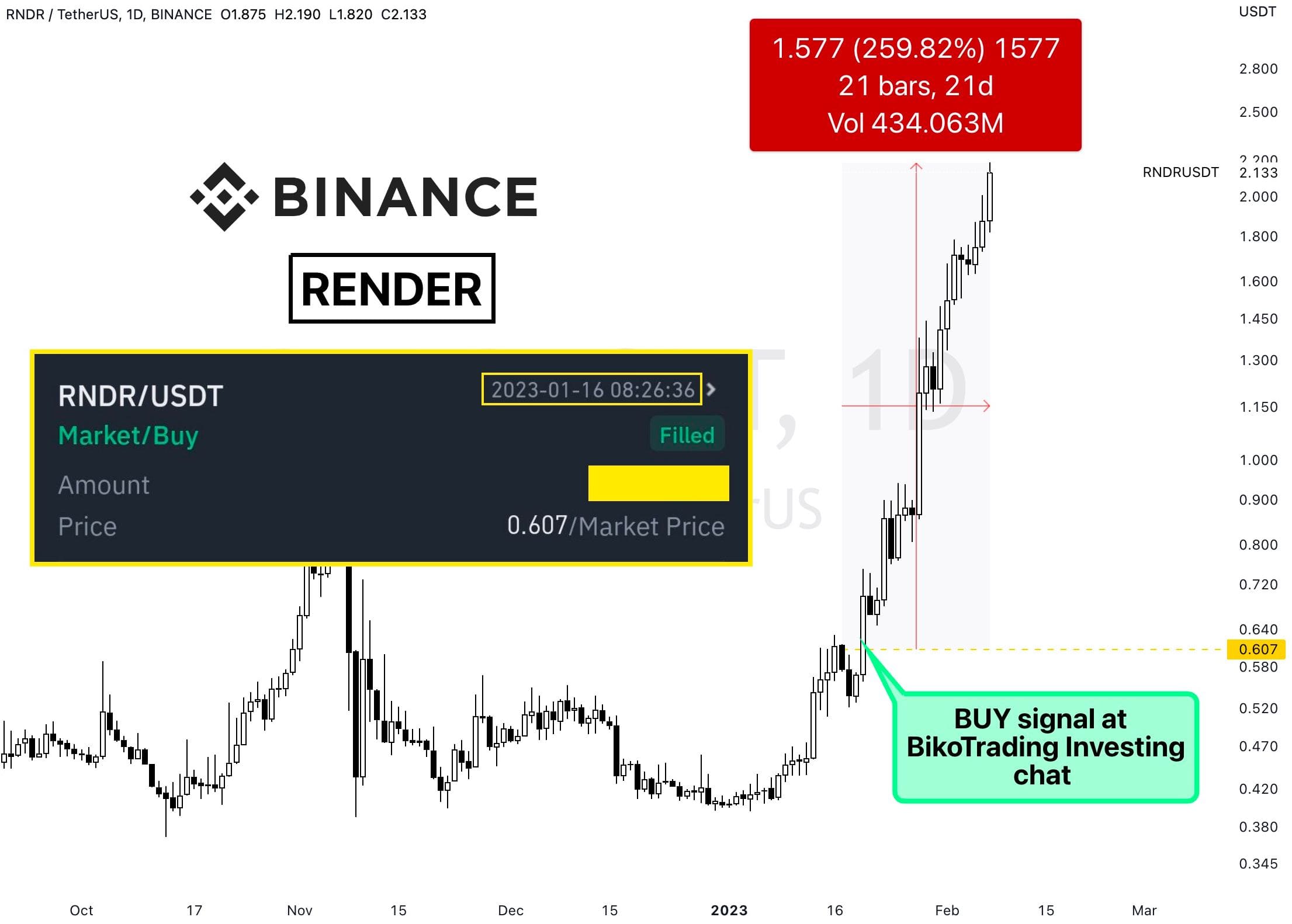 The next example is Render (RNDR), which has grown by +260%. The coin, with a total value of $350 million, almost tripled our deposit and reached $900 million in just 3 weeks!
Such growth is possible only on altcoins with great potential and low capitalization, which we select for members of the Altcoin Gems community. Don't miss out! Use the links below and unlock the secrets to earning on altcoin growth with our community! 
GET IT TODAY: