Listing: how to participate in the listing and ICO?
By Alex Dehtiarov 
BikoTrading Academy
Many beginners associate the word listing or IPO with big profits. Why is this and how to participate in the listing? We will talk about this in this article.
KEY TAKEAWAYS:
What is a listing on an exchange?
Why do companies list?
Types of listing: IPO and ICO
How to participate in the listing and ICO?
Listing is an process at an exchange in which coins (altcoins) become available for purchase. For example, you have created a coin and you want it to be sold on the exchange. For example, you turn to the Binance exchange and offer to place a coin of your project on this exchange. Binance agrees and places your coin for trading – this is a listing.
If you look at the price chart, it always has a beginning. This beginning is the listing or placement of coins on the exchange.
Why do companies list?
As you know, behind every coin there is a team or company. If the coin is traded on major cryptocurrencies ecxhange like Binance and ByBit, it is a powerful team. For business development, each company needs funding to ensure the existence of the team, product development, hiring new employees, marketing, etc.
To do this, the company, for example, lists and sells 1 million coins on the Binance exchange. By selling these coins, crypto companies get money, and you, accordingly, can earn on the growth of the price of this company's coin.
Types of listing: IPO and ICO
Each company has a period when the company is not yet traded on the exchange, but wants to attract additional funding. An IPO (for the stock market) and an ICO (for cryptocurrencies) have been created for this purpose.
1. IPO (initial public offer)is a process when companies sell the right to own a business (50-60%) and raise money before the start of listing on the stock exchange. During an IPO, an investor can buy part of the company at a much lower price to sell more expensive on the stock exchange after the listing. As a rule, after listing the value of the company increases dozens or even hundreds of times. Below in the photo you can see the celebration of the day of listing of the crypto company Coinbase on the American stock exchange Nasdaq.
A feature of the IPO is the inaccessibility of ordinary traders and investors to it. The IPO involves mostly large investment funds with a capital of $100-500 million. It should be added at once that not all IPOs are successful and investors earn a lot of money. To choose the best company you need to use market analysis and niche companies.
2. ІСО (initial coin offer) is a process of selling coins (altcoins), which is done by companies to raise funds for the project. ICO is a cryptocurrency analogue of IPO. The main difference between ICO and IPO is that when you buy a coin, you do not become part of the company and do not receive part of the profits, but you earn by increasing the price of this coin.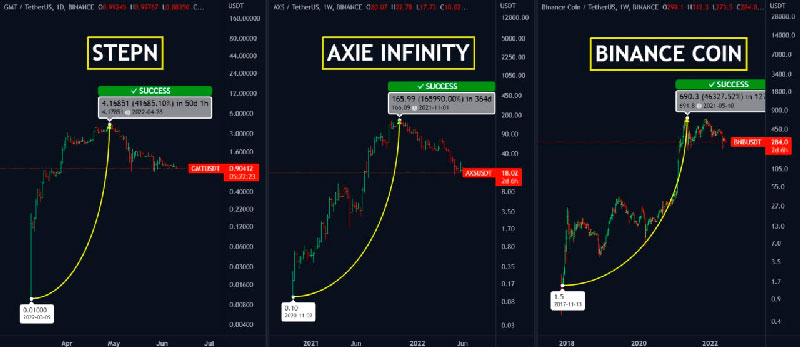 In cryptocurrency, ICO is also used as a marketing step to increase the popularity of the coin and its price to only grow. The picture above shows the successful listings of coins and their growth since listing:
1. STEPN (GMT) + 41600% in 50 days. From the invested $ 1 it was possible to earn $416, from $10 - $4160, etc.
2. Axie Infinity (AXS) + 165990% in 365 days.
3. Binance Coin (BNB) + 46330% for 1270 days.
How to participate in the listing and ICO?
To participate in the listing and ICO, various cryptocurrencies create launchpads. The launchpad is a platform for users of the exchange where ICO coins are held. The most popular launch pad belongs to the Binance exchange – Binance Launchpad. Coins for listing appear here every two or three months.
To understand how to participate in ICO, we will take the last coin that was listed on Binance a few months ago – Stepn (GMT).
In order to take part in the Launchpad, you must meet certain conditions of the exchange. When listing this coin, it was mandatory to:
1. purchase 0.1 Binance Coin (BNB). About $25-30.
2. block it on the Lunchpad platform for 4 days before listing.
After blocking, you receive an individual ticket of an ICO member. As you know, there are a lot of people willing to take part, so the exchange distributes coins in the form of a lottery. If your ticket wins, your 0.1 BNB is withdrawn and the coins of this project are issued at the sale price, which can be seen in the picture below.
In total, you could get about 4,000 GMT coins for your $30. At the maximum price 1 coin cost about $4. The math is simple: 4000*$4 = $16000. That is, summing up, from 1 ticket for $30 you could earn $16,000. Not bad, right?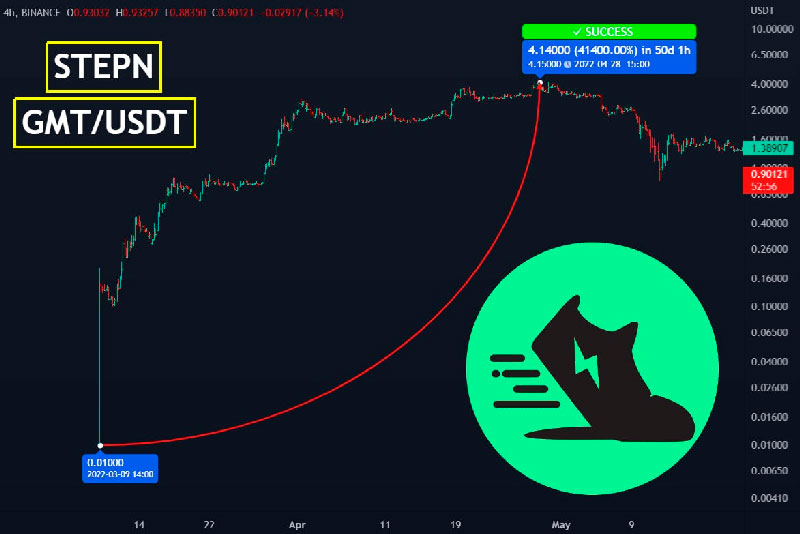 It is worth noting that participation in any type of listing does not guarantee success, so it should be treated responsibly and you should select projects according to different criteria.
How to make 150-400% in a month investing in altcoins?
I want to show you our results so that you can see how profitable buying altcoins with great potential and low capitalization can be.
APT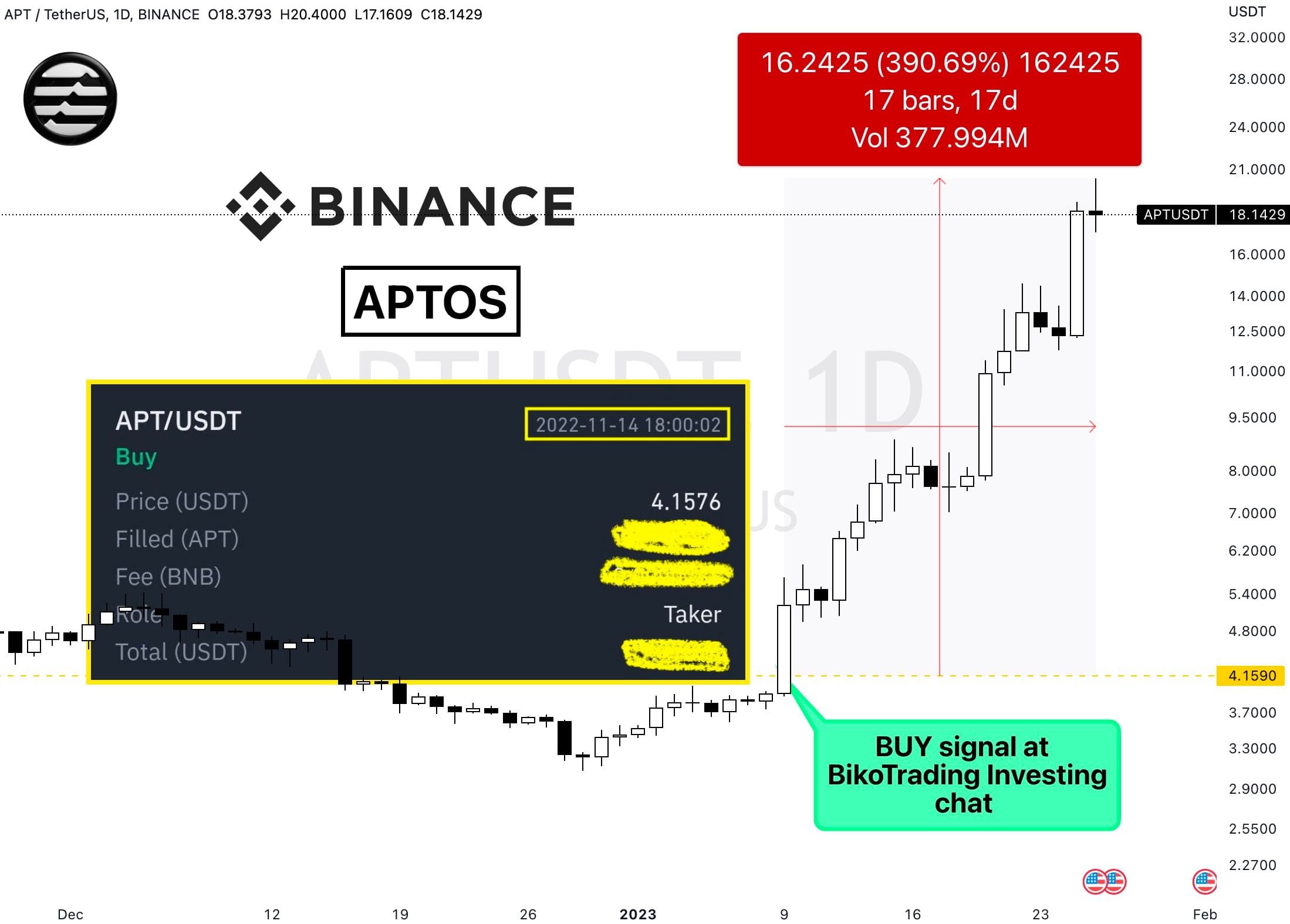 Aptos (APT) brings us +400% in just 17 days of growth. How is this possible? Because of its low initial value (capitalization). Before the growth, its capitalization was only $0.6 billion. For example, it takes years for Bitcoin (BTC) or Ethereum (ETH) to grow by 400%, while such unique altcoins can grow 4 times in just 2 weeks.
On the chart, you can see the price of our purchase and the results we got from this APT growth.
RNDR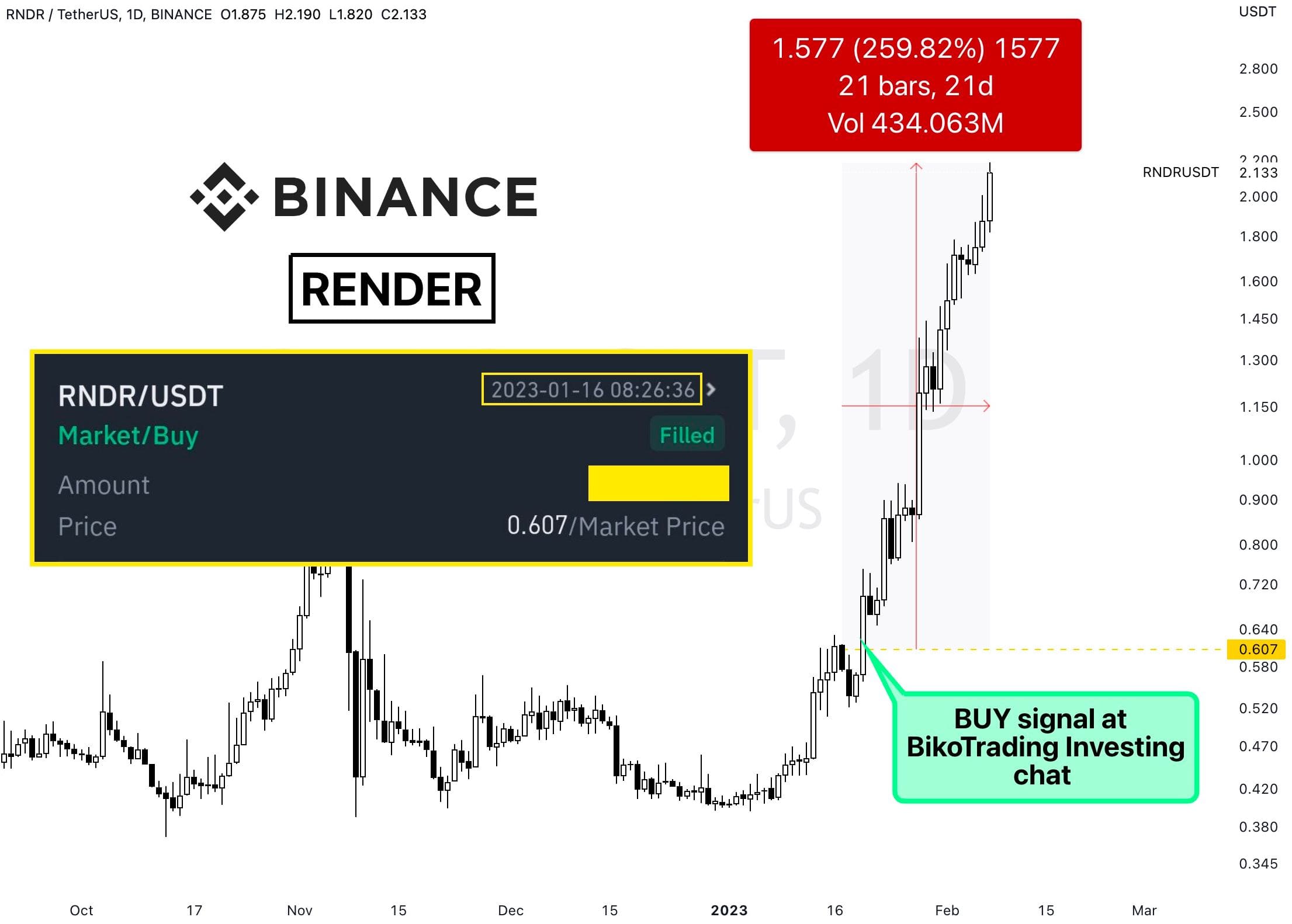 The next example is Render (RNDR), which has grown by +260%. The coin, with a total value of $350 million, almost tripled our deposit and reached $900 million in just 3 weeks!
Such growth is possible only on altcoins with great potential and low capitalization, which we select for members of the Altcoin Gems community. Don't miss out! Use the links below and unlock the secrets to earning on altcoin growth with our community! 
GET IT TODAY: