How to start on Bybit. A comprehensive guide for crypto traders
Bybit is the go-to platform for crypto traders because it offers advanced tools and user-friendly features. Whether you're a professional trader or just starting out, Bybit has got you covered with a huge range of contracts, catering to various trading styles. With tight security, an easy-to-navigate interface, and speedy trade execution, you can focus on making profitable moves. Today, we will share a quick Bybit review, and explain what to do on the exchange when you've just opened it and want to start trading.
KEY ISSUES:
What is Bybit and why do traders choose it?
How to register on Bybit and use Bikotrading benefits
How to deposit and withdraw on the Bybit exchange
Different types of orders on Bybit
Opening and closing a position properly
What does the registration process look like?
To begin using Bybit, click on the "Sign Up" button. Fill in the required details, such as your email address, and password. Agree to the terms of service and click on "Sign Up" to complete the registration process. You will receive a confirmation email to verify your account. We've described step-by-step registration in our article, you can use it for a more detailed explanation as well.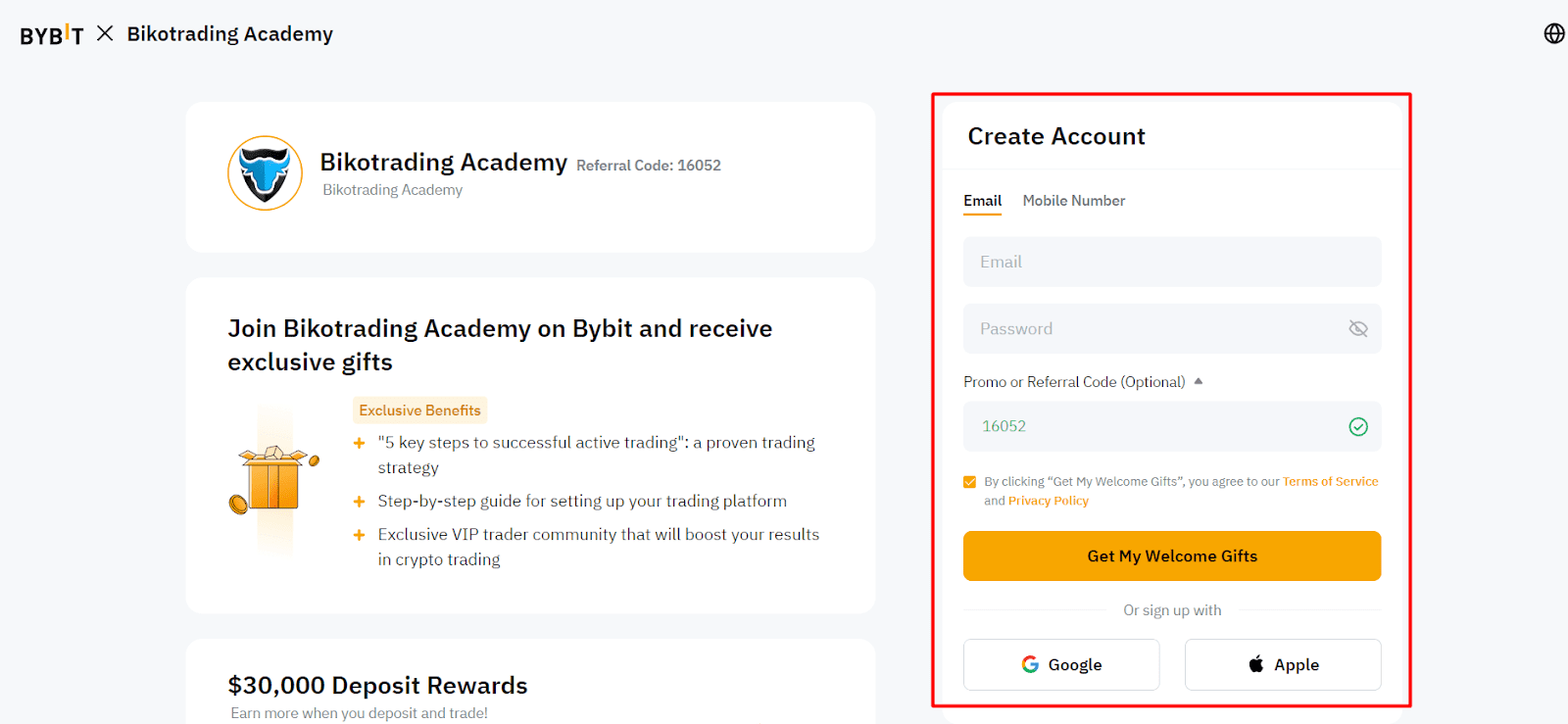 To ensure the highest level of security, proceed to verify your identity within the account settings. Bybit's compliance standards require personal information, identification documents, and a selfie for verification. Once approved, enable Two-Factor Authentication (2FA) using Google Authenticator or SMS for an additional layer of protection.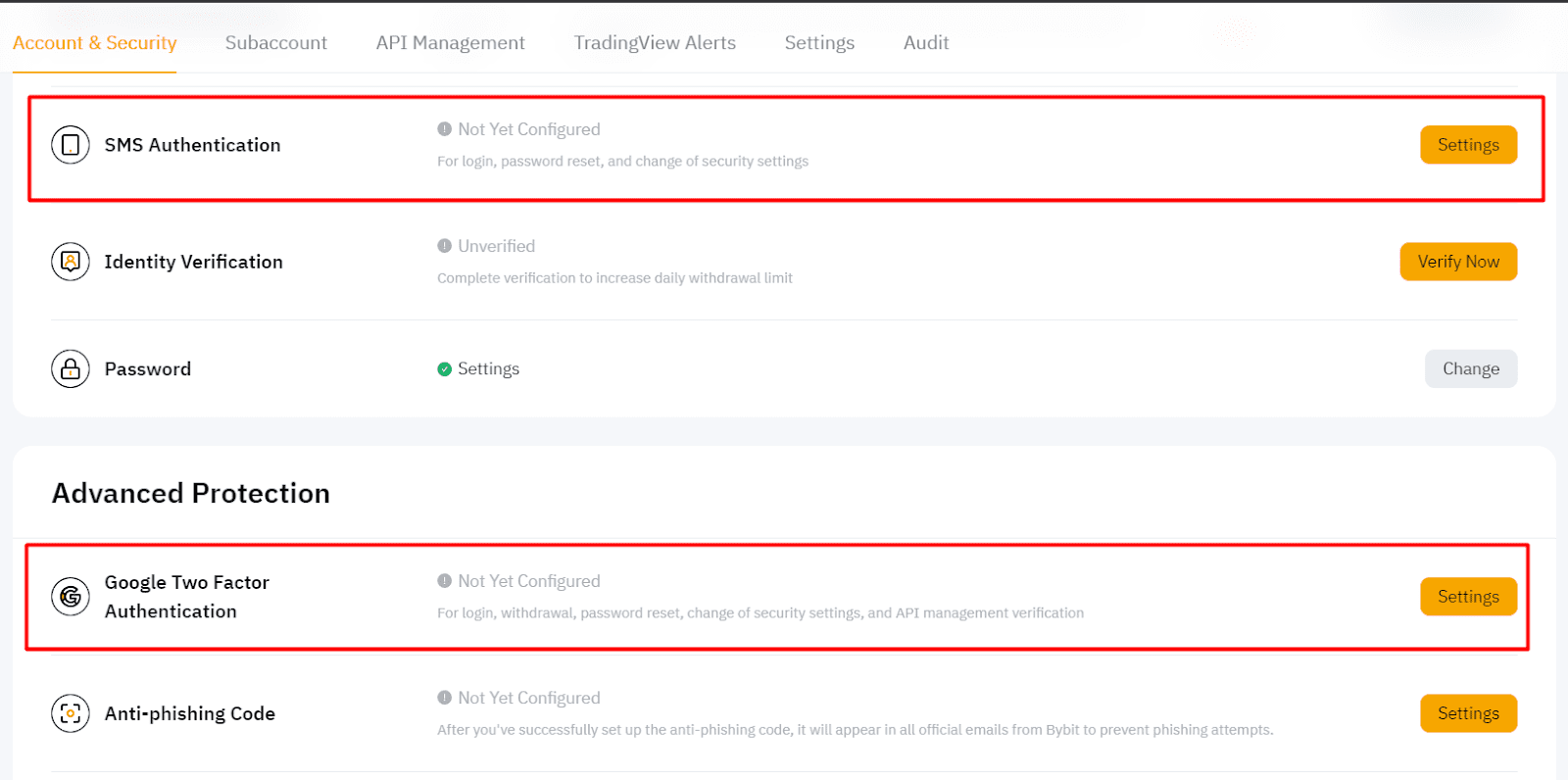 Register with us and get benefits
We adore Bybit for its convenience and have partnered with it for a long time, that's why our students have some benefits. By registering through our exclusive referral program, you gain access to a host of exclusive benefits and bonuses on the exchange. Use our unique code during registration to unlock reduced trading fees, welcome bonuses, and access to special promotions.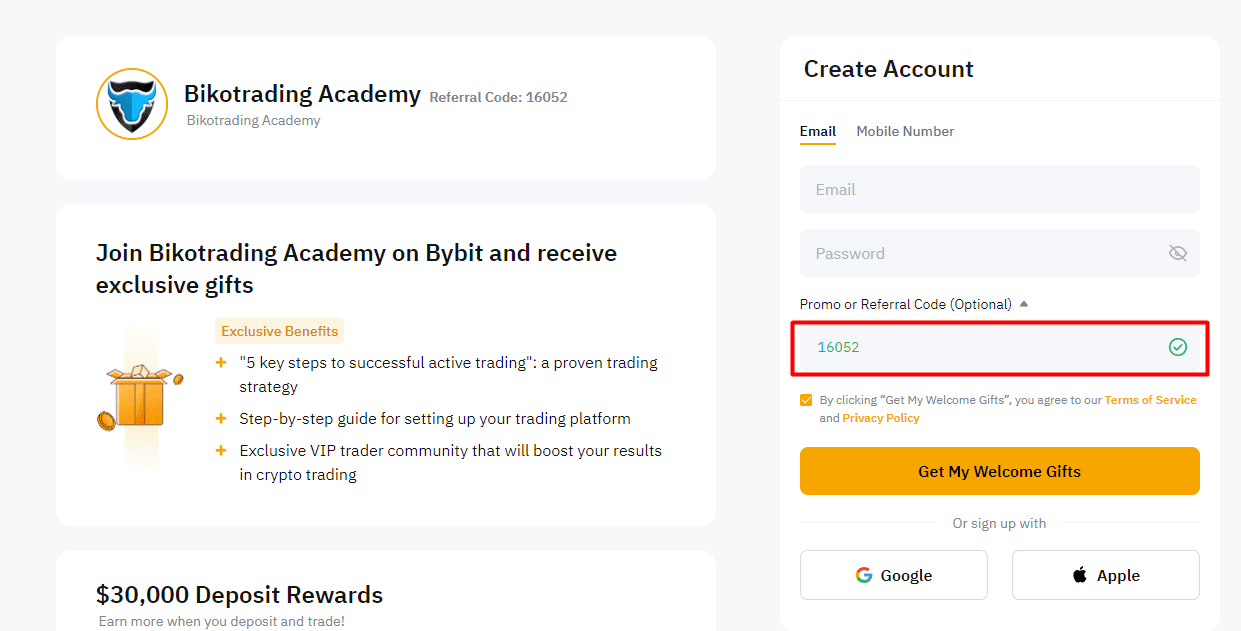 How to deposit and withdraw on the Bybit exchange
With your account set up and secured, it's time to fund it for trading. On Bybit, coins are available in various options, it supports various cryptocurrencies like Bitcoin (BTC), Ethereum (ETH), Ripple (XRP), and more. The first step is depositing funds to get started. To do this, head to the "Assets" tab in the top navigation bar, where you'll find a neat list of available perpetual contracts. As a crypto-based platform, Bybit accepts deposits in cryptocurrencies only.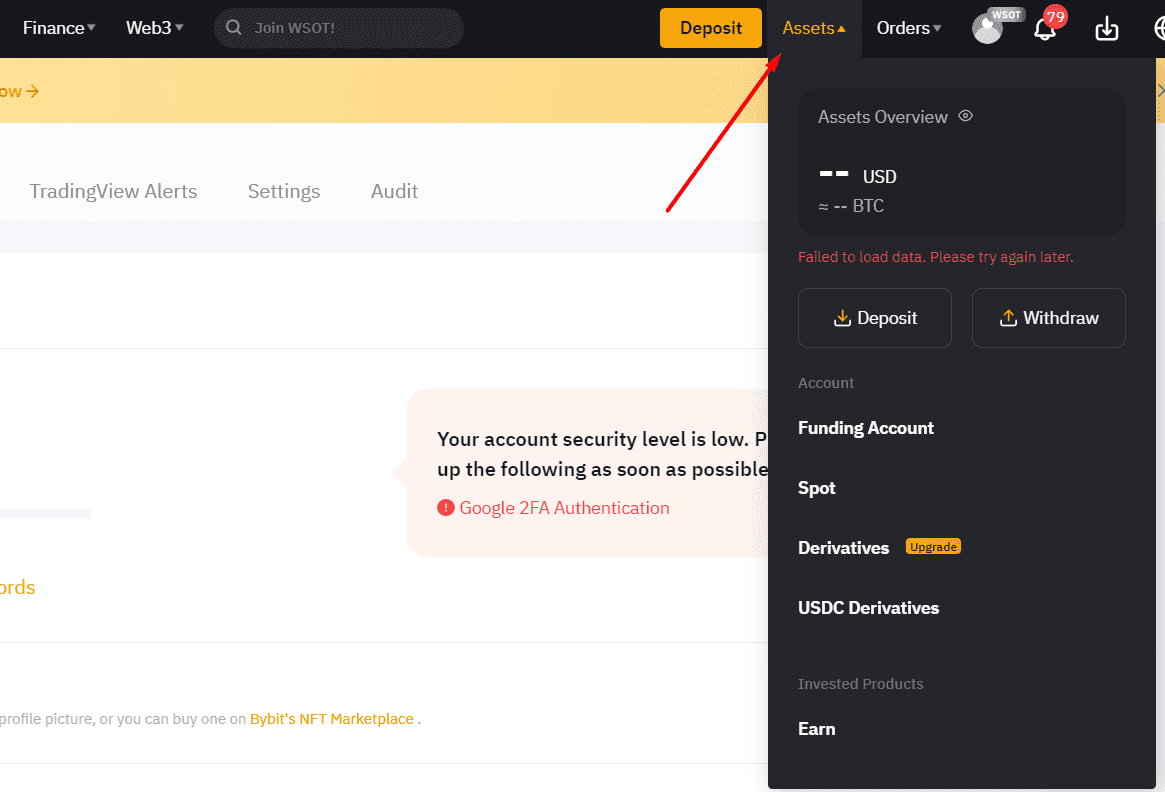 Within the "Assets" section, you'll also find essential metrics to gauge your positions' performance, such as Unrealized P&L, Available Margin, and Position Margin. For convenient management of your funds, there are options on the right side to deposit and withdraw.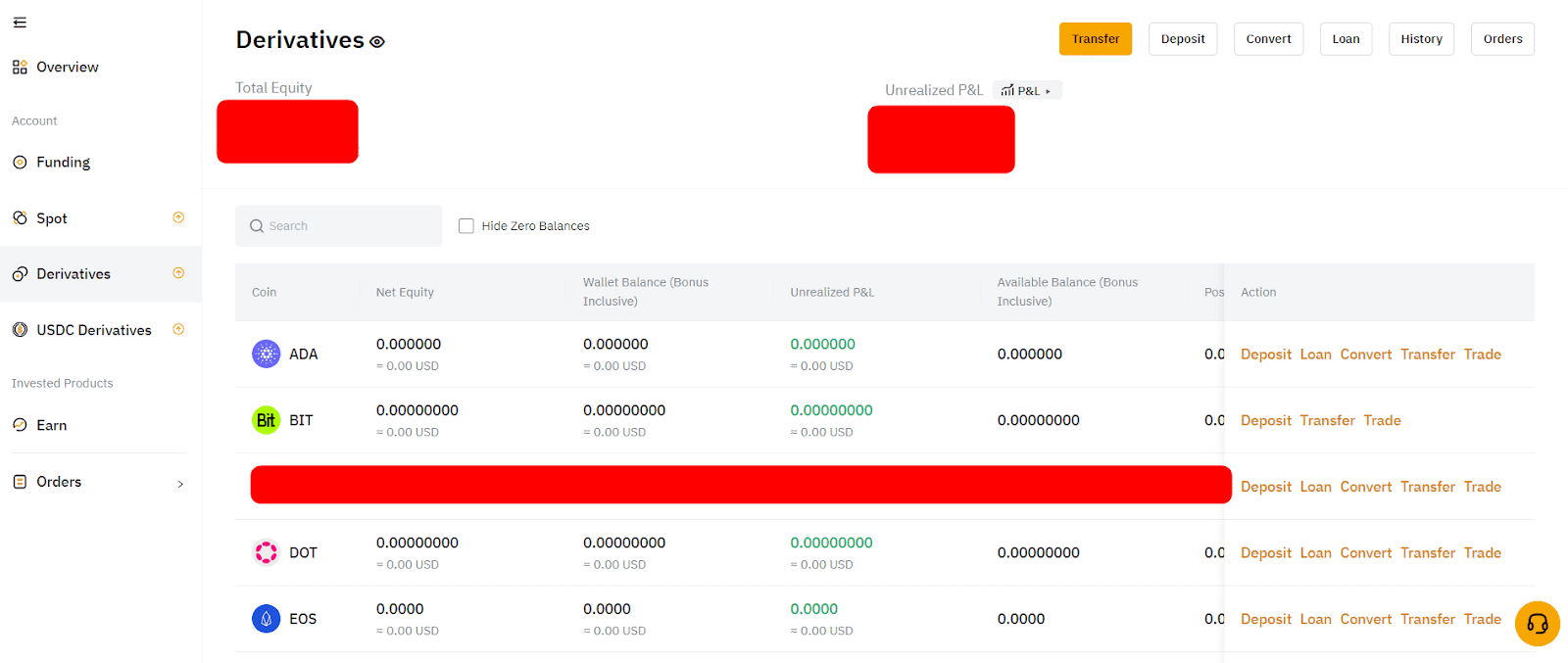 When you click the "Deposit" button, a box will appear, revealing your unique Bitcoin (BTC) deposit address along with its corresponding QR code for easy scanning.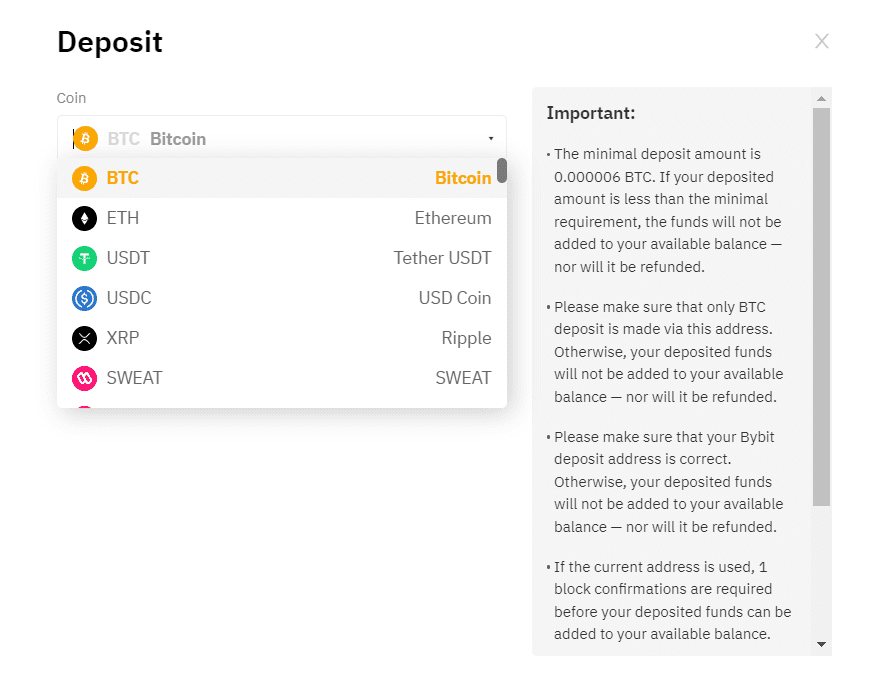 For safety measures, the withdrawal process requires account verification and Two-Factor Authentication (2FA) to be activated, ensuring the utmost security for your funds.
How to trade on Bybit
Study different types of orders
With Bybit crypto trading is a seamless experience, especially with its focus on crypto futures. Whether you anticipate a price surge or a market tumble, you can easily place long or short positions on the platform. With a limit order, you pick the price at which you want your trade to happen. By setting a limit order at that price, your trade will be executed only when the market reaches your desired price.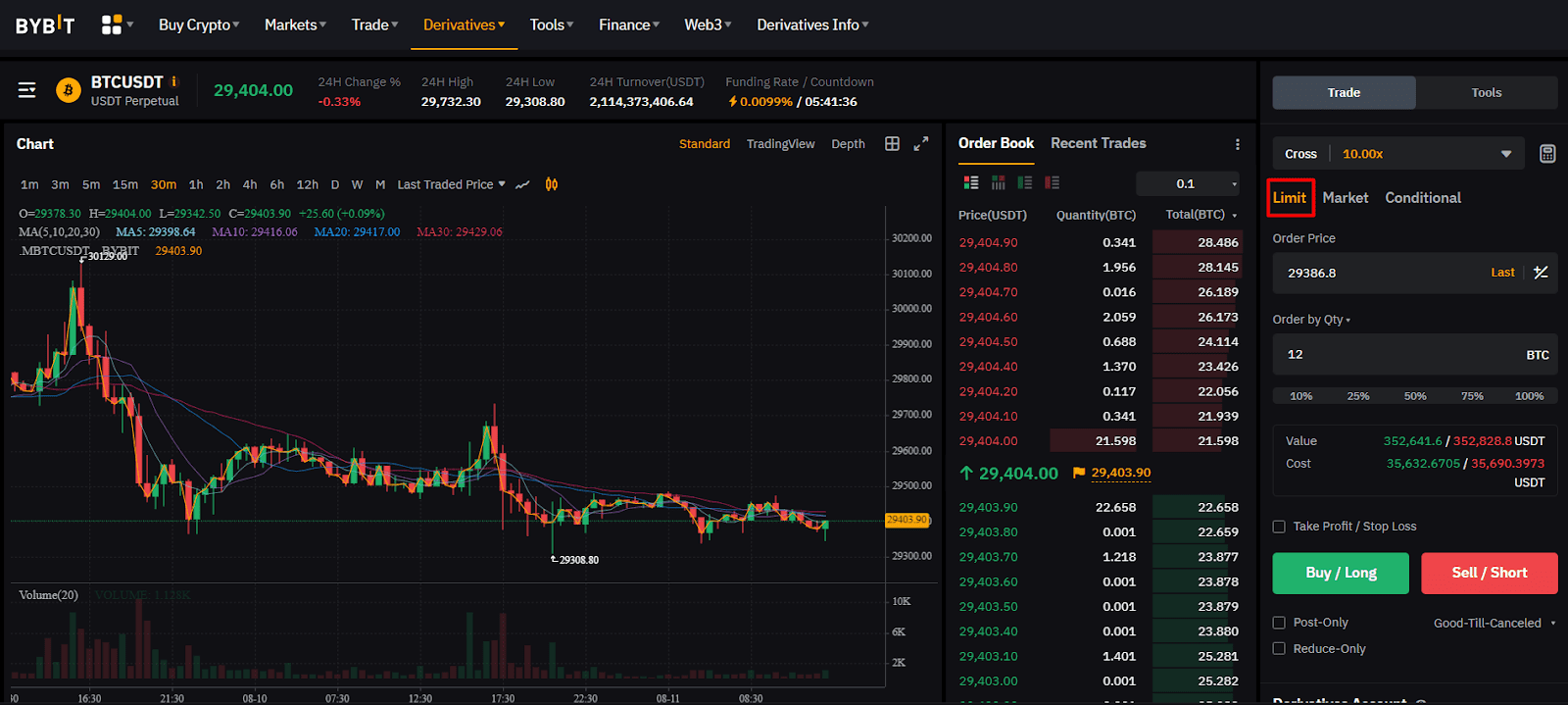 The simplest order type is the market order. Just choose the amount of Bitcoin (or any other crypto) you want to buy or sell, and click Long or Short. The order will be completed at the best available price on the order book.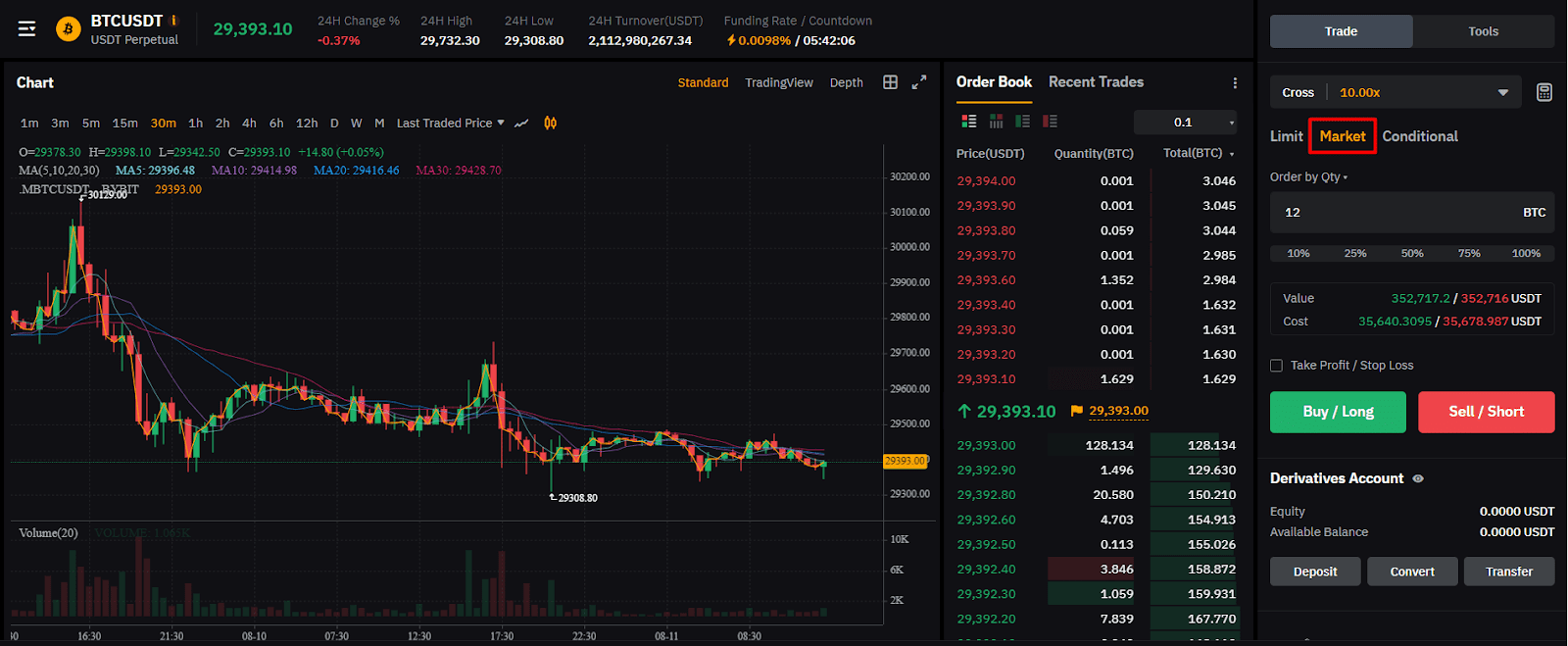 Conditional orders are more advanced and suitable for experienced traders. You set a trigger price along with a limit price. Once the trigger price is reached, your order goes to the market, whether it's a limit or market order.
Opening and closing a position
Opening a position on Bybit is quite simple and intuitive. Once you've selected your order type, just enter the details you want, and click "Buy/Long" or "Sell/Short" depending on your trade preference. Your position will show up in a special section for easy monitoring. Here, you can check essential metrics and activate Auto Margin Replenishment (AMR) for added convenience. To close your position, you have options. You can close it at the current spot price, or you can set an order that goes in the opposite direction of your current trade.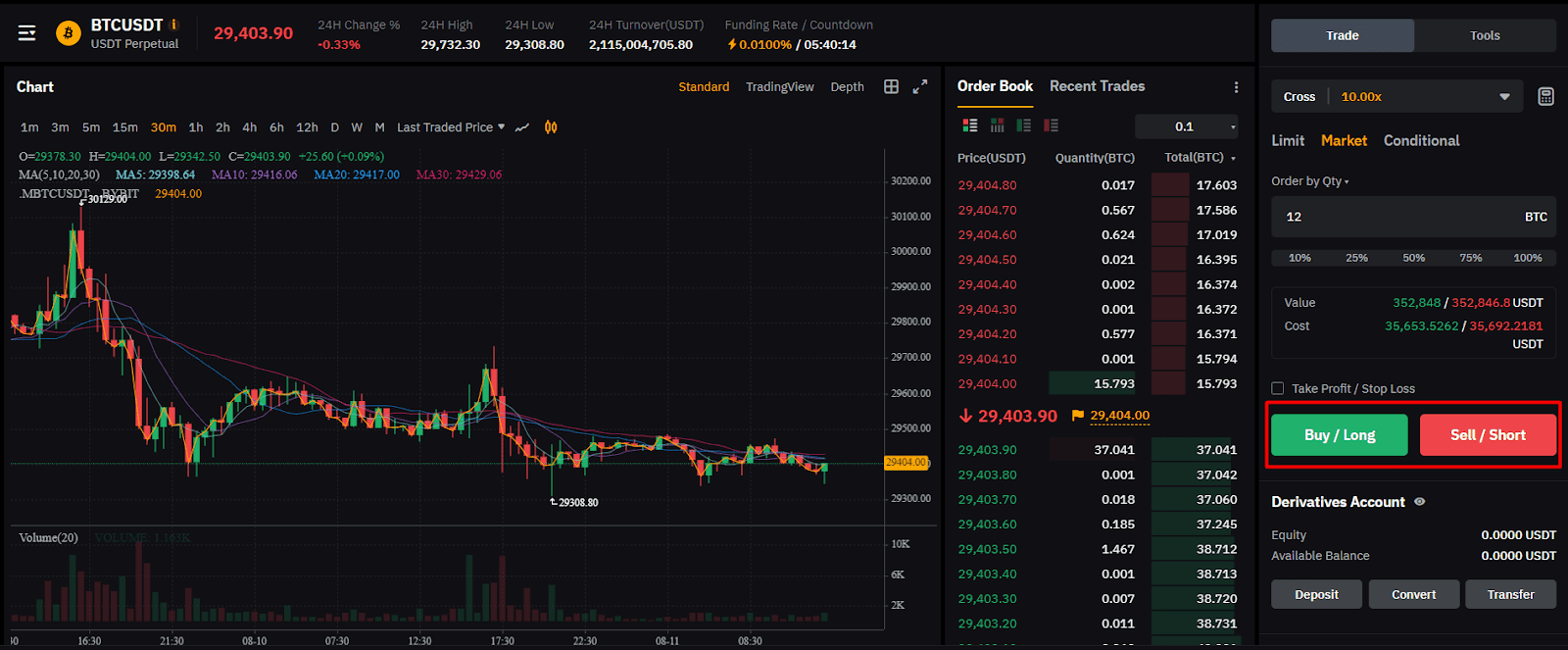 What about security?
Is it safe to trade on Bybit? To ensure a safe trading environment, Bybit has established an insurance-like fund that helps handle any potential contract settlement issues. Additionally, they offer mutual insurance for the BTC/USD pair, which acts as a risk management tool. When it comes to safeguarding your personal account, Bybit provides an extra layer of protection through 2FA authentication using the Google Authenticator app. This added security measure ensures that your account remains secure from unauthorized access. 
Conclusion
Starting on Bybit is an exciting opportunity for crypto traders. Follow the registration steps, secure your account with verification and 2FA, and deposit funds to get started. We recommend learning the trading interface first to execute trades effectively. You can create your own trading strategies using technical and fundamental analysis or use our proven strategies. But always remember to prioritize risk management with stop-loss and take-profit levels.